In this article, we are going to provide our view on what is going to happen to mobile app industry: what are the trends in mobile app development? Find out what features and mobile development approaches can help you create a great application that users will enjoy.
It is most likely that 2023 will follow the latest mobile app development trends of 2022 with some subtle distinctions. It will be all about mobile app development getting faster and more tailored, apps are becoming smarter, more engaging, and more user-friendly.
Ilia Kiselevich, CEO & Founder of SolveIt, shares his opinion:
"Speaking about the overall app development market, I would say that such parameters as faster time-to-market and profitability are getting in the frontline. If we look back at 2020, we can recall that potential revenue volume and niche capacity were primary factors to build a product back then.
This is exactly what investors expect now, in the current very dynamic and challenging time: not just potential market capacity, but positive unit economy and scalable profit."
Let's dive into the 8 most significant mobile app development trends that are going to navigate the app development market in 2023 and further.
8 trends in mobile app development for 2023
1. Flutter is gaining momentum
Within the last several years we have been witnessing the growing demand for cross-platform app development. There is no surprise in this trend while this approach has its undisputable benefits which are appreciated by both startups and established companies:
Faster time-to-market;
Lower development cost;
Easier and cheaper support.
Specifically, Flutter as one of the most popular cross-platform frameworks will become one of the top mobile app development trends in 2023. It has already become the most used framework outperforming React Native in 2021 and the interest for Flutter has been steadily growing since 2020 as seen in the graphs below. You can also explore trends in mobile development from previous years, such as 2021 and 2022, to gain insights into what has changed.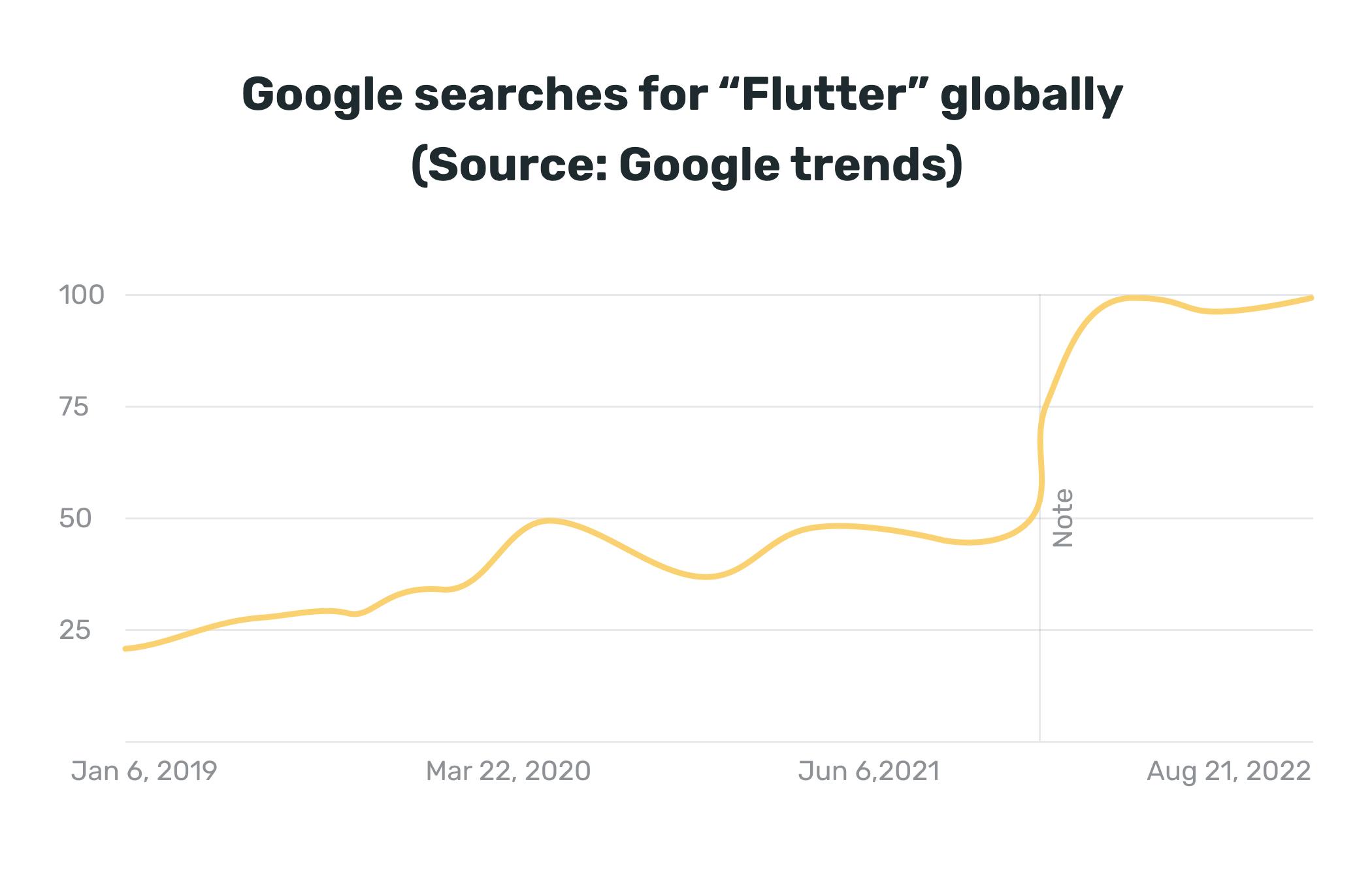 Flutter's popularity is not something that has become a surprise to a global IT community. Its creators managed to solve the major flaws of other cross-platform frameworks — questionable performance of mobile apps and lacking user experience. Today, most Flutter apps are indistinguishable from the native ones in terms of performance.
Another reason why Flutter is among the 2023 mobile app development trends is that it is becoming a more trustworthy framework. Firstly, it is so because of the constantly growing Flutter community and live apps available in stores. Secondly, there is an increasing number of professional developers and development agencies that have real commercial Flutter experience and can show their past cases. They offer Flutter development services for businesses to build a high-quality and cost-efficient mobile applications.
"It looks like cross-platform development will get more and more interest this year. And Flutter will definitely gain more traction in 2023 given its strengths: faster and more cost-efficient development, greater audience coverage, and some others."
— Andrey Savich, CTO at SolveIt.
2. Low-code and no-code for specific cases
Low-code & no-code development (abbreviated as LCNC) is also increasingly going to the masses and therefore we name it among the trends in mobile app development.
Although these two concepts are often mentioned and discussed together, they have a slight difference. Low-code development allows users to develop software solutions with both drag-and-drop interface and some custom coding if required: WordPress for websites, Shopify for e-commerce, and Salesforce for CRM. No-code is completely codeless software development.
The global low-code development platform market size was valued at $19,301.5 Million in 2022. It is expected to grow at a CAGR (compound annual growth rate) of 33.2% during 2022–2030. According to Gartner, LCNC is estimated to account for over 65% of development by 2024. So, it's quite an obvious app development trend.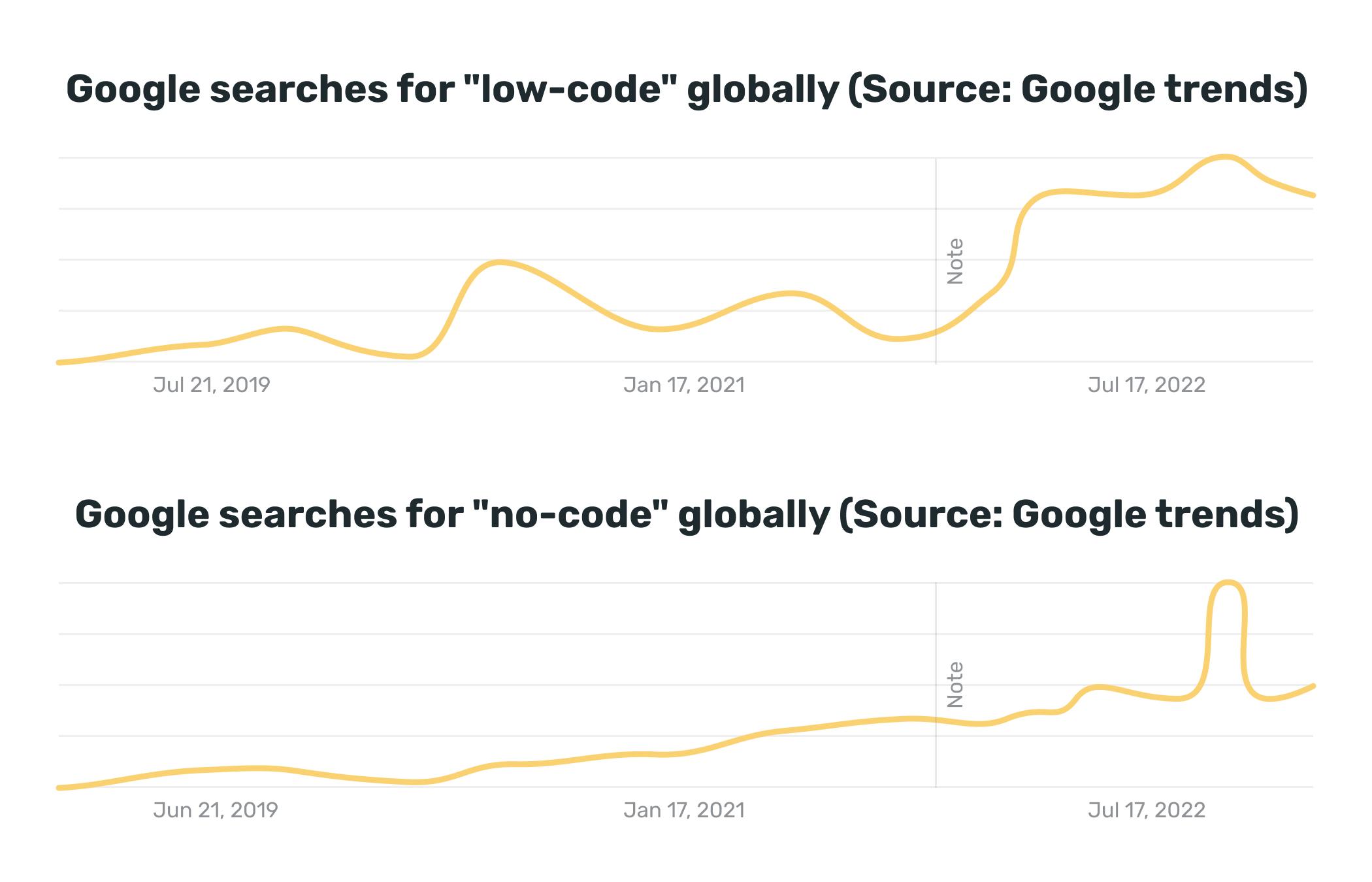 As seen on the graphs above, the demand for LCNC is constantly rising since 2019-2020. Its popularity is the result of the massive digital transformation happening during the last years fostered by COVID-19. The pandemic forced businesses to automate manual processes much faster than they planned to keep afloat.
The benefits of low-code and no-code development adhere to its faster adoption and popularity among business owners: they are easy to use, don't require development expertise, and enable cheaper and much faster development. According to Redhat, LCNC are able to reduce development time by 90%.
There are separate business segments and use cases where native and custom development are not that relevant and the costs are not justified. Mainly, these cases include automating manual routine tasks and business processes.
According to Gartner, use cases for LCNC include:
forms or data-collection (58%);
business processes and workflows automation (49%);
replacing paper, email, or spreadsheets (42%);
customizing new app UI for current on-premise applications (22%).
However, this approach has drawbacks that prevent it from being implemented in all cases: limited customization possibilities, restricted integration capabilities, security risks, and limited scalability. Therefore, It is important to distinguish if you can use this option for software development or if your business objectives require a more sophisticated approach such as custom mobile app development.
3. Mobile commerce is on the rise
In 2020, COVID pandemic forced everyone to switch to e-commerce and mobile shopping. Since then, for most people, it's hard to imagine our lives without shopping online on a regular basis. In the USA, retail m-commerce sales hit $359.32 billion in 2021, which is 15.2% higher than in the previous year. And what's more, this number is expected to double by 2025 and reach $728.28 billion. Impressive, considering it will account for 44% of retail e-commerce sales in the US.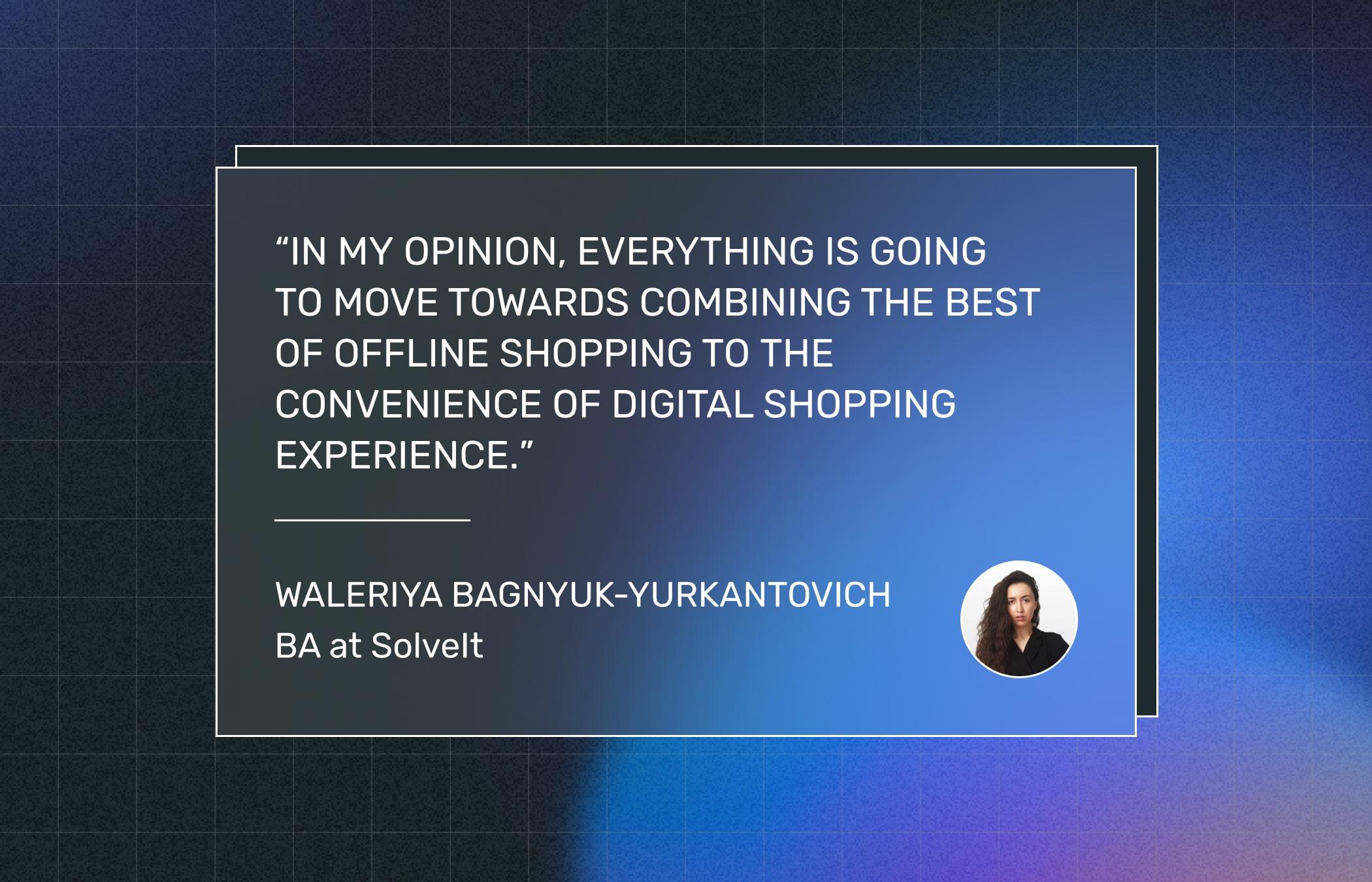 The trend of m-commerce app development has begun earlier, but it will continue to gather pace in 2023 and further. E-commerce and retail businesses will be aiming at launching their own mobile apps to leverage its benefits: higher conversion rates, lower cart abandonment, improved communication with customers, greater user engagement, and others.
Read also our article about why does e-commerce need a mobile app.
Speaking about how e-commerce mobile app development is going to develop within the upcoming years, it is likely that we will see more advanced technologies implemented wherever possible and reasonable to enhance user experience. Users are looking for a shopping experience that is smooth, personalized, and secure. These three characteristics will be a top priority for a successful mobile commerce application.
"In my opinion, everything is going to move towards combining the best of offline shopping with the convenience of digital shopping experience. Here come such technologies as AR/VR and AI into play. Using them, we can create digital fitting rooms, implement voice search, and chatbots as a replacement for communication with consultants."
— Waleriya Bagnyuk-Yurkantovich, Business Analyst at SolveIt.
4. Growing demand for app security
Unfortunately, the number of fraudulent transactions increases year by year. According to Merchant Savvy, payments fraud has tripled from $9.84 billion in 2011 to $32.39 billion in 2020 worldwide. What's more, it is projected to increase further by 25% by 2027.
"From what we witnessed, I can definitely state that mobile app security is becoming a more important factor for most clients. They ask for various laws compliance, security measures, processes in place, and so on.
Most often than not business owners and entrepreneurs understand the consequences of having an app that doesn't ensure the high safety of the users' data. Even if you're early stage startup, security and reputation is something that should never be neglected.
Therefore, in our turn we make sure the apps we deliver are secure, stable, and guarantee data safety."
— Ilia Kiselevich, CEO & Founder at SolveIt
The situation is however predictable. The higher the demand for e-commerce and fintech, the more possibilities for cyber crimes are there. That is why the demand for strong app security and data safety is growing proportionally to technological advances.
Plus, data privacy regulations are also being developed at an increasing pace which forces software developers to pay more attention to the issue of user data security. It is estimated that by 2024 modern data privacy laws will cover the personal information of three-quarters of the world's population.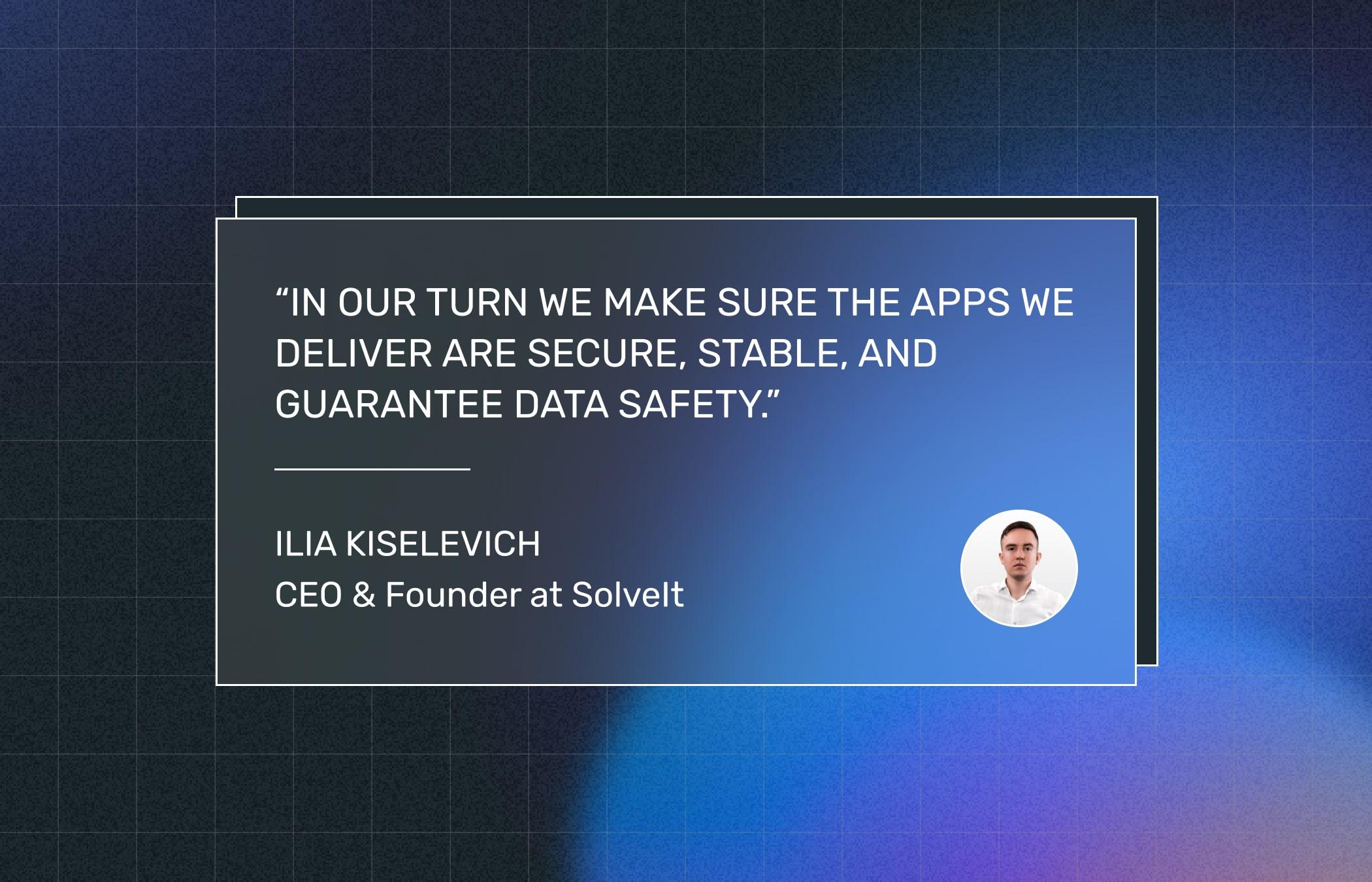 So, summing this up, it is likely that the users will be pickier when choosing the apps and software they use. Businesses will pose more security-related requests to software developers and SaaS companies. As for the mobile app development companies, if it hasn't been done yet, they should make sure their processes and products comply with data privacy laws and implement features that protect users from fraud and theft.
Common security measures that should be in place:
A very thorough software testing and QA to make sure the code is safe;
Use biometrics for sign up and login;
Multi-factor authentication;
Data encryption;
Use secure APIs;
Security triggers implementation.
5. Greater focus on UX/UI
The ever-increasing demand for a great app design services is not a new mobile app development trend, but it's becoming a more important factor of mobile app success. Users tend to abandon those apps that don't provide a high-quality experience. And as the competition is getting tougher it's critical to keep this in mind.
A good design nowadays is quite simple, however, it is eye-catching, engaging, and most important – helps users navigate the app seamlessly.
Digging deeper into what design approaches are likely to become more popular in 2023, our UX/UI Designer Elena Gurinova points out these tendencies:
Gradients Companies we work with are demanding the usage of gradients more often these days. This trend is getting widespread absolutely everywhere, including websites, mobile applications, branding, and other areas. In 2023, gradients will be all about vivid colors and unique forms that arise pleasing emotions.
3D objects Implementation of three-dimensional elements in UX/UI design is connected to the AR/VR trend and its proliferation will continue in 2023 as well. It makes the interface look unique and helps businesses to better communicate their message to customers. As our experience shows, 3D objects are a good option that also impacts user engagement in a positive way.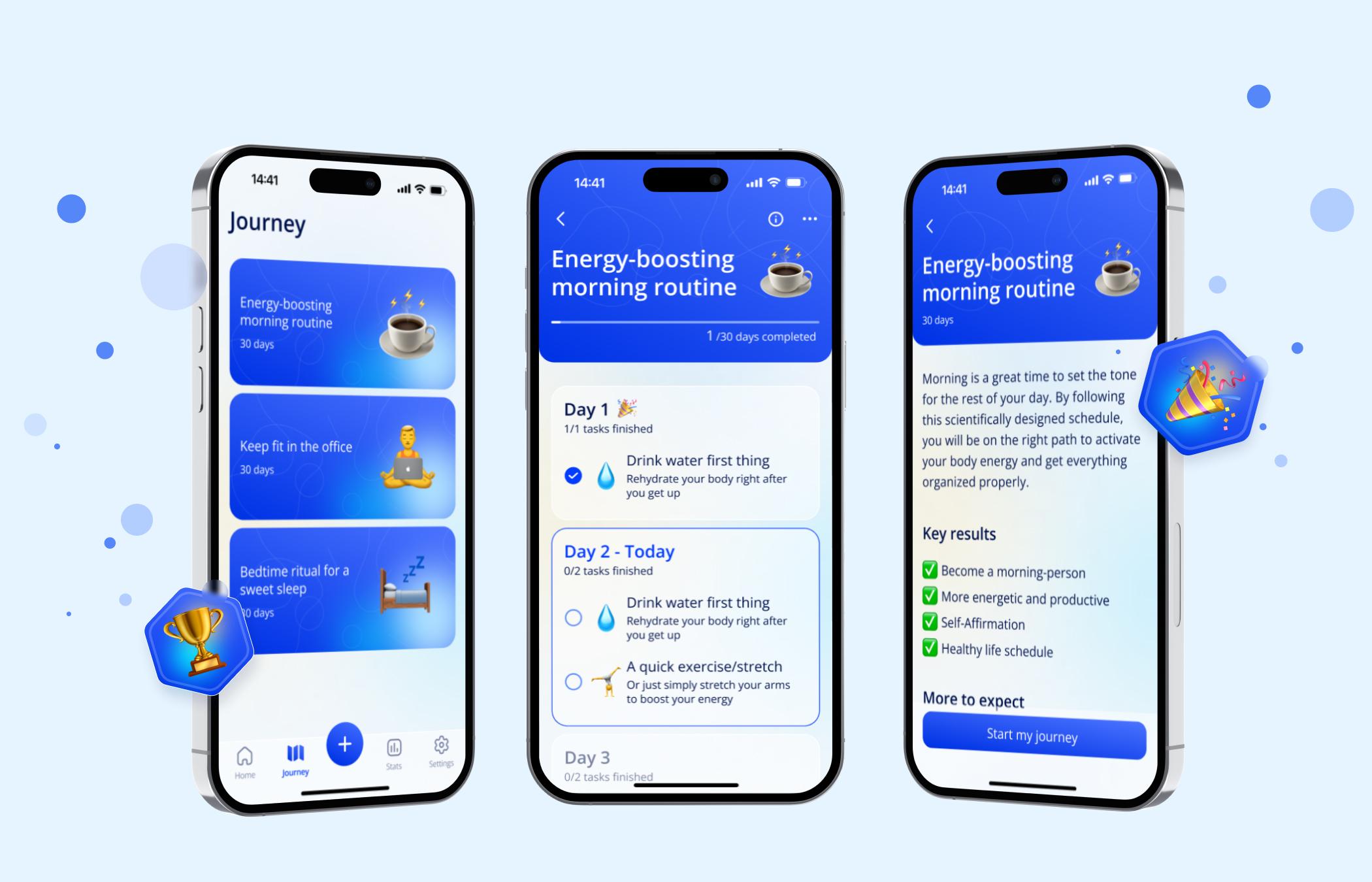 6. On-demand services apps
A concept of on-demand apps appeared as a transition from general to specific. It is a logical consequence of the latest mobile app development trend of focusing on certain consumer needs, in other words, – providing highly tailored services.
This tendency is seen, first of all, in the shift of business models: more and more businesses are looking to adopt an "on-demand services" approach to what they offer. So, services are becoming more convenient for users, faster, and more personalized which positively impacts both user experience and providers' revenue.
The on-demand economy comprises various services, however, the most popular-demand apps remain marketplaces, transportation, food, and grocery delivery. Some other popular services provided on-demand are freelancer services, health and beauty services, home services, and healthcare services.
To make use of this mobile app development trend keep an eye on it and apply it to your services and products if possible. For example, for one of our clients, we developed an on-demand app for quickly finding and calling the required specialist: tow truck, mobile bus, technical assistance, etc.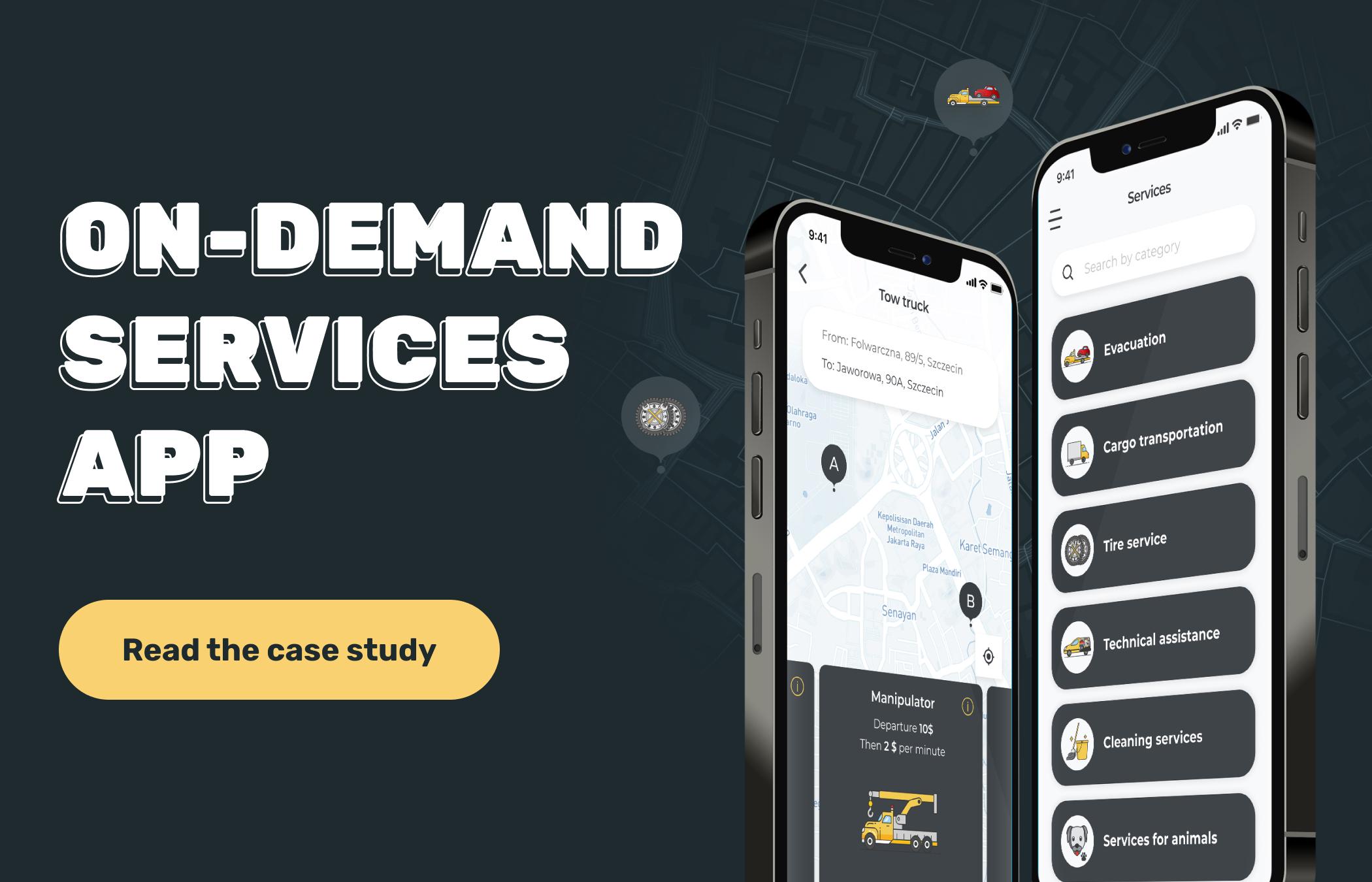 7. PWA (Progressive Web App)
Progressive Web Apps or PWAs are becoming a popular trend in mobile app development, especially among those who want to build a simple app instantly available without app store download. Those are web pages or websites optimized to perform as mobile apps. Think of Pinterest – it is a great example of a PWA.
PWAs provide some really great benefits like lower development costs, a mobile app-like experience, and compatibility with multiple devices. As PWAs are immediately available from the browser it means there is no need to pass through the store's reviews and users don't need to install them. Such apps are also visible by search engines and common SEO rules apply to them to get to the top Google results.
So, if these aspects seem something your business needs, you should definitely consider PWA development instead of native or cross-platform one. SolveIt specialists can provide you with a free consultation to choose the best app type for your product.
If you are hesitant whether two choose a PWA or a native app development read this article.
8. AR is getting more applied
AR (augmented reality) seems to have become a buzzword within recent years. All in all, it is really hot and one of the most discussed mobile app trends. According to Statista, the mobile AR market size will triple by 2026 from its 2021 value.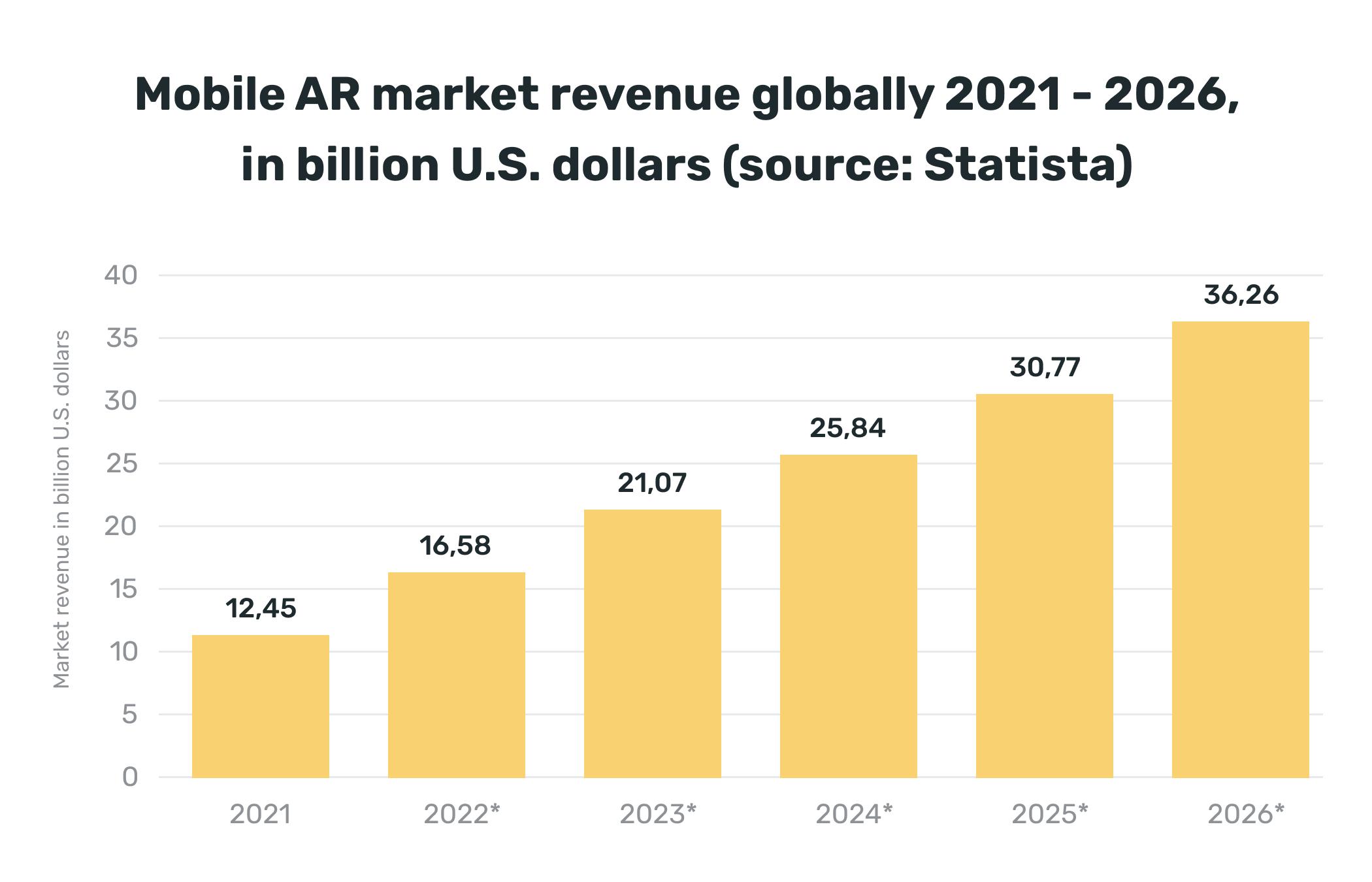 Augmented reality has revolutionized the way of shopping: nowadays it is possible to choose outfits and try them on without leaving your mobile device. The reason this app development trend is not currently that widespread is that consumers may be reluctant to use this option and still prefer offline stores instead. As a result, e-commerce businesses are not willing to spend significant budgets on technology that may not pay off.
Let's admit it is quite reasonable. However, the tendency is that a younger population including Gen Z and Millenials is 71% more inclined to use AR than the elderly. Moreover, an astonishing 92% of Gen Z want to use AR for shopping. So, AR is really a rational investment for the sake of a future creditworthy population. Speaking about the trends in mobile app development for 2023 we expect that more companies will look out for ways to implement it in the near future.
"AR is already developing and gaining popularity in various industries. It allows businesses to stand out from the competition, attract users' attention, and expand the capabilities of the interface. In my opinion, in 2023 this technology will gain traction in various spheres, especially in e-commerce." - Elena Gurinova, UX/UI Designer at SolveIt.
Bottom line
Mobile app development trends help to understand what is going on in the market and make the right choices for the project. If you can apply these mobile app trends to your case in the right way, you'll get an app that is popular and future-proof.
Schedule a free consultation with SolveIt mobile app development experts to see what trends in mobile app development can drive your project success.