When it comes to e-commerce, questioning the need to create a mobile application seems out of line. However, a lot of retailers still doubt whether to develop an e-commerce mobile app or avoid extra expenses and just limit their online presence to a website. Most likely the founders of Amazon and eBay had those doubts at the beginning of their journeys too, but look where they've got now.
In this article, we've gathered some undisputable reasons why your e-commerce needs a mobile app. Think twice before kicking mobile app development into the long grass.
A bit of life-asserting stats
Today, mobile consumption is steadily growing, and this tendency is driven by two key factors. First and most obvious – smartphone penetration keeps on marching across the globe. Since 2016, the number of smartphone users worldwide has been increasing by an average of 10.4% annually and hit 6.6 billion in 2022. The expansion is expected to continue and reach 6.8 billion by 2023, which is about 85% of the world population.
Needless to say that desktops are gradually being replaced by smartphone screens. As of December 2022, the market share of mobile traffic reached 61.42% against 38.58% of desktop traffic.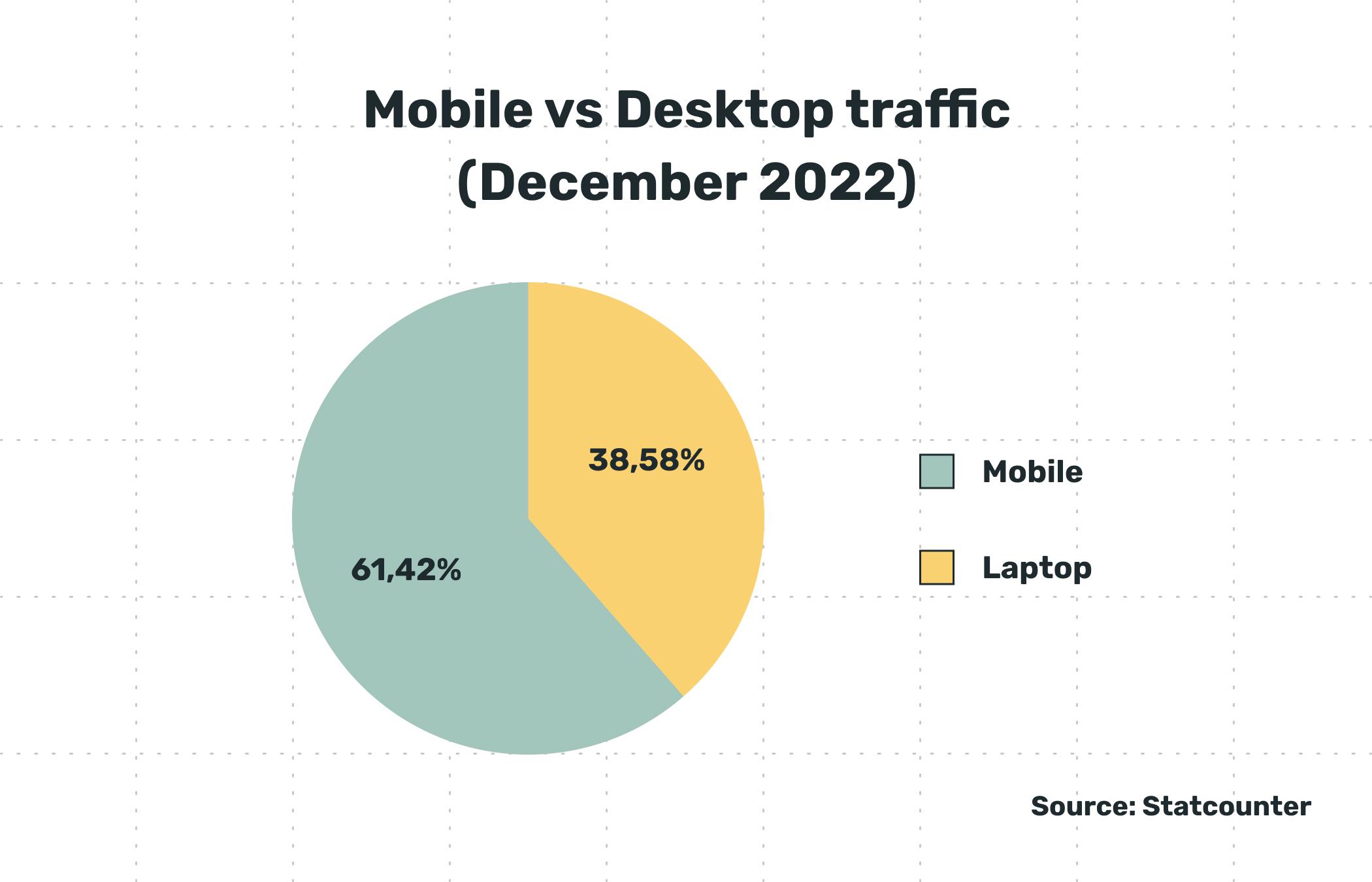 Secondly, the Covid-19 pandemic outbreak resulted in shifting customer behavior and replacing physical stores with online ones. Under global lockdown, shoppers rushed to buy goods online. Over the last two years of the pandemic, consumers spent $1.7 trillion in online stores in the U.S. only, which is 55% more than in the pre-Covid period.
These figures show that the e-commerce environment is competitive as ever before, and it's not something that would fade into history any time soon. This is a visible alert for all startup founders and business owners to be flexible and adjust strategies to consumer needs.
10 benefits of e-commerce mobile app
The statistics mentioned above reveal that a successful e-commerce business can't exist outside the mobile landscape. In case you're still in two minds about whether to focus your efforts on mobile app development or not, we've rounded up 10 bulletproof reasons why you should absolutely go for it.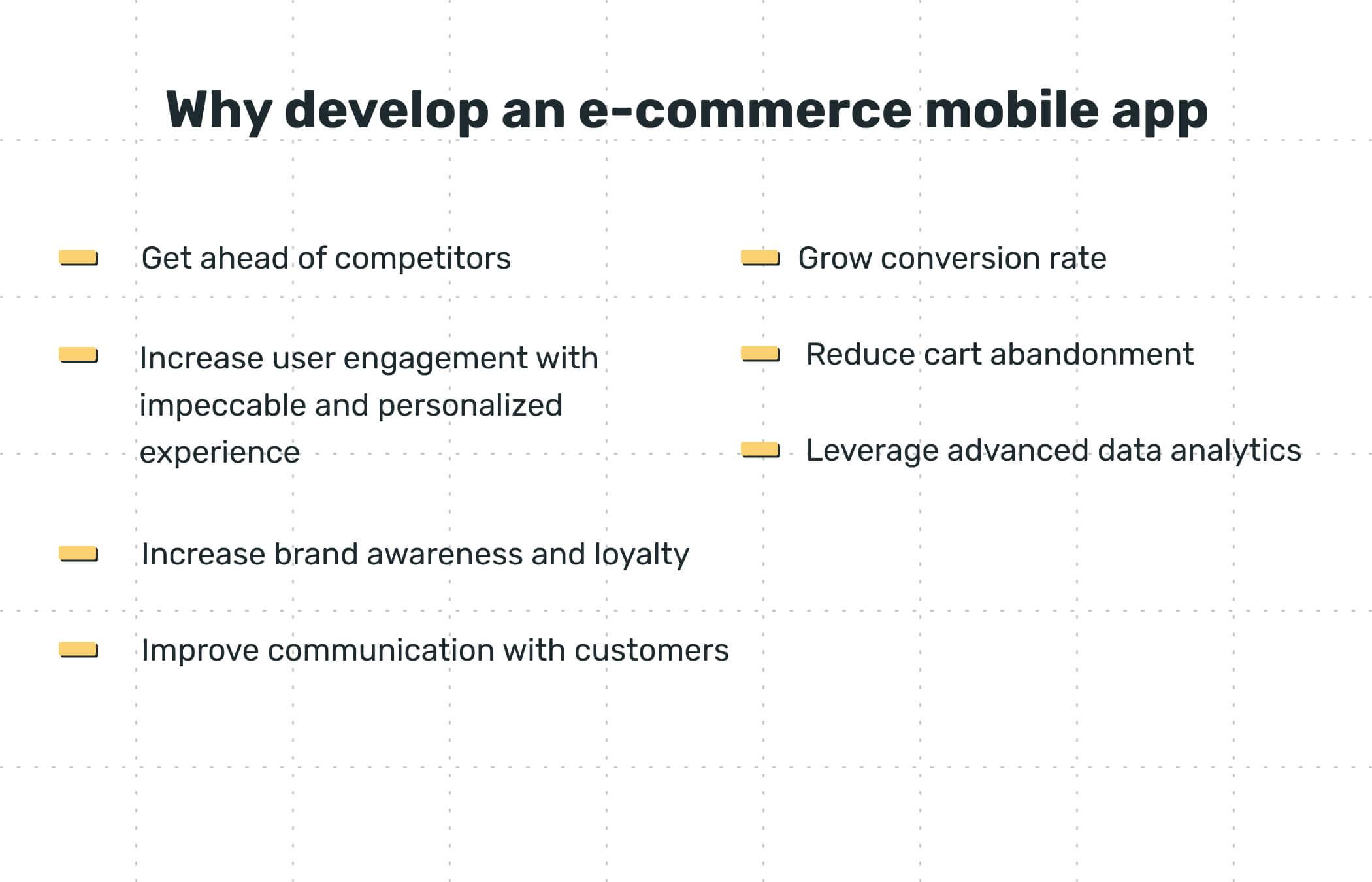 1. Solid competitive advantage
Let's admit this – in the e-commerce space, a mobile app is no longer an innovation. However, in this context, competitive advantage is not about having an application, but delivering an app that would satisfy customer needs better than your competitors.
Since an app is able to create a strong bond between your brand and your customer, it's crucial to design an application that would keep users coming for more. Make sure you conduct comprehensive market research and competitor analysis to define the functionality that your potential customers are looking for and implement it in your e-commerce mobile app.
Here's one more thing to bear in mind: even if your app becomes a hit, this won't last forever. More e-commerce mobile applications will inevitably appear on the market very soon, so it's to your advantage to create one now and keep on enhancing it to not give up your positions.
If you feel absolutely clueless about where to begin, don't rush and start off with MVP. Feel free to contact our experts for MVP development services.
2. Impeccable shopping experience
It is no secret that users value flawless experience. If they come across an error-prone interface with a slow loading speed and difficult navigation, users abandon it immediately.
Since e-commerce mobile apps don't rely on web servers for data storage or depend on browser performance like websites, they are capable of providing faster performance.
Another obvious advantage of mobile apps is that they can leverage on-device features like GPS, camera, and microphone, among others. How can it come in handy for mobile app e-commerce? For example, granting application access to a customer's location makes it possible to automatically determine the geolocation of the nearest delivery point. With the help of a camera, users can search for the needed products much faster by capturing and uploading images or scanning barcodes, or simply verbalizing what they are looking for with a microphone.
Speaking of visual search precisely, a lot of brands optimize their apps with a camera search option to upscale conversions. For instance, a well-known fashion retailer, BooHoo, reported that customers searching for goods by image have an 85% conversion rate in contrast to those who leverage keyword search.
3. Personalized in-app experience
Special offers, shipping updates, useful recommendations, and loyalty programs tailored to customers' individual needs perform like a charm, encouraging users to come back and make purchases on a regular basis.
Let's turn to a real success case, the Amazon e-commerce mobile app, which has perfectly converted the concept of personalization into its advantage. From the very first steps, Amazon greets you by your first name and continues creating a sense of good care throughout the whole journey. The app suggests customized offers based on your search and purchase history, as well as highlights deals of the day in a special section. In other words, Amazon turned its mobile app into a smart shopping assistant that provides users with only relevant goods.
If you want to make personalization your strong side, Amazon's strategy is a must to adopt. Eventually, an optimized shopping experience will pay off in increased revenues.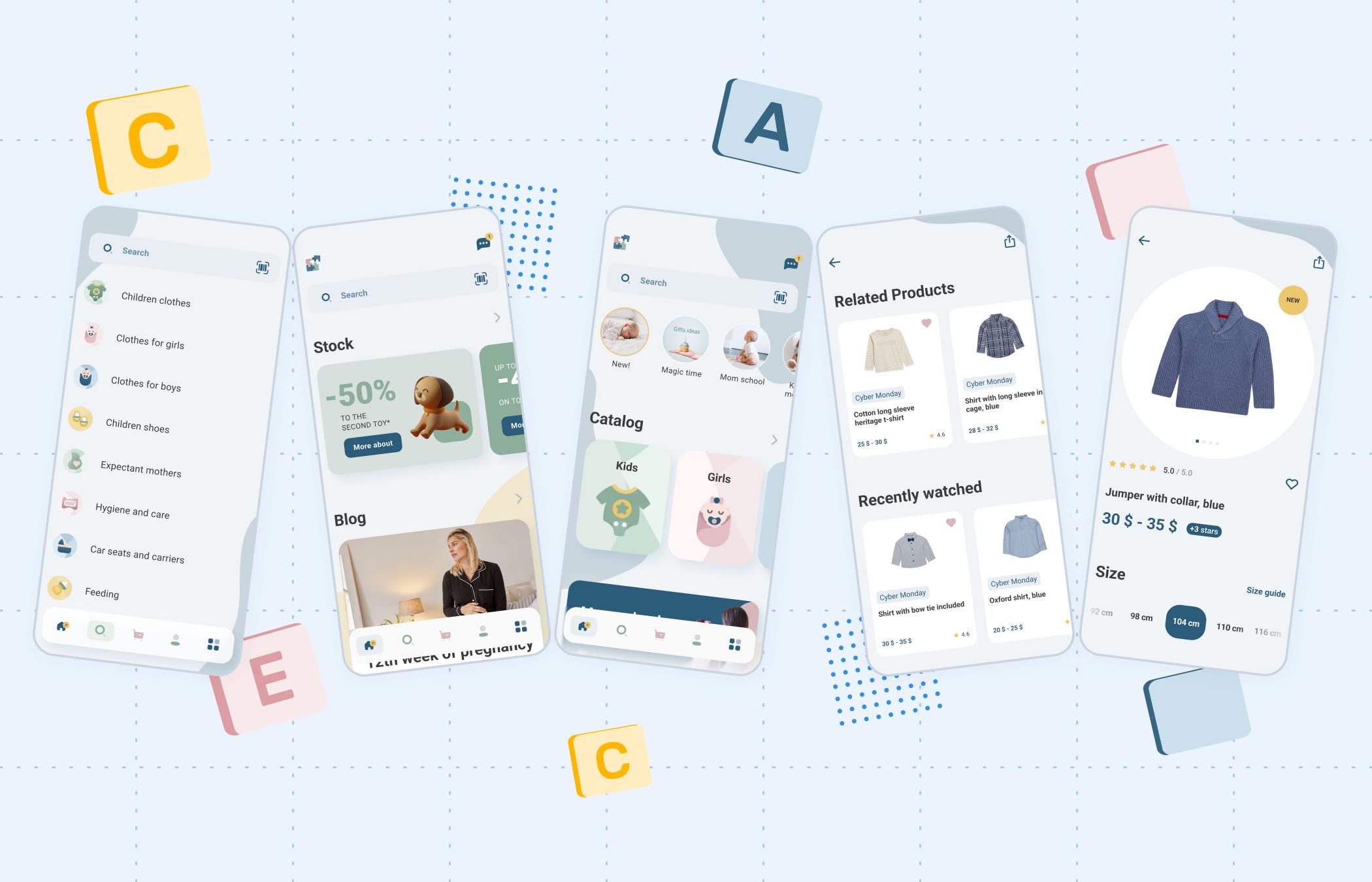 SolveIt portfolio | Mobile app for children's store
4. Convenient payment
Since the purpose of mobile app e-commerce is to actually sell goods, a convenient payment system deserves a separate mention on our list. Integrating several payment options increases the chance that customers will likely find the most convenient one and make a purchase.
As opposed to websites, in-app wallets allow users to make a purchase immediately in the app, instead of passing through additional authentication with third-party resources. Moreover, an app can store data which saves customers much time on filling in payment details again and again.
A huge advantage of making transactions through the mobile app is high security. Mobile apps often use two-factor or biometric authentication with fingertips or facial recognition to protect sensitive data.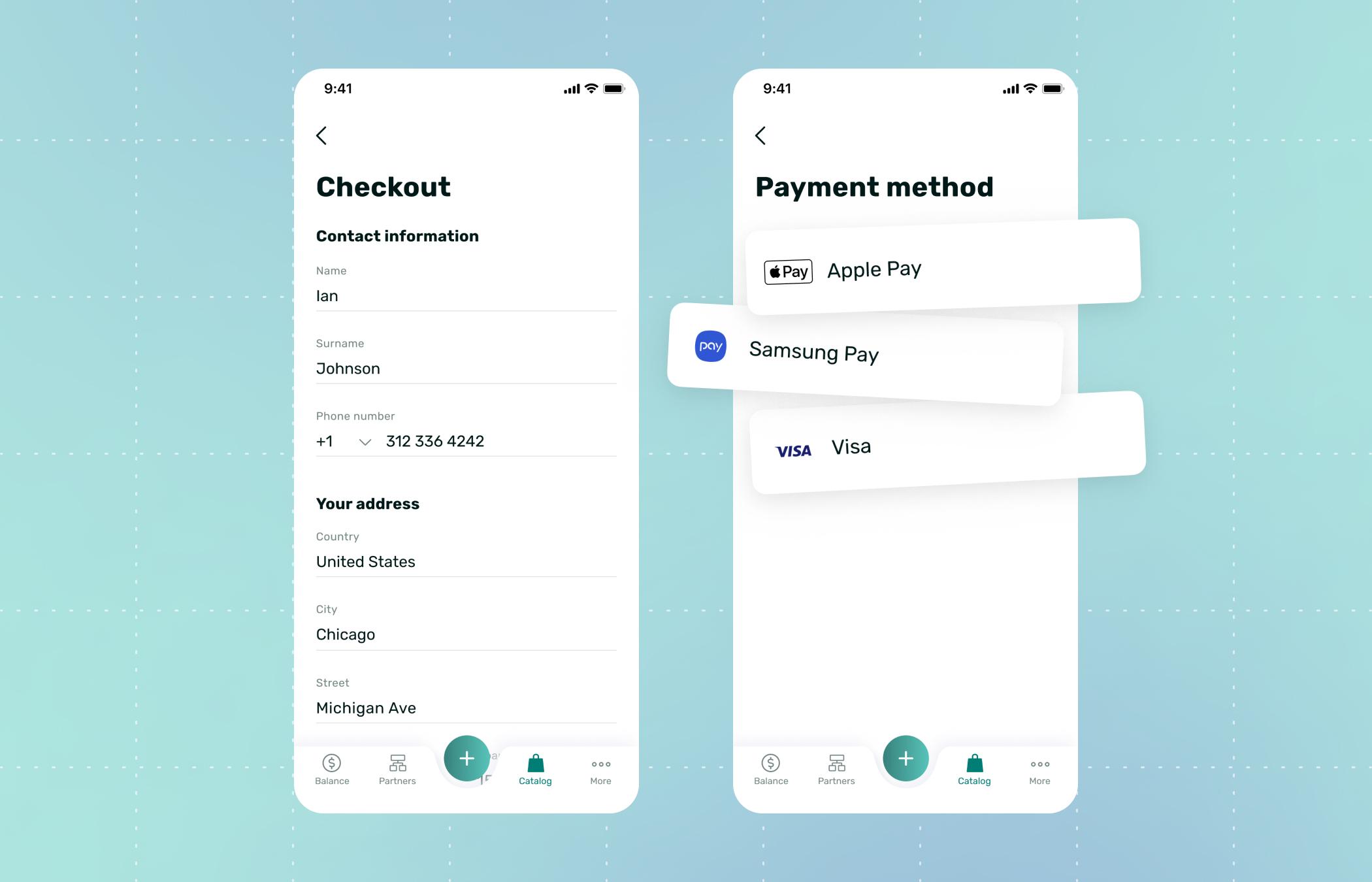 SolveIt portfolio | Mobile app for online store of eco-products
5. Increased brand awareness & loyalty
An e-commerce mobile app is a great tool for scaling your online presence and increasing visibility. Once your app gets installed, users will frequently see your app icon and brand logo while swiping the screens. As a result of regular interactions with your mobile e-commerce app, users are likely to start buying from you and recommend an app to their friends.
Besides, an app helps to efficiently expand the customer base by introducing special offers, exclusive discounts, and bonuses for loyal clients. By the way, loyalty programs are a good option for extra monetization. Let's get back to the example of Amazon and its loyalty program, Amazon Prime. For $14.99 per month, users get access to free unlimited delivery options, a streaming platform, early access to sales, and a lot more. A win-win scenario, isn't it?
Appealing app design is a great part of brand identity and another way of capturing customers. Think of an interactive and easy-to-use yet "tasty" layout that would both please users' eyes and fulfill their demands. For some inspiration you can check out the case study of a mobile store of eco-products. It will provide you with a good example of an e-commerce mobile app design.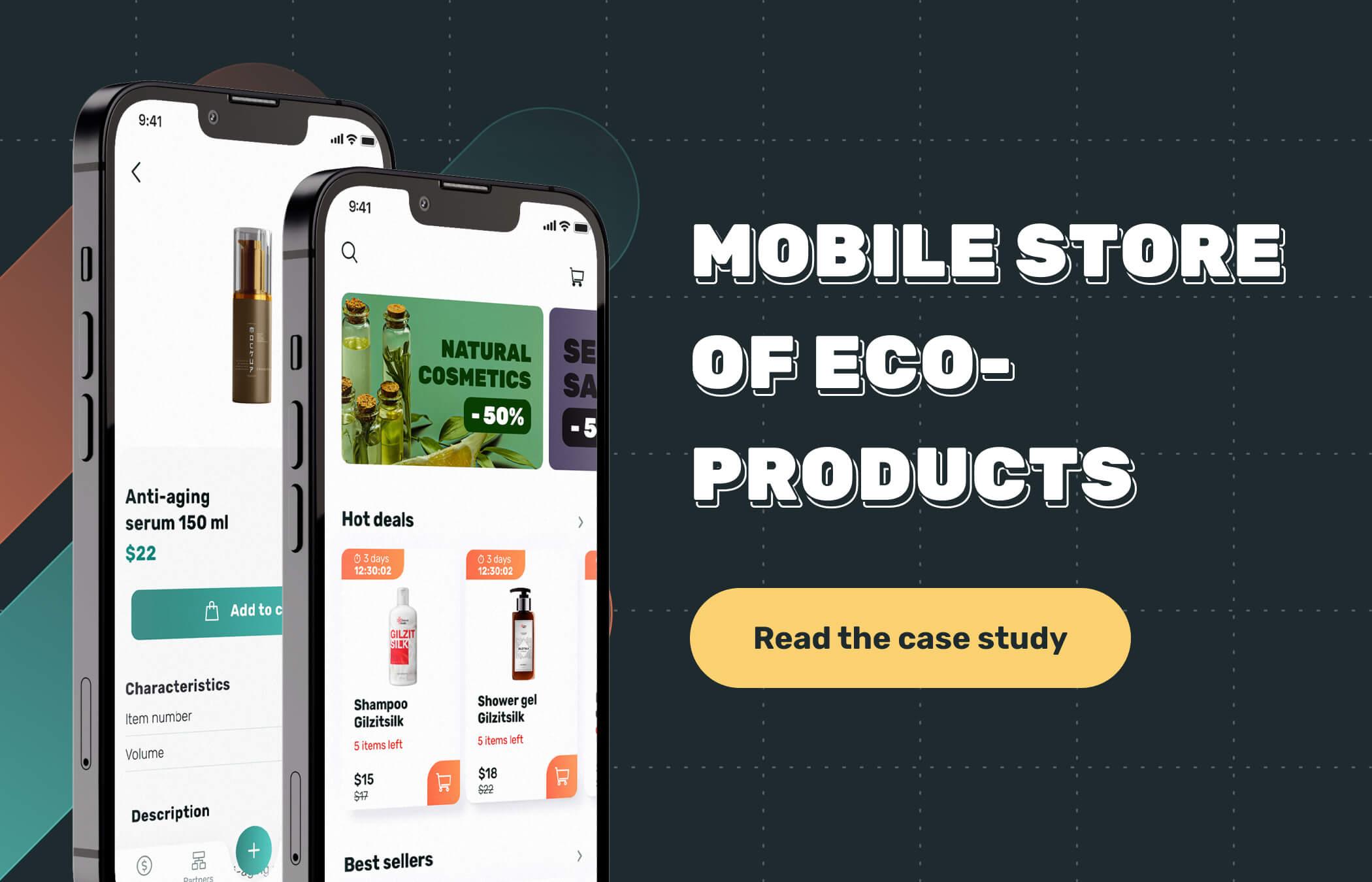 6. Enhanced conversion rates
Probably the most wanted e-commerce metric that marketers are fighting for is conversion. If you plan to reach a new level of conversion, you should definitely consider e-commerce mobile app development services. According to Business of Apps, mobile apps demonstrate 130% higher conversion rates compared to websites. Why so?
A mobile app provides more opportunities for user re-engagement. It's normal that users get distracted from time to time, but you can set up push notifications or send out emails to encourage customers to get back to the app and get their shopping done.
Undoubtedly, real cases speak better than words. For one of our clients, we developed a mobile app for e-commerce store that helped to dramatically increase the store's revenue. The application provides all the functions of an e-commerce store: a search with customizable filters, a catalog, a shopping cart, built-in payment services, and more. In the first month after the release, over 100K purchases were made through the mobile app!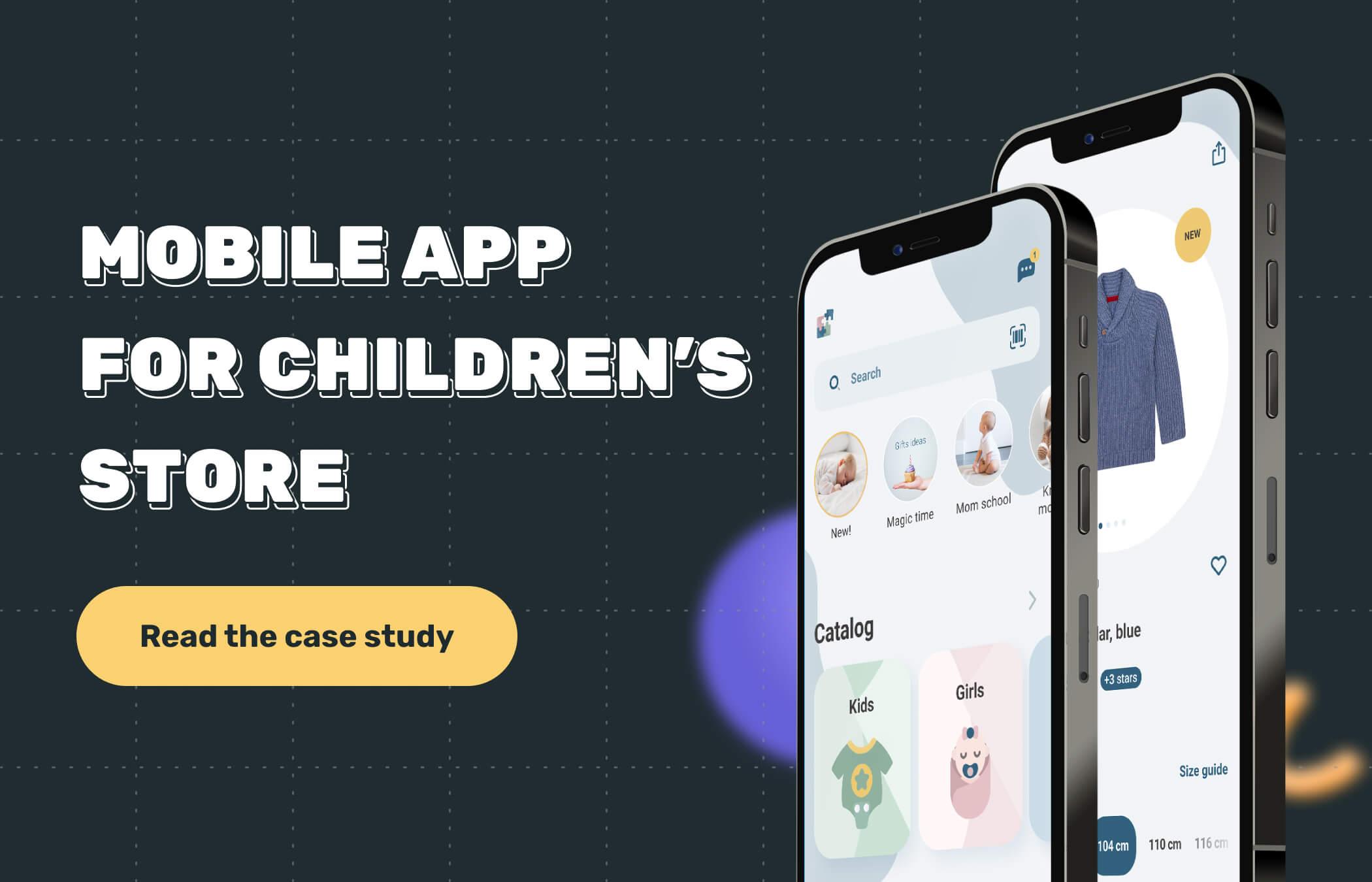 Building trustworthy one-to-one relations also adds to better conversion rates. Come on, people love to sense increased attention and care. To get some inspiration on this matter, let's turn to the Starbucks example.
A popular coffee shop introduced in-app customer rewards way back in 2011. Three years later they launched gamification and started to personalize the experience by displaying games based on the user's account activity. Plus, they actively utilize the power of AI to make their offers more individualized according to customer preferences, location, and purchase history. All these tactics help Starbucks to make users satisfied and keep conversions high.
7. Improved marketing communication
Smartphones enable customers to stay in touch with brands 24/7, and you should make it work in your favor. Remember that first impression is everything, so when crafting your e-commerce mobile app, don't skip out on nice onboarding. A couple of welcoming screens are able to not only set a positive tone, but also educate users about the main features and benefits, and streamline their in-app navigation.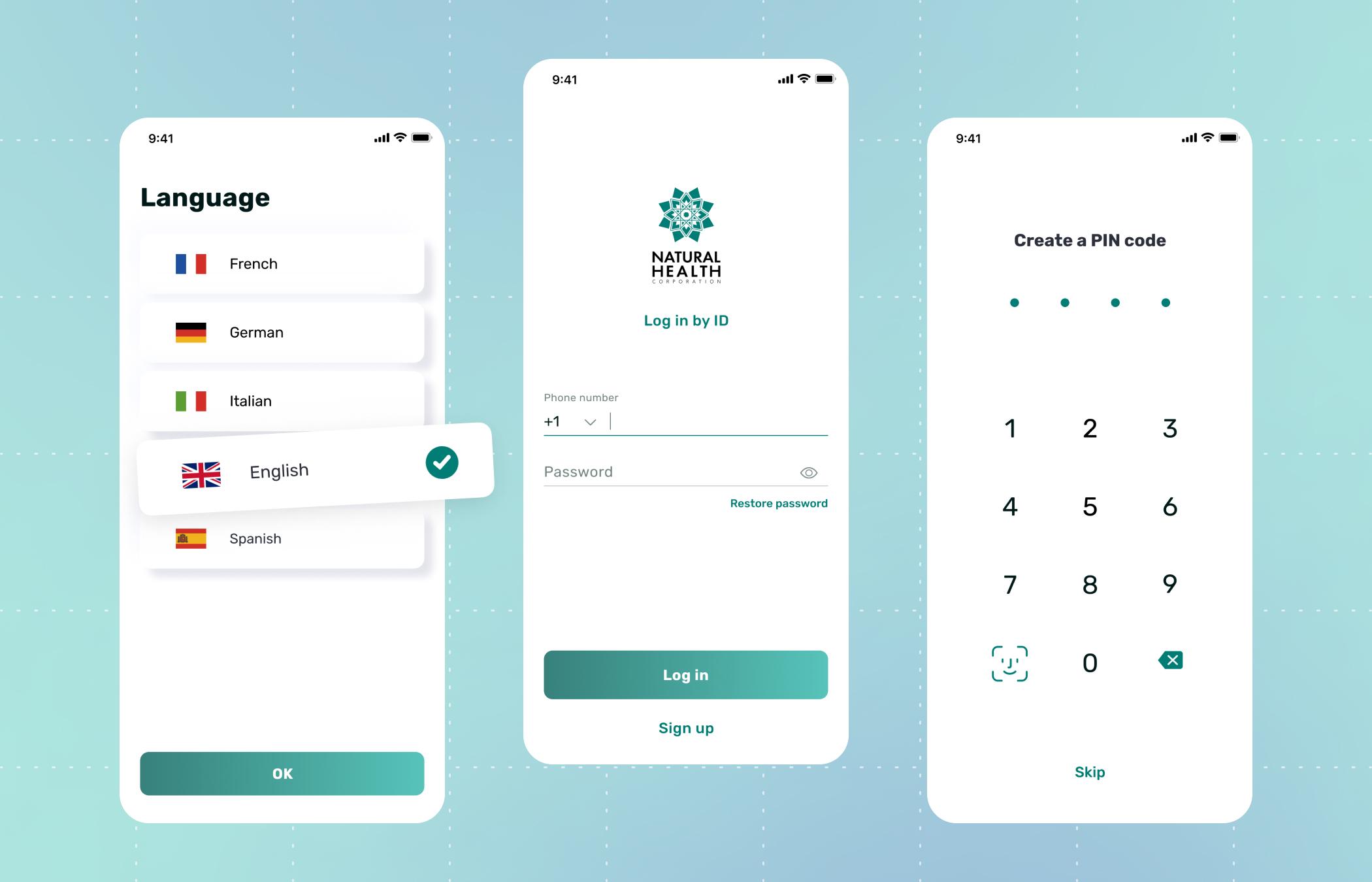 SolveIt portfolio | Mobile app for online store of eco-products
The fastest and easiest way to "speak" with users via an app is push notifications. They keep customers updated about promos and special deals, upcoming events, and relevant brand news. The main rule here is not to overdose. Try to limit your messaging to handy reminders and on-point tips instead of bombarding users with annoying spam.
Since users expect to find personalization everywhere they turn, maintaining around-the-clock customer support is the right feature to adopt. Chatbots play a key role in resolving queries and collecting data about customer behavior. As a pleasant bonus, conversational chatbots provide a smooth shopping experience at reduced costs as they eliminate the need to recruit a large customer service department.
In this regard, Nike remarkably stands out from the competition. It has turned its app into a virtual source of useful information rather than a selling app. Apart from alerts and special offers via the in-app rewards program, Nike communicates with its customers by providing professional training and style tips from Nike experts. How smart of them!
8. Social media connectivity
Social networks are an integral part of our lives and a goldmine for businesses. Given the popularity of mobile experiences, integrating social media platforms into your mobile e-commerce app seems to be an easy path to attract new audiences and boost sales. By doing so, you enable your customers to easily share direct links to your app, provide their feedback about your products, and make content go viral.
To reach more target customers and encourage higher engagement, you may also collaborate with social media influencers. As a rule, they have a loyal audience that tunes in to their recommendations. As such, if a popular blogger shares a link to your app and provides positive feedback about your service, a flow of customers won't keep you waiting long.
9. Reduced cart abandonment
Statistics provided by Finances Online claim that in 2022 the average cart abandonment rate varied from 59.2% to 79.8%. This is an alarm bell for e-commerce brands as the fewer completed purchases you have, the lower revenue you get. It's especially frustrating to realize that a customer bounced just one click away from placing an order. Thousands of marketers around the world rack their brains over a reliable solution to this problem. And guess what? Right, an e-commerce mobile app can come to the rescue.
In fact, customers abandon mobile app carts less frequently because, unlike websites, apps work faster and require a one-time sign-in process. In other words, users don't have to enter their login and pass every visit.
An app also deals greatly with situations when a customer gets distracted and forgets to click the "buy" button. For such cases, you can set up reminder notifications to draw your customer's attention back. The same can't refer to websites, because it's impossible to reach out to a client if your website tab has already been closed.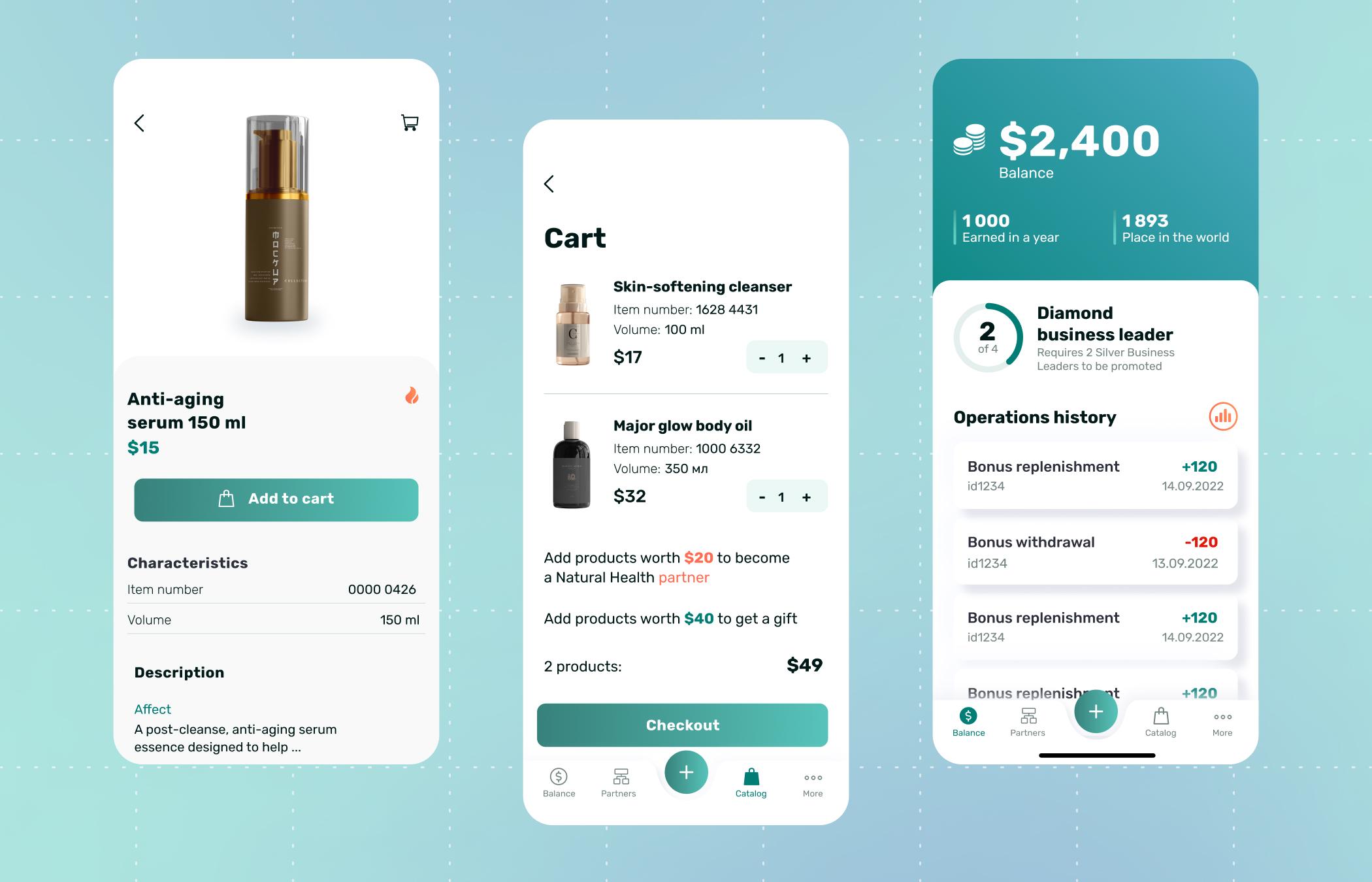 SolveIt portfolio | Mobile app for online store of eco-products
10. Advanced data analytics
The last but not least reason why mobile app is crucial for e-commerce business is data analytics. A mobile application is an additional source of valuable marketing insights. At what stage do clients usually fall off? What promos do they mostly react to? Are they engaged to the extent you need? By collecting and analyzing essential e-commerce metrics such as ​​sales conversion rate, average order value, customer lifetime value, bounce rate, and others, you obtain a better understanding of where to move next in your business strategies.
As a communication channel, an app can also expose you to real customer feedback. Check out the comments and top preferences in their search history to get a complete picture of your progress.
Once the data is collected and some unsatisfactory metrics are revealed, don't hastily jump to conclusions. With an app, you can approach issues through A/B testing. From changing button colors to adding user-generated video reviews – feel free to test any hypotheses.
Final thoughts
From a business perspective, it's hard to overestimate the importance of e-commerce apps. Though building a user-friendly app that customers would adore takes time and effort, your brand will surely thrive from incorporating a mobile app.
If an e-commerce mobile app is an element you lack on the way to accomplishing success, drop us a line. At Solveit, we will make every stage of your mobile development journey efficient and worry-free!