SolveIt is listed among the Top 10 Web Design Companies globally!
We are excited about being featured among 100+ agencies from around the world that create high-performance websites. This time our web design and development expertise was recognized by Techreviewer.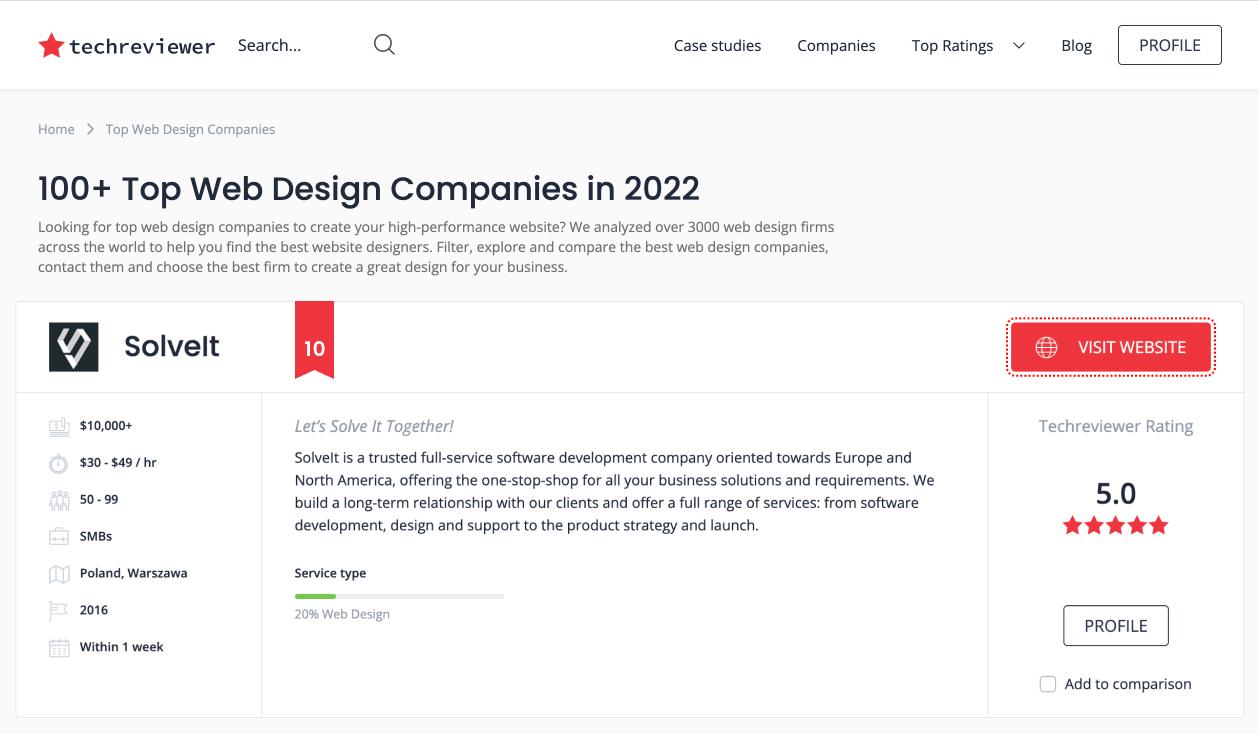 The Techreriewer team of analysts ranks companies based on publicly available information and surveys about industries. Criteria to evaluate companies include client feedback, tech and market expertise, organic search presence, website performance and domain authority, employee reviews.
The listing is not paid - so, believe it or not, we are good! 😀
Our Web Design Approach
We are truly passionate about what we do and give our best in each project. Thus, our clients are confident in the quality of our solutions.
SolveIt design principles are the following: • User-centric; • Modern and clear interfaces; • Smooth UX; • Creativity and uniqueness; • Designs that help clients achieve their goals.
"Successful design is not beauty in the first place, but well-built effective communication. Beauty comes as a nice addition. Therefore, in SolveIt we focus on the goals, objectives, and audience of the client. At the heart of the work of each designer is a product approach."
— Maria Kravchinskaja, Chief Design Officer and Partner at SolveIt
SolveIt Web Design Projects
Website Design and Development for a Construction Company
The architectural and construction company "Alfa-cube" was looking to create a corporate website from scratch, develop a unique identity. After the comprehensive business and market analysis, SolveIt developed a website that is neat and clean, with the right accents and eye-catching colour combinations.
IT-Company Website Redesign
Basically, that's our website redesign. Since its foundation in 2016, SolveIt has significantly expanded. So, we decided to launch a revamped website to reflect these changes and improve its performance. Our technical architects, marketers, and UX/UI designers worked on navigation and usability. The site redesign took six months.
SolveIt Design & Development Services
With our in-house design and development team we supply a full range of digital design services:
• Website design and development; • Mobile app design and development; • Web app design and development; • Branding; • Design Consulting; • Motion Graphic Design.
Do you feel like our vision is in tune with yours? Get in touch and let's see how we can Solve It together!