We are thrilled to announce that SolveIt has launched its mobile application for habit tracking — HBT! 🤩🎉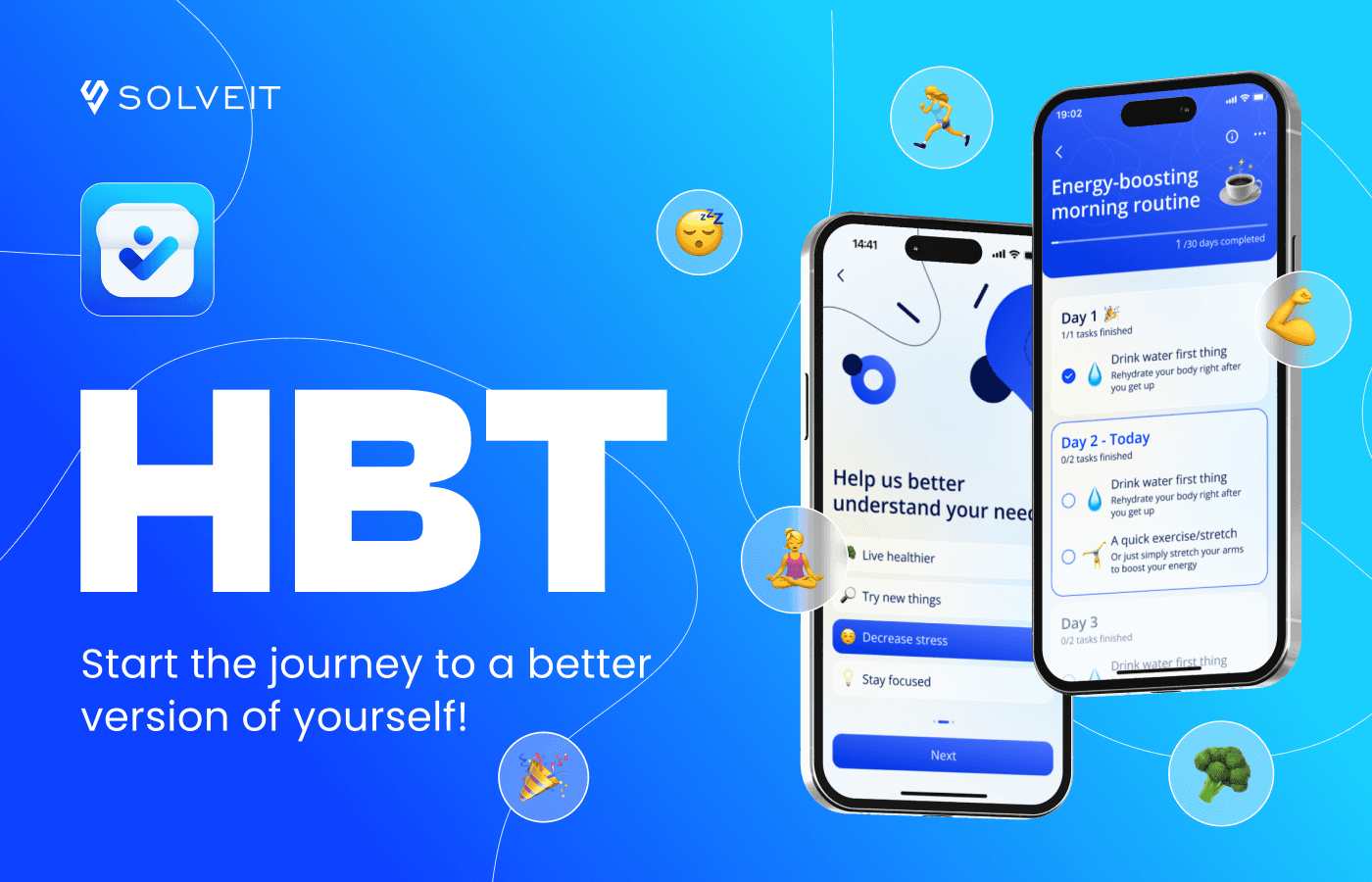 About SolveIt
SolveIt is a EU-based full-cycle development agency. Since 2016 we have been designing and developing top-rated mobile and web apps for E-commerce, Healthcare, Fintech, Business, and other industries.
Our in-house team of 50+ talented professionals provides startups and established businesses with the full scope of services to build outstanding solutions. It means we deliver projects from discovery phase to development, launch, and support.
Recently, we decided to leverage our expertise and build our own product — a mobile application for tracking habits.
And now, a little over 2 months later, our first app version is finally in the App Store 🥳.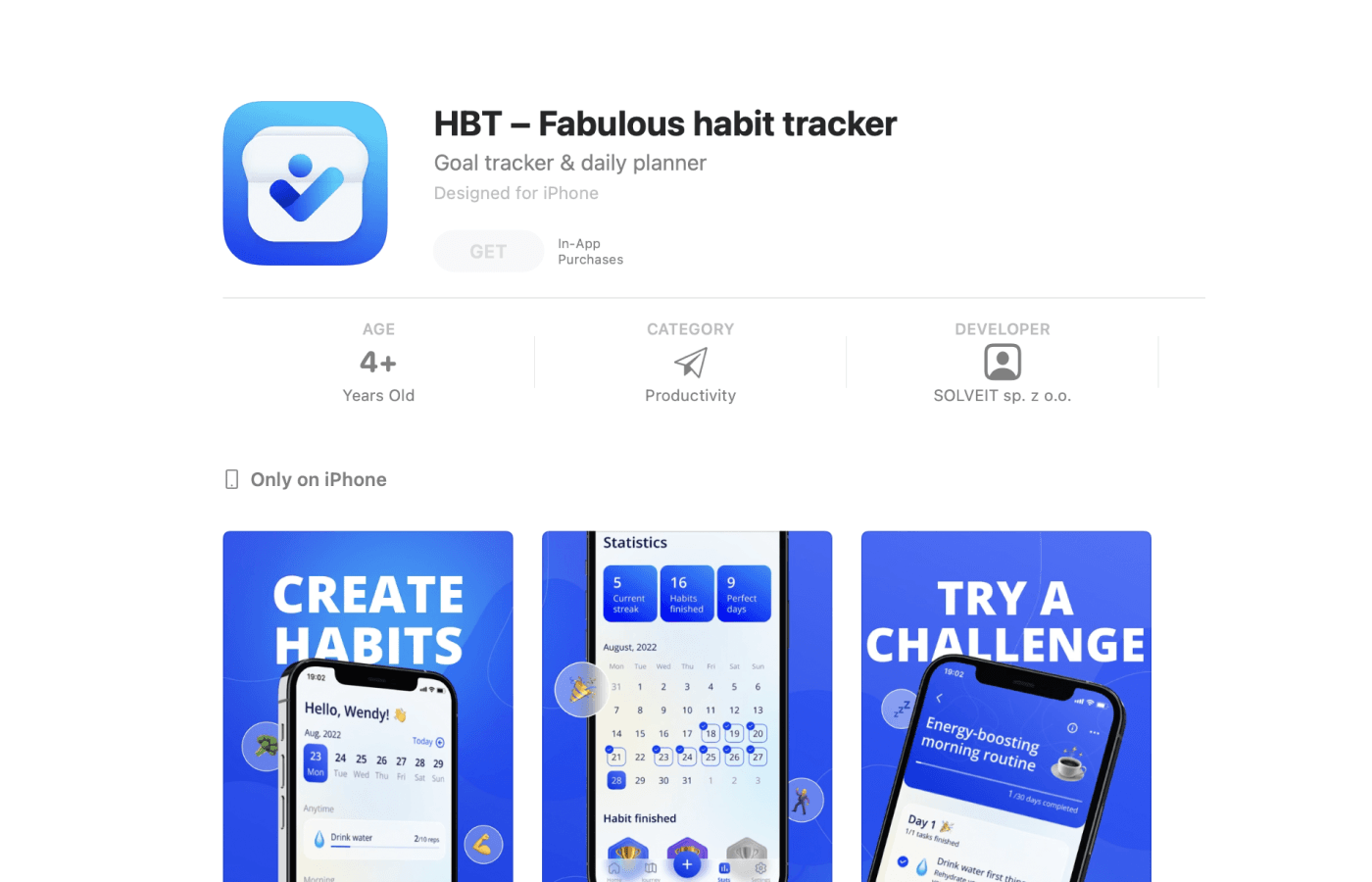 What is HBT?
HBT (read as "habit") is a mobile application that allows users to introduce new habits, track their progress, and take on challenges. It helps users achieve their goals while keeping motivation high and maintaining productivity.
"As a service company, we are always focused on the projects of our clients. It is extremely cool to be involved in the development of various products with people with different visions. However, we were always on to create something that is completely ours one day. And this day has finally come when we decided to build HBT. We are proud and thrilled to see where this new direction will bring us.
What we have already gained is a complete understanding of the development process from our client's standpoint. In my opinion, it is a cool skill for us to be on the same page with our partners.
Thank you team for giving your absolute everything! Nothing would happen without your dedication and expertise."
— Ilia Kiselevich, CEO & Founder at SolveIt, Product Owner of HBT.
Features
Features of the first version include onboarding with choosing goals and adding first habits to be formed, user dashboard, settings, creating custom habits, choosing habits from presets, statistics, and rewards. ​​
Special journeys are designed by experts and help to build new habits in 30 days. They include various habits that adhere to a common goal like making you more effective with a charging morning routine. Plus, the challenge format gives users additional motivation.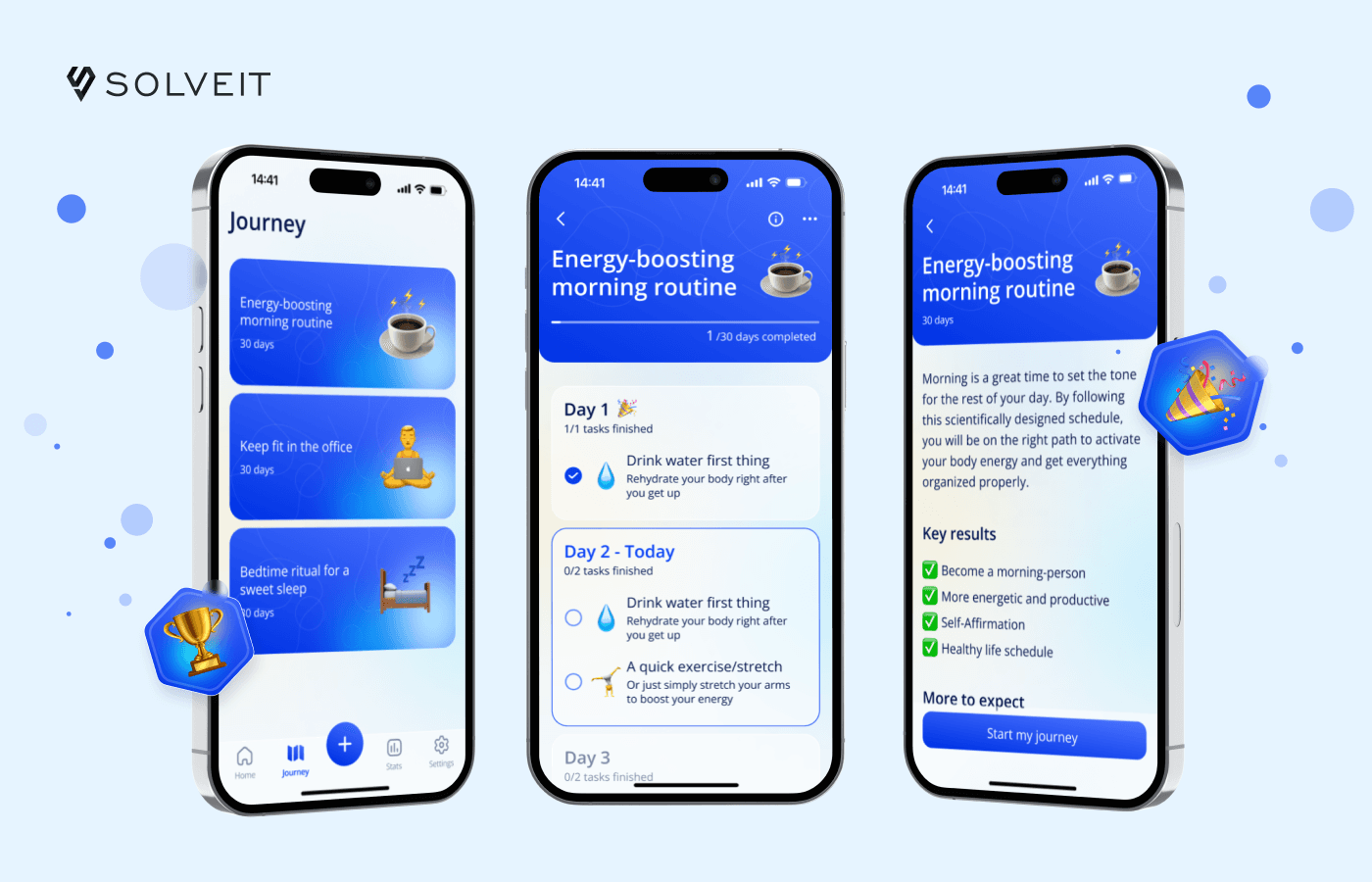 "We wanted to make the application colorful, modern, intuitive, yet conveying the right emotions and enthusiasm to improve the quality of life. During the design concept stage, we looked at modern brands to gather best practices and inspiration. So, the couch design elements as gradients, bright colors, emojis, and vivid illustrations. Considering the rhythm of modern life, we strived to make the user flows quick and simple, thereby minimizing the number of clicks to become a better version of yourself 😉"
— Elena Gurinova, UI/UX Designer.
Download HBT!
Currently, the app is available for iOS. The Android version will be released in the near future. Stay tuned!
Download HBT to see how it helps you to become a better version of yourself!