When it comes to mobile app development, it's not enough to make your app visually appealing – it has to provide a seamless and delightful user experience. That's exactly when the urgent need for a UX designer arises.
In this article, we'll explore why hiring a UX designer is vital for project success and how to find the person who will transform your app from just another pretty face to a user-centric powerhouse.
Who's a UX designer?
Before diving into the issue of how to hire a UX designer, let's figure out who a UX designer is and what their main responsibilities are.
A UX designer is a versatile professional who creates exceptional user experiences. With a blend of creativity, research, and analytical thinking, they map out user journeys and ensure that every interaction leaves a positive impact. They have a deep understanding of human behavior, pain points, and design principles to create intuitive and engaging interfaces that meet user expectations.
Unlike UI designers, who primarily concentrate on the visual aspects of a product, UX designers delve into user research, wireframing, and prototyping. By the way, many professionals in the design field possess skills and knowledge in both areas so if you need complex app design service, you may also hire a UI/UX designer.
"A good designer should also have a basic understanding of development. During the project, designers often interact closely with developers, and for better communication and project success, it would be beneficial to speak the same language."
– Maria Kravchinskaja, Chief Design Officer and Partner at SolveIt
When should you
hire a UX designer
?
If you are taking your first steps towards creating a mobile application, the decision about hiring a UX designer may not seem so obvious. Here're the signs that your team needs such an expert:
Your project is complex and has a sophisticated user flow
When working on projects with intricate user interactions and touchpoints, or complex information structures, a UX designer is the one to help you streamline and simplify the user experience. They are skilled at creating worry-free user journeys and interactive designs.
You feel that your app lacks a user-centric focus
Sometimes development teams are primarily focused on technical implementation or visual design without considering the user's perspective. A UX designer can fill this gap by conducting thorough research, bringing the right approach to the design process, and ensuring that user behaviors and preferences are taken into account.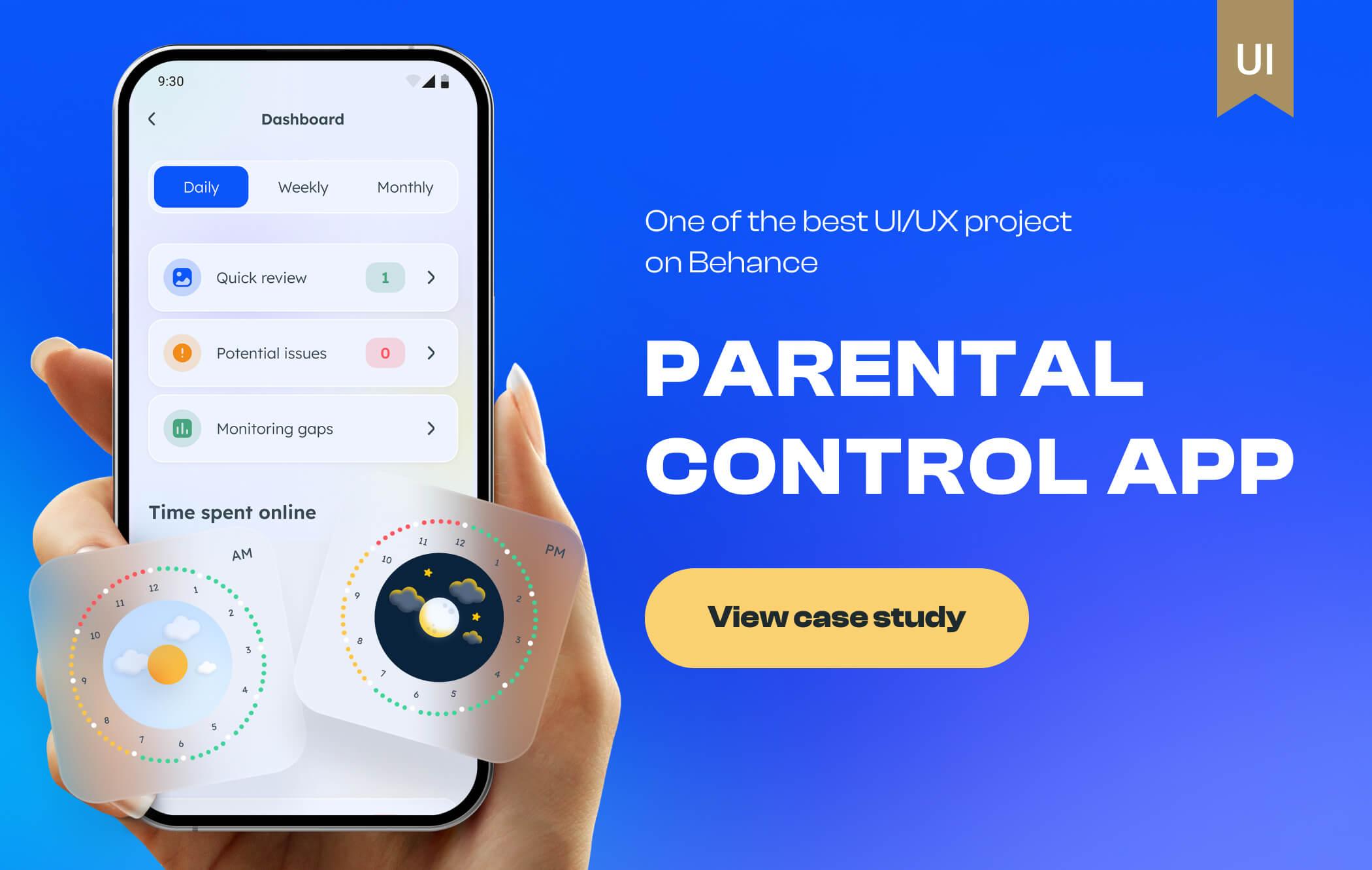 Your team has no systematic approach to improving user experience
A UX designer introduces user experience metrics and feedback mechanisms by setting up usability testing, conducting user interviews, and analyzing feedback. This helps to identify areas for improvement and integrate them into the app development process.
7 steps to
hire a UX designer
Here are the foolproof steps for hiring a UX designer that can ensure you find the right fit for your team:
Identify your needs and requirements;

Craft a compelling job description;

Evaluate experience and portfolio;

Assess communication skills;

Organize test assignments;

Evaluate cultural fit;

Make an offer and negotiate.
looking to hire experienced
UX designers?
Contact us
Step 1: Identify your needs and requirements
To understand the specific skills you are looking for in a UX designer, start by clearly defining your goals, scope, and the stage of your project – whether it's a discovery phase for a new product, redesign, or optimization.
This clarity ensures that you can create a comprehensive job description, effectively communicate your expectations to potential candidates, and find a UX designer able to work towards a shared vision.
Step 2: Craft a compelling job description
Based on the previous point, write a detailed job description mentioning the key responsibilities, skills, and qualifications. Be specific about the tools and software the candidate should be proficient in.
Plus, provide context on the project and briefly describe your company culture, values, and any unique aspects that make it an exciting place to work. And, of course, mention attractive benefits, perks, or professional development opportunities available to the UX designer within your company.
Step 3: Evaluate experience and portfolio
Look for candidates with a strong portfolio that showcases their past projects, industries they've worked in, and the complexity of the challenges they've addressed. Pay attention to the clarity and effectiveness of their designs, as well as the impact they've had on the user experience.
Additionally, seek indications of their flexibility, growth mindset, and continuous learning by examining certificates and ongoing professional development in the UX community.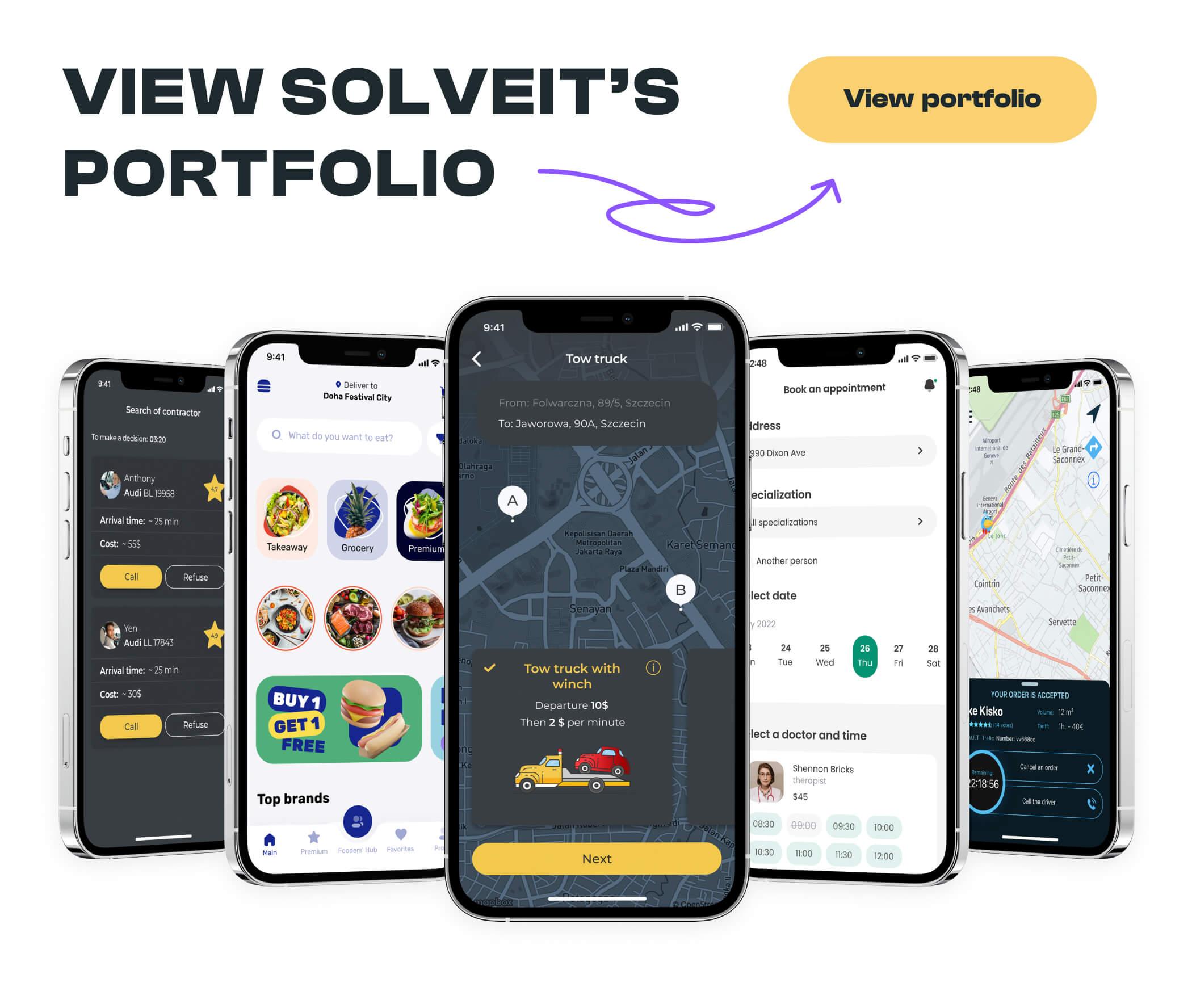 Step 4: Assess communication skills
Effective collaboration is essential for a successful UX designer. When conducting an interview with a potential candidate, don't forget to ask about the candidate's ability to work in cross-functional teams, facilitate discussions, and present their design ideas.

Moreover, you can consider conducting a call with a former employer as an effective way to get some answers. Who else, if not former teammates, know how the candidate reacts to criticism, articulates design decisions, and adapts to feedback?
Step 5: Organize test assignments
To assess candidates' practical skills, consider including practical case studies as part of the hiring process. For example, the task can involve asking them to examine an existing app and suggest particular improvements, or solve a specific design challenge. Such tasks provide insights into their problem-solving approach, creativity, and attention to detail.
Step 6: Evaluate cultural fit
Considering only technical skills is far from enough to hire a UX designer. Beyond their tech background, consider cultural fit – the harmonious alignment between your potential employee and the values of your organization.
Make sure the designer's work style, communication approach, and attitude fit your team dynamics and company culture. During an interview, ask questions that gauge the candidate's ability to adapt to various working environments and solve conflicts or stressful situations. This practice will help to identify a person who is able to immediately integrate into the team.
Step 7: Make an offer and negotiate
Once you've identified the ideal candidate, extend an offer and negotiate the terms, including compensation, benefits, and start date.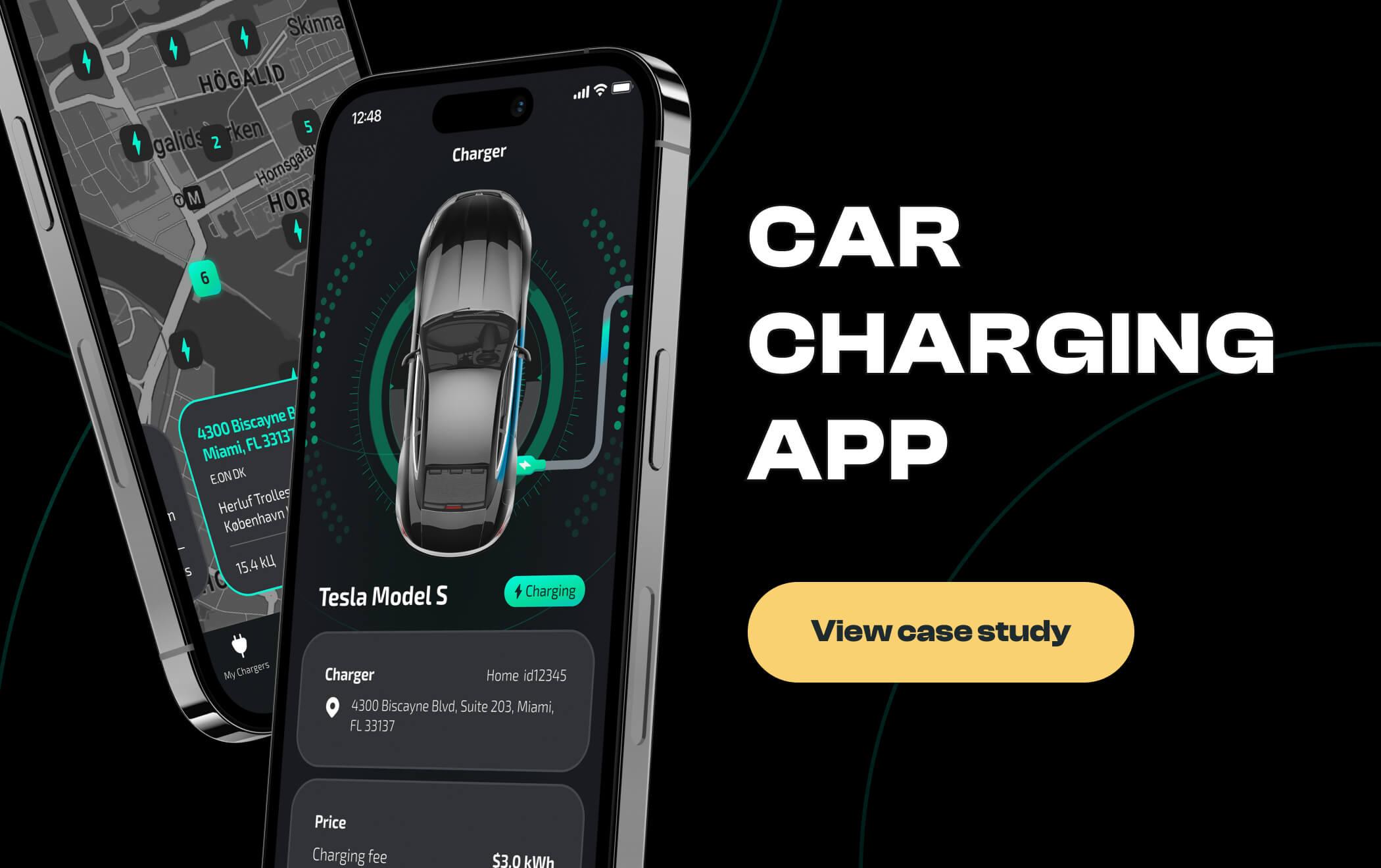 Where to
find a UX designer
?
Now that you know what to do when searching for a UX designer, it's time to find out where to cast your net to increase your chances. Check out the following resources available to help you find top talent.
1. LinkedIn
Good old LinkedIn remains a popular professional networking platform where many UX designers showcase their professional experience. You can search for UX designers based on their location, experience, and skills then export leads using Sales Navigator.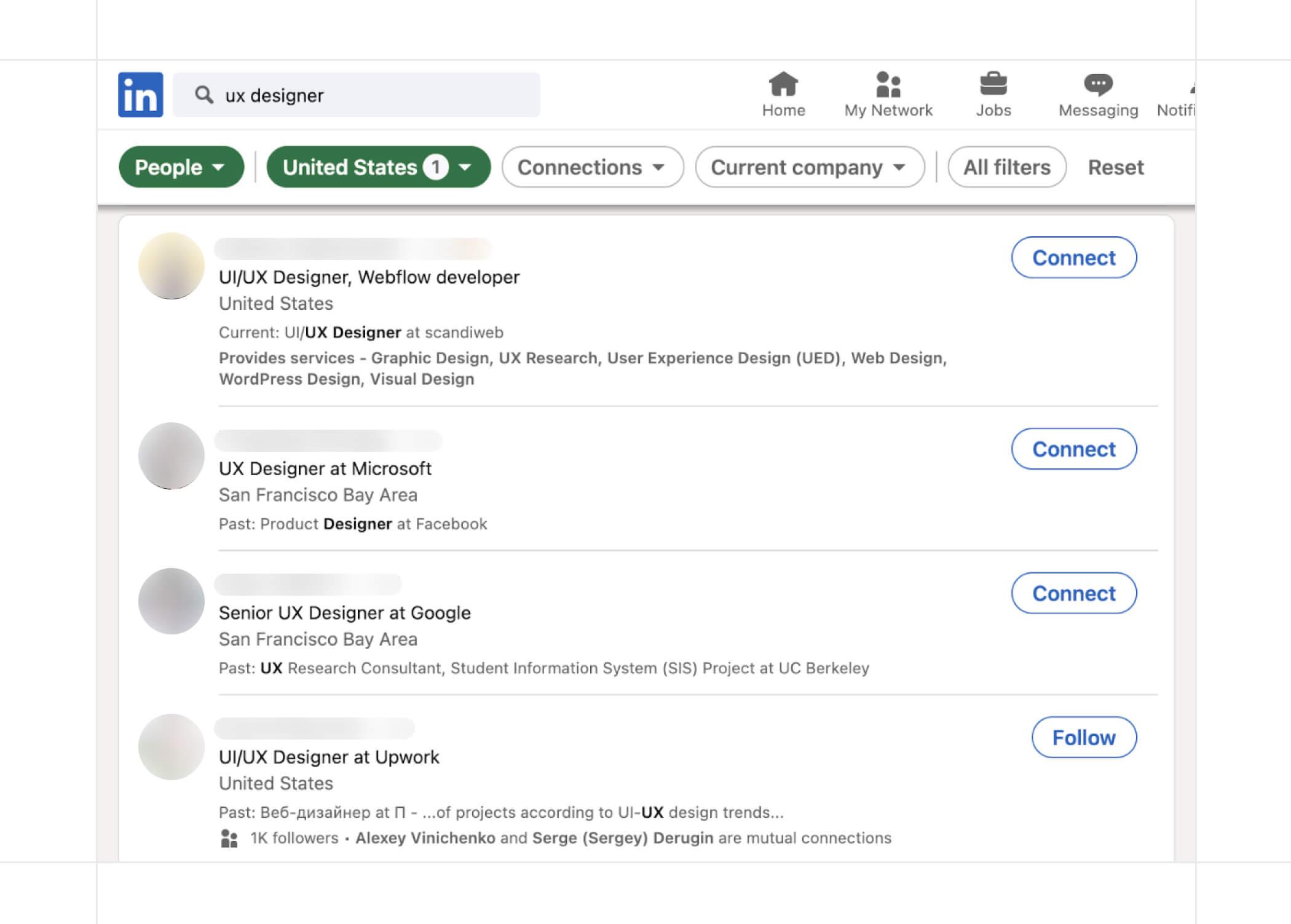 Source: LinkedIn
2. Design-specific communities
By browsing popular designer platforms like Behance and Dribbble, you can explore some visually appealing and curated collections of design portfolios and quickly hire a UX designer whose style aligns with your project requirements.
Source: SolveIt's profile on Behance
3. Freelance platforms
Such platforms as Upwork, Indeed, Toptal enable employers to reach out to a worldwide pool of UX designers with varying levels of experience and expertise.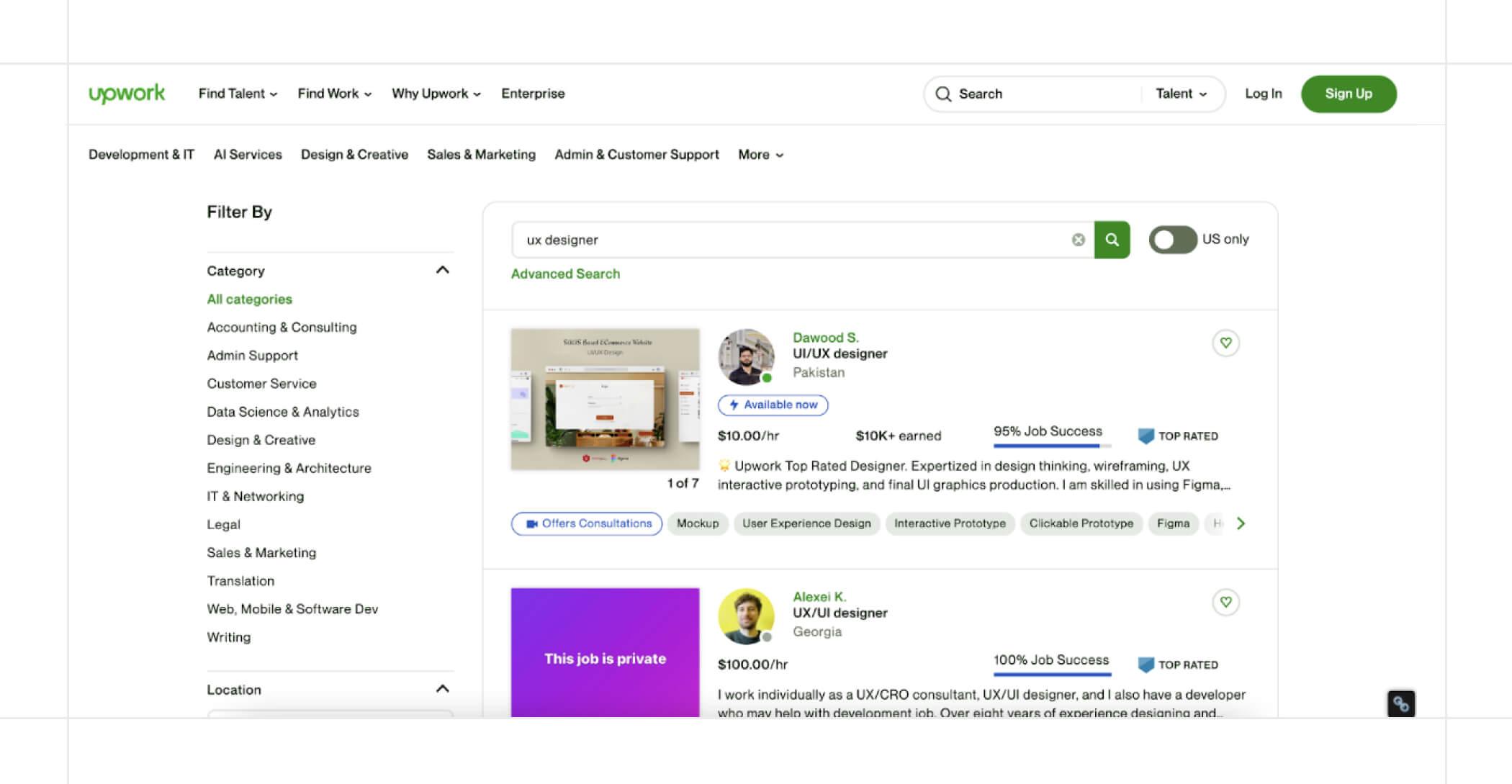 Source: Upwork
4. Development agency
By partnering with a development agency, you can tap into their existing pool of experienced professionals, including UX designers.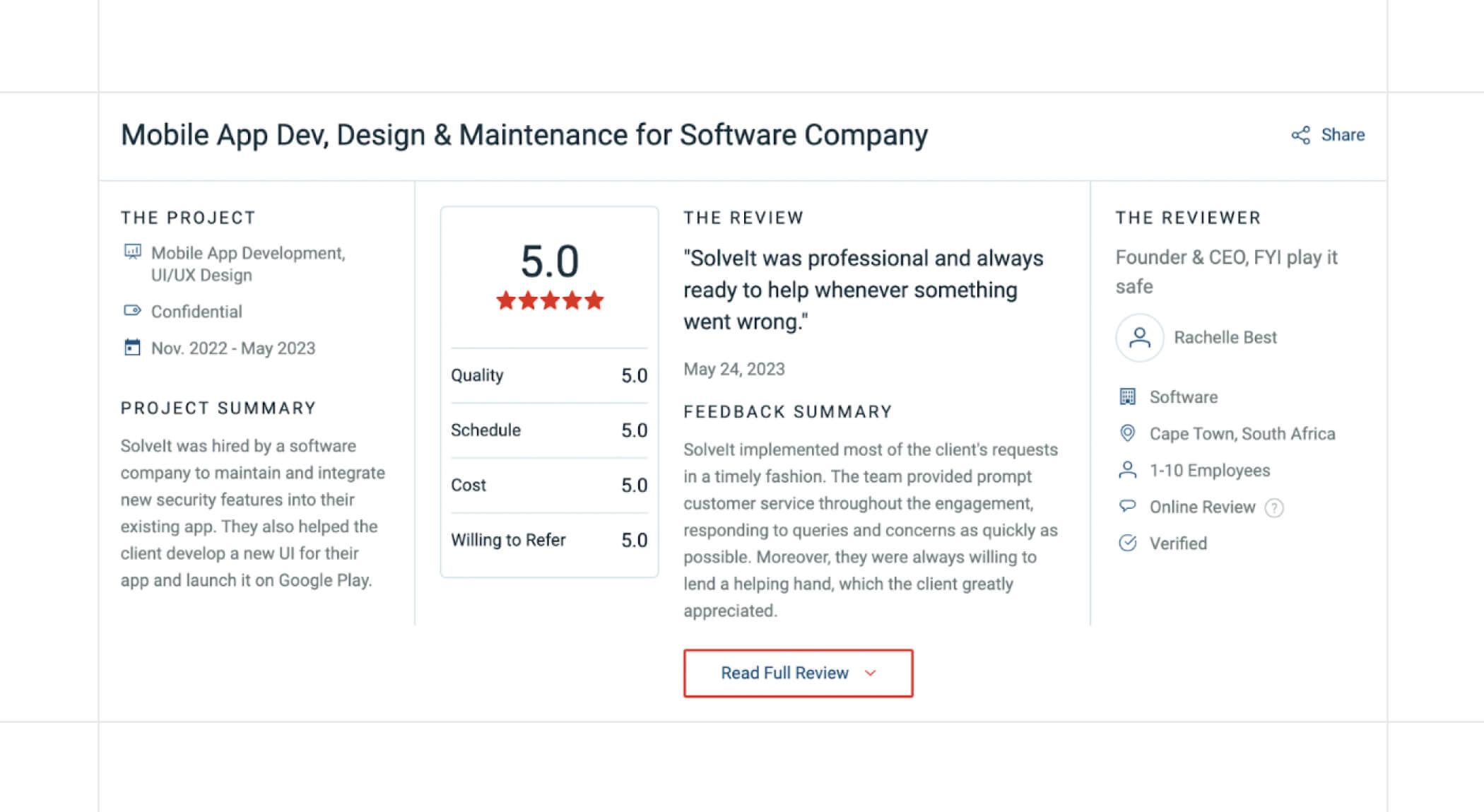 Source: SolveIt's profile on Clutch
Such agencies have a deep understanding of the industry and can guide you in identifying the right UX designer based on your project requirements and goals. Plus, they can handle the recruitment process themselves, thus saving you time and ensuring the competence of the chosen expert.
Mistakes to avoid when
hiring a UX designer
As you may already know, the recruiting process is inextricably linked with risks so it's important to navigate it with caution. We've gathered some common pitfalls that can lead to hiring the wrong candidate. Here's the list of the top five mistakes:
Focusing solely on visual design skills
Since you are looking for a designer, you may mistakenly get the feeling that you need to pay attention only to the visual side, but UX design encompasses much more than just aesthetics. A UX designer should have an overall understanding of the entire design process, from user research to interaction design.
By solely prioritizing visual design skills, you may miss out on candidates who excel in strategic thinking, usability testing, and user-friendly design principles. To create truly exceptional user experiences, it's essential to look beyond surface-level visuals and consider the broader mindset of a UX designer.
"It would be valuable if a UX designer you want to hire has practical experience not solely in your domain but in a variety of industries. This way, they can add a fresh perspective and ideas for your product.
For example, e-commerce elements or design best practices can be well-applicable for fintech or on-demand products.
The more extensive and diverse the experience, the more ground-breaking and unique the results can be.
It is a common practice to look for a specialist in the exact industry, but it is a very limiting approach. So, at SolveIt, we ensure our designers have diverse and rich experience, including SaaS solutions."
– Maria Kravchinskaja, Chief Design Officer and Partner at SolveIt
Ignoring soft skills
UX design demands much collaboration and effective communication. As such, neglecting to assess a candidate's soft skills, such as active listening, adaptability, and teamwork, can lead to challenges and hinder the overall success of the design process. Also, don't forget to evaluate cultural fit to avoid possible conflicts down the line.
Neglecting the portfolio
Don't rely only on resumes or interviews. The portfolio is the UX designer's calling card and a testament to their skills and experience.
Carefully study the portfolio for real projects that solve real business tasks, and not just some abstract creative works that designers sometimes also include in their portfolios to make it look weighty. Overlooking this can result in missing key insights into their thinking and ability to make the design reflect the desired project requirements.
"When looking at a designer's portfolio, I pay attention to the number of real projects. Many design portfolios, especially those of junior designers, are stuffed with such projects.
Only working on real projects, designers get the needed expertise. Case studies like "I came up with a task for myself and solved it myself" have no real value."
– Maria Kravchinskaja, Chief Design Officer and Partner at SolveIt
Rushing the hiring process
Hiring the right UX designer requires time and thorough evaluation. Rushing the process can lead to making hasty decisions or overlooking critical aspects. Take your time to review portfolios, conduct multiple rounds of interviews, and involve teammates for feedback.
Overemphasizing design tools
Proficiency in design tools is essential for UX designers, but tools can be learned and adapted. Overemphasizing specific design tools during the hiring process can limit your candidate pool. Instead, focus on evaluating a candidate's fundamental design skills and ability to think critically.
What is the cost of
hiring a UX designer
?
Here we come to the most sensitive issue of the hiring process.
The cost of hiring a UX designer can be influenced by several factors, such as their level of experience, location, and employment arrangement, whether you choose to hire a full-time employee, a freelancer, or work with an outsourcing provider.
Let's discuss the average cost of these three options so that you can find the right balance between the cost and the quality of UX expertise required for your project.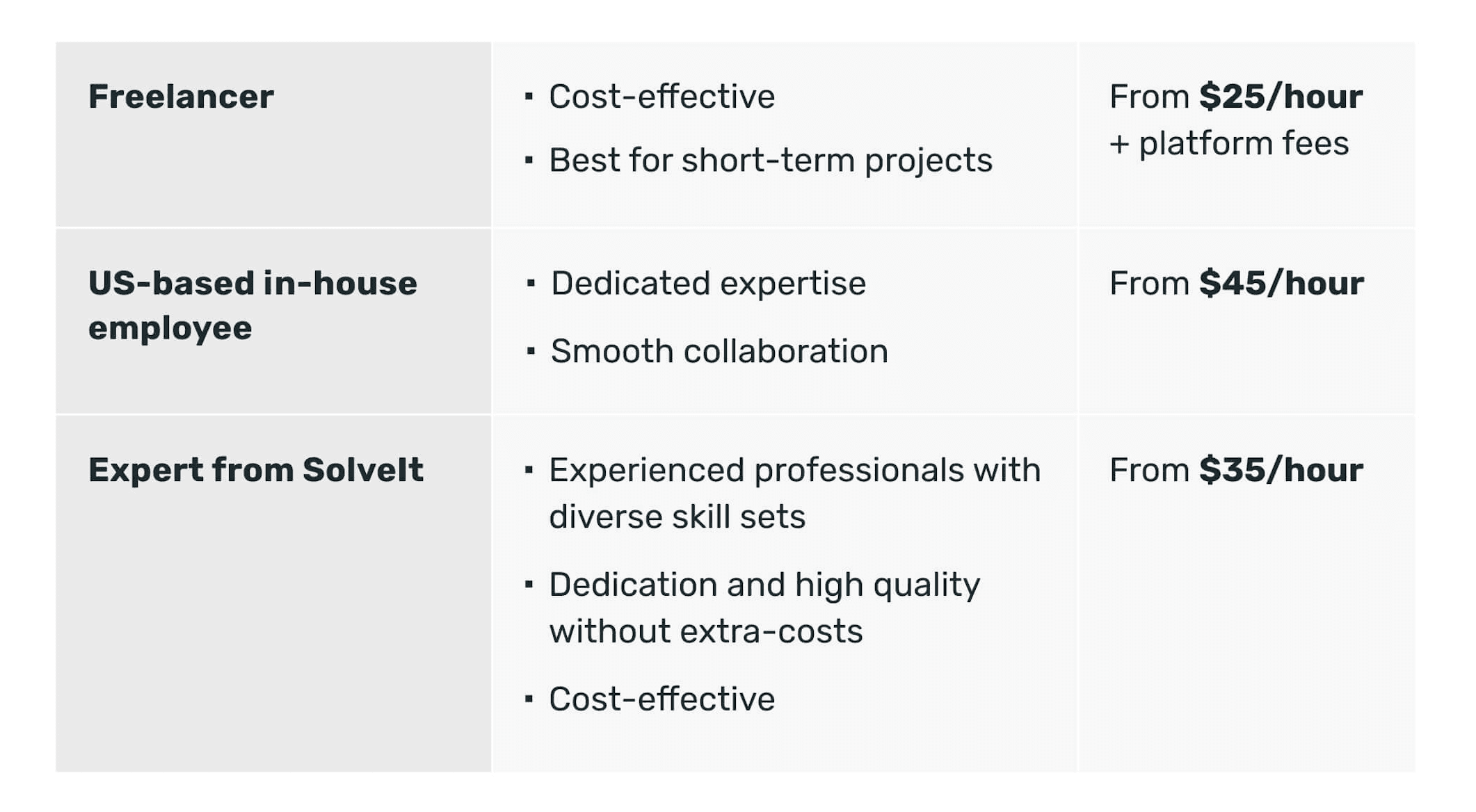 Freelancer
Hiring a freelance UX designer can be a cost-effective option, especially for short-term projects. Freelancers typically charge an hourly project-based rate, which can start from $25, depending on their expertise and location. However, freelance platforms like Upwork may also charge additional service fees (minimum 10%), so keep these extra costs in mind.
US-based in-house employee
Hiring a full-time UX designer as an in-house employee provides you with dedicated expertise and smooth collaboration within your team. The salary range for in-house UX designers varies based on their experience. On average, junior UX designers in the US may earn from $45 per hour, while senior-level designers can command salaries upwards of $63 hourly.
Expert from SolveIt
Engaging with a trusted outsourcing provider like Solveit offers the advantage of accessing a team of experienced professionals with diverse skill sets. Though we carefully pick a UX designer especially for the needs of your project, hiring from SolveIt is typically more cost-effective than hiring and onboarding an in-house employee. The rate starts at $35 per hour. And unlike recruiting freelancers, SolveIt provides you with an expert who is guaranteed to have relevant experience and immediately gets involved in the work.
Final words
Hiring a talented well-suited UX designer for your team requires time and effort. In this article, we covered all the nuances associated with the recruitment of such specialists, and hope that these steps will successfully guide you through this challenging process.
If you prefer delegating the search for a skilled UX designer to a third party, SolveIt will be happy to provide you with a professional able to create exceptional user experiences and drive the success of your digital initiatives. Contact us to learn more!