Hiring talented developers can be a struggle, especially for startups. With the abundance of job opportunities out there these days, programmers are more selective than ever when choosing a place where they want to advance their careers.
This article is aimed at providing startup owners with tips on how to successfully hire developers to build a professional development team and avoid the most common pitfalls.
Challenges startups face when hiring developers
It's definitely not easy to find someone who is both qualified and willing to join your team. Here are five main challenges you should be aware of when searching for developers: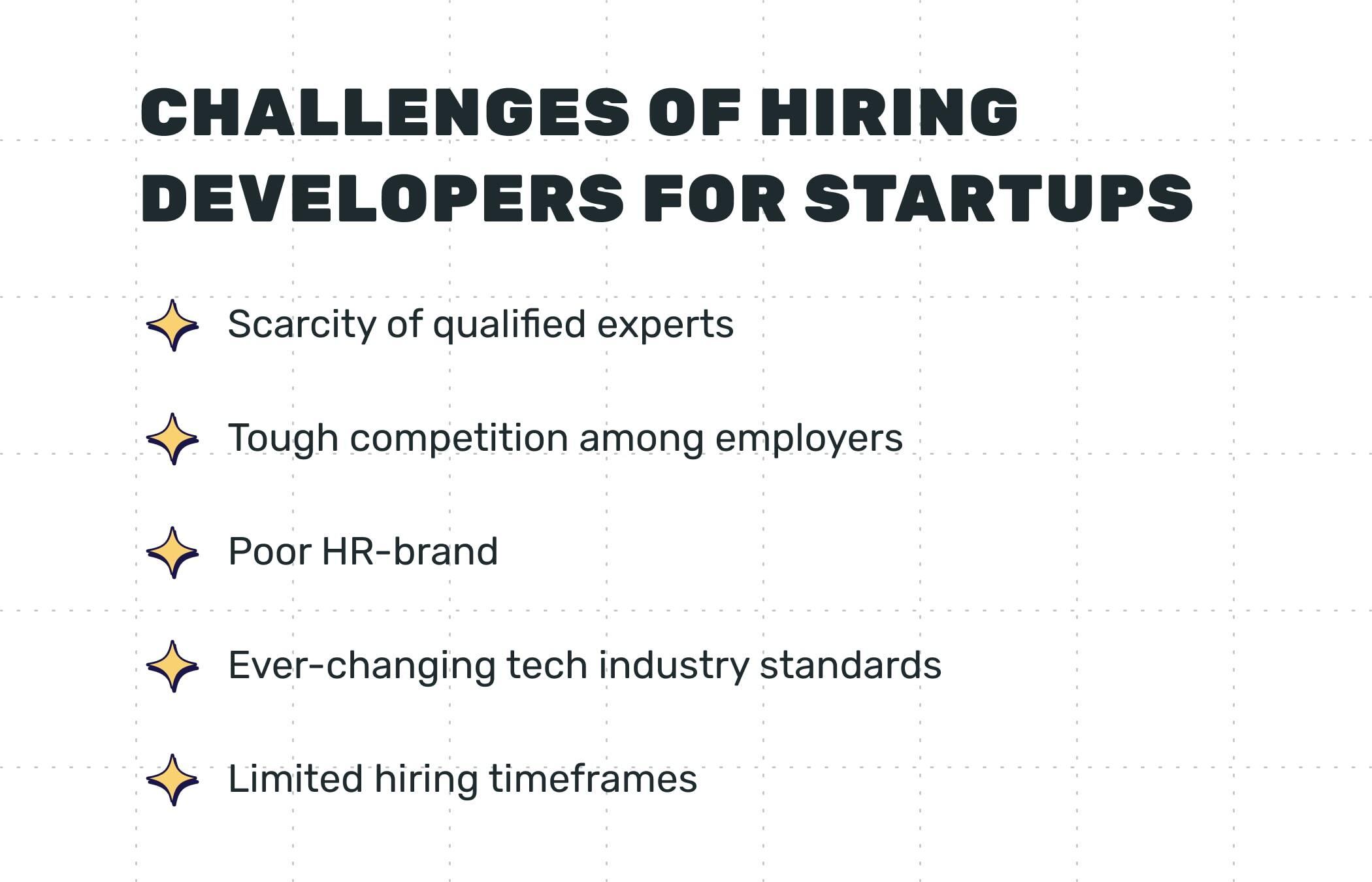 1. Scarce pool of qualified experts
Startups often lack the resources or budget to hire skilled senior-level developers right away. Given limited investments, startup owners often can't afford to attract top talent who may command higher salaries than what startup businesses are able to offer.
But even if you have enough finance, you may still face a shortage of developers with related experience and skillsets in your region. The current situation in the US market only confirms this concern. According to IDC, a global market intelligence firm, the US market will experience a massive shortfall of 4 million programmers by 2025.
That's why a lot of US-based companies opt for hiring developers for a startup overseas, mostly in Eastern Europe and Asia, that offer high developer expertise at reasonable prices.
2. Tough competition among employees
Large international organizations with big names are tough opponents when it comes to hiring developers. In addition to a decent compensation package, they may offer a wide range of benefits like corporate discounts, better health insurance, flexible hours, a longer vacation, and more – these perks look tempting for potential employees.
Plus, global corporations have access to a wider pool of talent, both in local and international markets. With this kind of reach, they are able to hire developers for startup who meet their specific needs and goals no matter where they're located. It's a significant edge over smaller companies that may be limited by geography and resources.
3. Lack of startup recognition
The tech industry is a highly-competitive environment for newcomers. And the lack of recognition on the market may seem to spell doom for your recruitment efforts. The fewer people know about your startup, the more difficult it is to convince potential recruits to join your team. After all, it's natural to conduct some research about the potential workplace, or better get endorsements from friends and colleagues before accepting an offer and signing any papers, right? Thus, low awareness can significantly reduce your chances to hire developers for your startup.
4. Ever-changing tech industry standards
The tech landscape is advancing by leaps and bounds, and it can be a challenge to keep up with industry innovations. For those looking to hire a developer for a startup, it's vital to always stay updated about the current mobile trends and also have an eye on what's coming next.
Having information gaps in this field is an obstacle on the way to picking professionals with relevant expertise and tech stack. In other words, you should put some extra effort into industry research to be capable of screening out candidates with obsolete skillsets.
By the way, remember that your existing development team also needs regular training in order to stay up-to-date with modern programming practices and keep their skills sharp.
5. Limited hiring timeframes
Oftentimes, the process of hiring developers for a startup takes months of searching and interviewing. But when you're on a tight timeline with your project, finding someone quickly becomes even more difficult. If the need is too desperate, startups usually settle for someone with less experience or take chances on candidates without the necessary track record yet. Unfortunately, such a hassle can lead to costly mistakes down the line if things don't work out as planned.
We help startups hire best-fitting developers
within 3+ days
Contact us
Factors to consider when you hire developers for startup
The success of your business depends on having the right people in place. Here's what you need to know when searching for top-notch tech talent:
1. Clear requirements & expectations
Building your development team from scratch may put you at risk of committing a common mistake that many startup owners make – defining uncertain job requirements for your potential candidates. It's fine, mistakes are a human thing, but forewarned is forearmed!
If you can't precisely formulate what you expect your employees to deliver, this leads to frustration on both sides of the table. It's also potentially wasted time and resources as developers who are not suited for the job may be hired by chance. With detailed requirements upfront, everyone involved can make sure that they're getting exactly what they need from each other.
2. Proven cultural fit
Let's imagine a situation when you are about to make a job offer to a perfect-match senior developer with a solid technical background and fill a glass of champagne to celebrate. But two weeks later this employee quits because he hasn't managed to get along with the rest of the team. You're desperate and have no other option but start the recruitment cycle again.
So what went wrong? The brutal truth is that to hire developers for startup just because they meet all technical requirements isn't enough. Understanding how your future colleagues might interact within existing development teams is vital. For that, ask questions about past experiences, values, communication styles, and ways to resolve conflicts, to reveal if the applicant can fit your corporate culture in the long run.
3. Hidden fees for the recruitment
Hiring developers for a startup can cause additional costs that you don't expect at the beginning. Speaking of the recruitment process itself, be aware that you need to cover such expenses as HR's salary, costs of posting job ads, and an agency fee, in case you turn to one.
Moreover, some developers may leverage tools and services that charge additional fees so make sure you figure out these nuances at the interview. In fact, it can be easy to get caught off guard by unexpected charges or extra expenses, so keep track of what you're signing up for to eliminate any surprises.
How to hire developers for startups?
Once you know all possible pitfalls, it's time to learn the art of getting professionals on board. Keeping track of the agreements and contracts you enter into will help you eliminate surprises and make informed decisions as your startup scales. In this section, we'd like to share a couple of actionable tips for hiring software developers at a startup.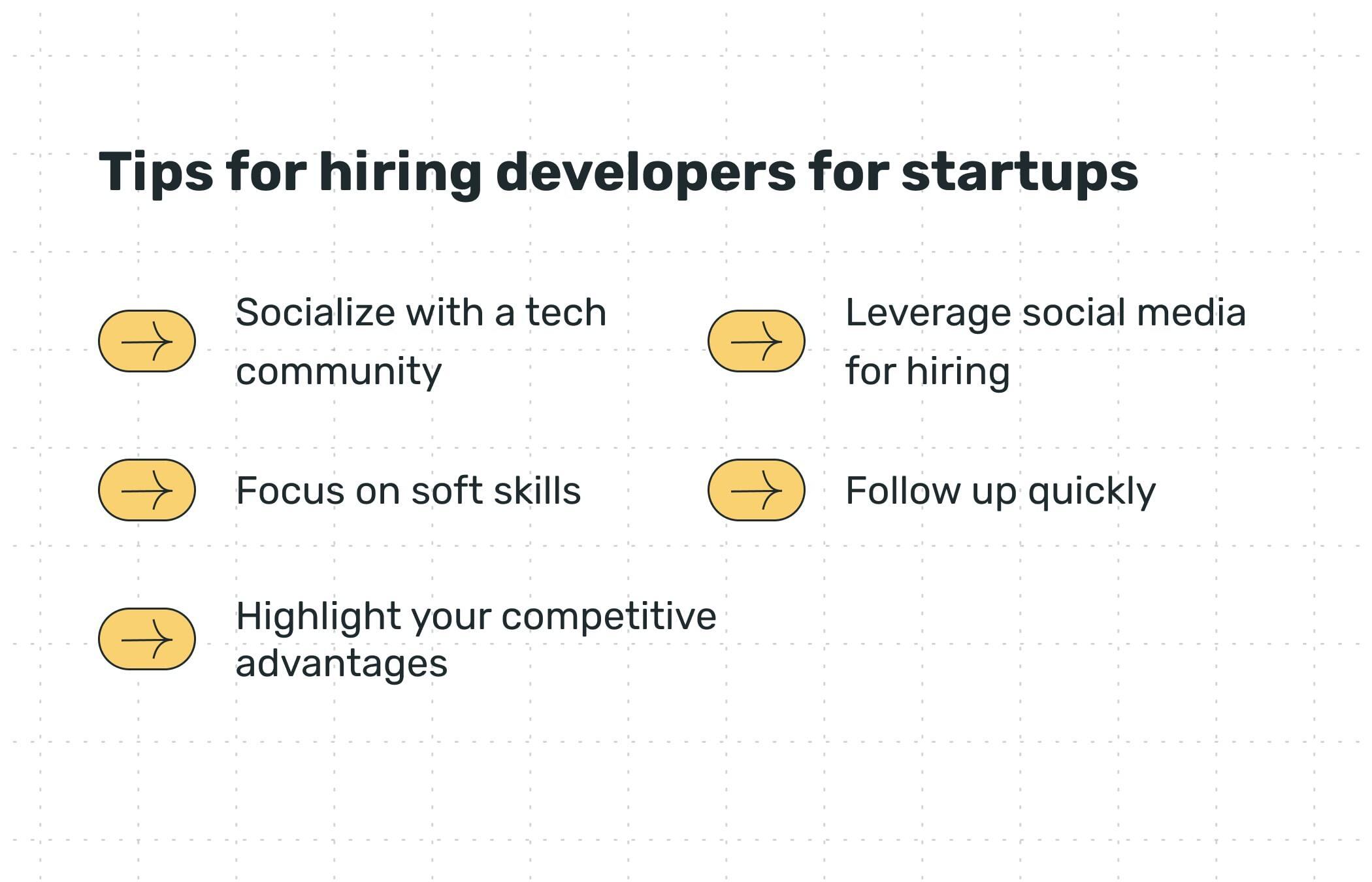 Never miss an opportunity to network
Get out there and start meeting people at various tech conferences and meetups. Socializing with a tech community that might have connections or referrals will increase the likelihood to hire developers for startup. You never know what kind of leads this may uncover. If you don't mind hiring suitable candidates with lower experience levels but still great potential, look for bootcamp graduates or recent college grads who are eager to learn and grow in their roles.
Make social media your ally
Look outside of traditional job boards because some of the best developers aren't necessarily looking through these channels. To hire developers for startup, consider using social media platforms such as Twitter, LinkedIn, and Facebook, as well as other online forums related to programming and technologies in order to widen your search pool significantly.
Highlight your competitive advantages
Don't forget that candidates evaluate you too. As such, identify the strengths of your startup, whether it is a cool corporate culture or a solid benefits package, and articulate them at the interview. This will make a big difference when convincing potential candidates why joining your company should become their priority choice above anyone else.
Focus on soft skills
Apart from a vast technical background, pay attention to the developer's soft skills such as communication, problem-solving ability, and creativity. These traits often make difference when you hire developers for startup as you'll easily identify the one who truly stands out from their peers and ensure that a programmer will fit in effortlessly.
Follow up quickly
In today's fast-paced world response speed is the key when it comes down to hiring talented developers. Make sure that you or your recruiter gives prompt feedback after the initial contact to not miss a valuable specialist.
How SolveIt helps startups hire developers
As a savvy service provider, SolveIt has rich experience in hiring developers. Let us uncover our recipe for the step-by-step recruitment process and share how SolveIt helps startup owners to go through it.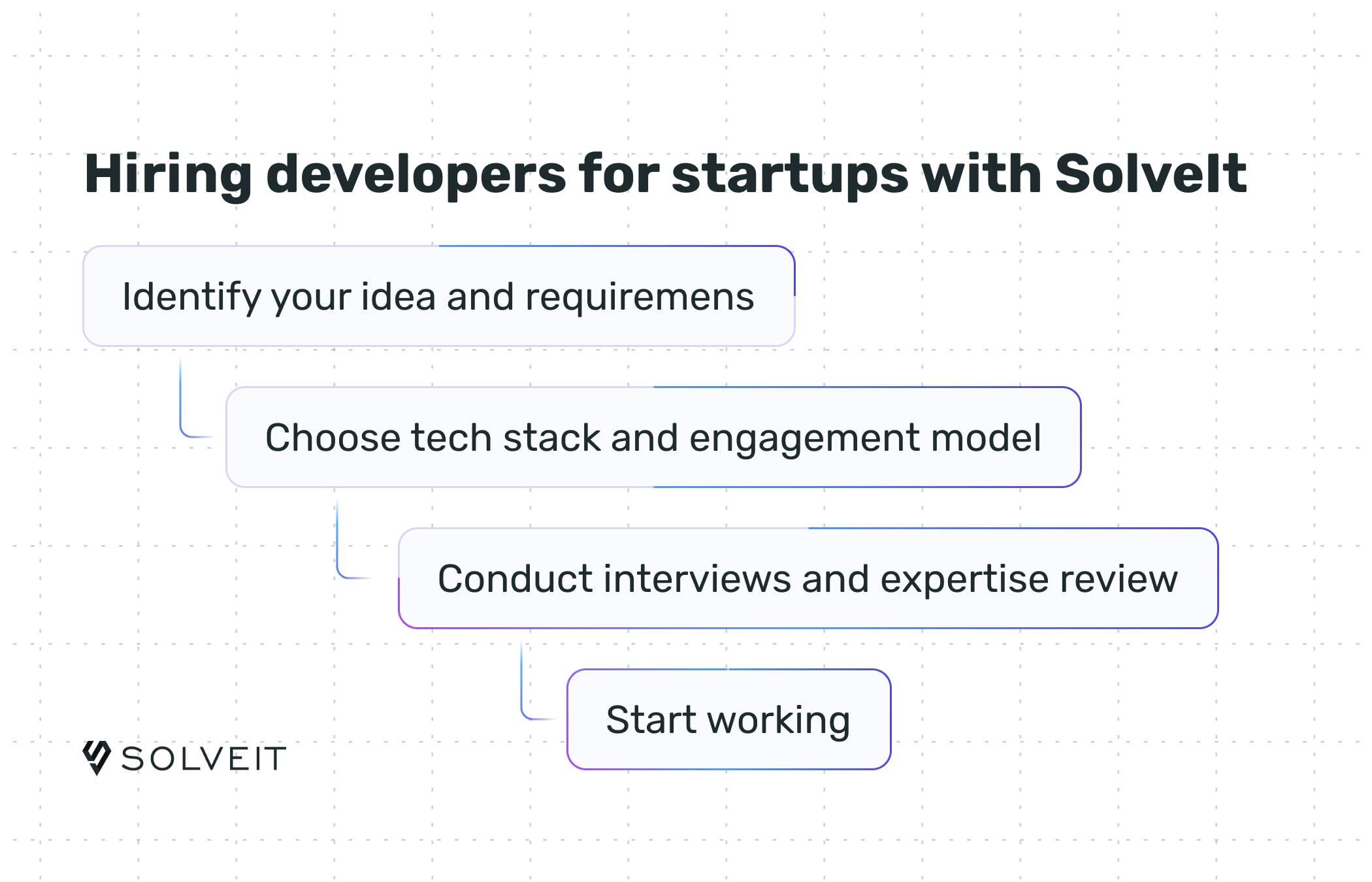 Step 1: Define your idea & requirements
Every startup has its unique needs and goals, and we'll help to identify yours. Are you planning to build a full-scale product or considering MVP development for your startup? How many developers do you need to achieve your goals? Can you allocate the budget effectively so that all your business needs are covered? At SolveIt, we always carefully collect customer requirements to recommend the most suitable approach to product for their unique needs and budget limits.
Once we've visualized the complete picture, it's time to portray your future teammates. We'll help you define the personality of a startup developer that would fit into your company culture, share similar values, and have enthusiasm for bringing new ideas into reality. We also pay close attention to developer's specific technical skills, such as coding languages or software development frameworks, to ensure they would make significant contribution to your project.
Step 2: Choose the proper tech stack & engagement model
The choice of an appropriate technology stack for app development is affected by many factors, including cost efficiency, scalability opportunities, and user experience, among others. What platform will your application run on? Will it be a native or a cross-platform application? Or maybe you're interested in on-demand app development options? All frameworks and programming languages have their own pros and cons. That's why we help you conduct thorough research and provide consulting services so that you make a well-balanced decision on some particular technology.
The next step is outlining an appropriate type of engagement model that best suits your needs and budget. The fixed-price model involves setting up a fixed price based on specific milestones or deliverables while the TM (time & material) model suits those who agree to pay an hourly rate and allows flexibility in terms of feature updates. Or maybe you plan to turn to a dedicated development team?
From our experience, the TM model is the most convenient option. It helps the client to work with the team on flexible conditions and, if necessary, attract additional resources without overpaying for full-time specialists who are engaged only for a few tasks. Depending on the engagement model chosen, we may proceed with hiring developers for your startup.
Step 3: Conduct interviews & expertise review
An interview is a responsible moment because there won't be another chance to make a first impression. Let us share a few interview tips for hiring developers at a startup.
Your preparation for the interview is no less important than the preparation of the applicant. It's vital to compile a list of questions beforehand not to forget any important aspects during the interview. Since startups often require creative solutions, look out for developers who demonstrate an ability to think outside of the box. Ask questions such as "How would you solve X problem?" or "Describe a time when you had to come up with an innovative solution in order to solve Y issue".
You can also test candidates' coding knowledge by giving them practical tasks related to your project/product needs during the interview process or afterward (or at least ask them questions about coding). Whether you hire remote developers for a startup yourself or turn to an app development provider, verify their expertise before making any decisions regarding employment offers.
Check out applicants' portfolios to see examples of work they've completed;
Request the contact information of previous colleagues who can vouch for your candidate and provide direct feedback;
Browse through social media profiles on LinkedIn to learn more about your applicant's past working experience.
The SolveIt team carefully monitors that the resources are selected in strict accordance with your project requirements, application type, selected languages, and frameworks. After we gather the CVs of our best developers with proven experience, we send them to our clients for approval and organize interviews so that clients can make sure that the selected specialists fit their vision of an ideal team.
Step 4: Start working
Once you're satisfied with the list of chosen startup developers and formed a team, it's time to get down to business. After the job interview, make sure everyone is on board with all the terms and conditions that have been discussed. With these steps taken care of, you'll be well on your way toward building something great!
Summary
Planning to hire developers for startup? Be ready that it's like trying to find the perfect puzzle piece – it takes some patience. But driven by a foolproof strategy, enthusiasm, and a bit of luck, you will inevitably find startup developers able to propel your business forward.
If you have no idea of how to find and hire developers for startups, and more importantly, don't want to worry about this task, contact SolveIt team and we'll be glad to offer the perfect fit for your company.