If you are already familiar with the concept of building an MVP you definitely know its undeniable advantages: development cost and time minimization, risk elimination, and the ability to test your app idea on the real audience.
So, what's next? Choose the MVP type you want to develop. And that's what this article is for.
Here you will learn about 7 different types of MVP including their goals, pros and cons, and what's required for each. We also provide the tips on how to choose the one ideal MVP type that fits your specific needs.
7 Types of minimum viable products (MVP)
There are seven most used types of MVP:
Fake-door MVP / Landing page MVP
Email campaign MVP
Pre-order MVP / Crowdfunding MVP
MVP Concierge
Wizard of Oz MVP
Single-feature MVP
Piecemeal MVP
Each of these MVP types has its own pros and cons and peculiarities which we are going to cover further in this article.
1. Fake-door MVP / Landing page MVP
As the title gives a hint, the Fake-door MVP concept doesn't involve actual MVP development. It is the best option for initial product-market fit testing to discover if your app has worthwhile potential. Most often the idea is presented in the way that the product is currently being developed and it will soon be available for users.
Landing page MVP is the most-used type of Fake-door MVP which involves creating a landing page to present your product idea, promote it, and gather contacts of the users-to-be.
Best for: testing a product idea without building it and getting a list of potential customers.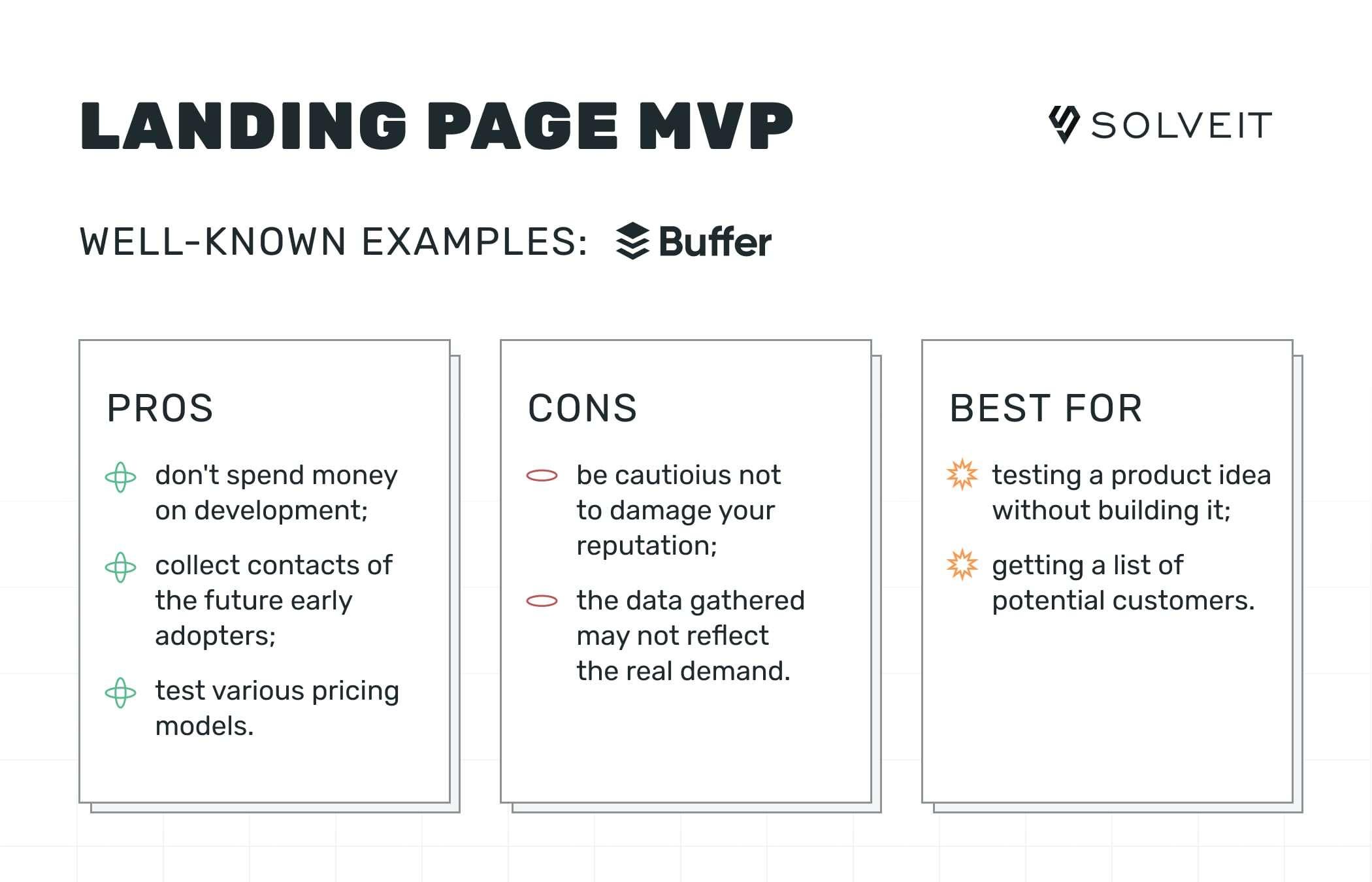 Pros:
You don't spend money on product development.
Collect the database of contacts that can become your early adopters.
You are able to test the pricing model as well by proposing several pricing tiers to see which appears the most preferable.
Cons:
You should be cautious not to damage your reputation by presenting a product that might never be launched.
The data gathered may not reflect the real demand.
How to?
Create your product presentation. It can be a simple description with screenshots, a demo video, or something more feasible like a mobile app prototype.
Present your product idea to potential customers. You can do it by personally pitching your product or developing a landing page with a contact form to collect future customers' contacts.
Perform a marketing campaign to attract people.
Analyze the results. As well, you can implement surveys to receive additional feedback like features that users expect to see.
2. Email campaign MVP
Email campaign MVP is another Fake-door type of MVP. Without having developed the actual app, you can send an email that describes your product idea, its features, and benefits to see if your audience has a positive reaction to it.
Best for: if you have a customer base and don't want to spend money on development before evaluating the demand.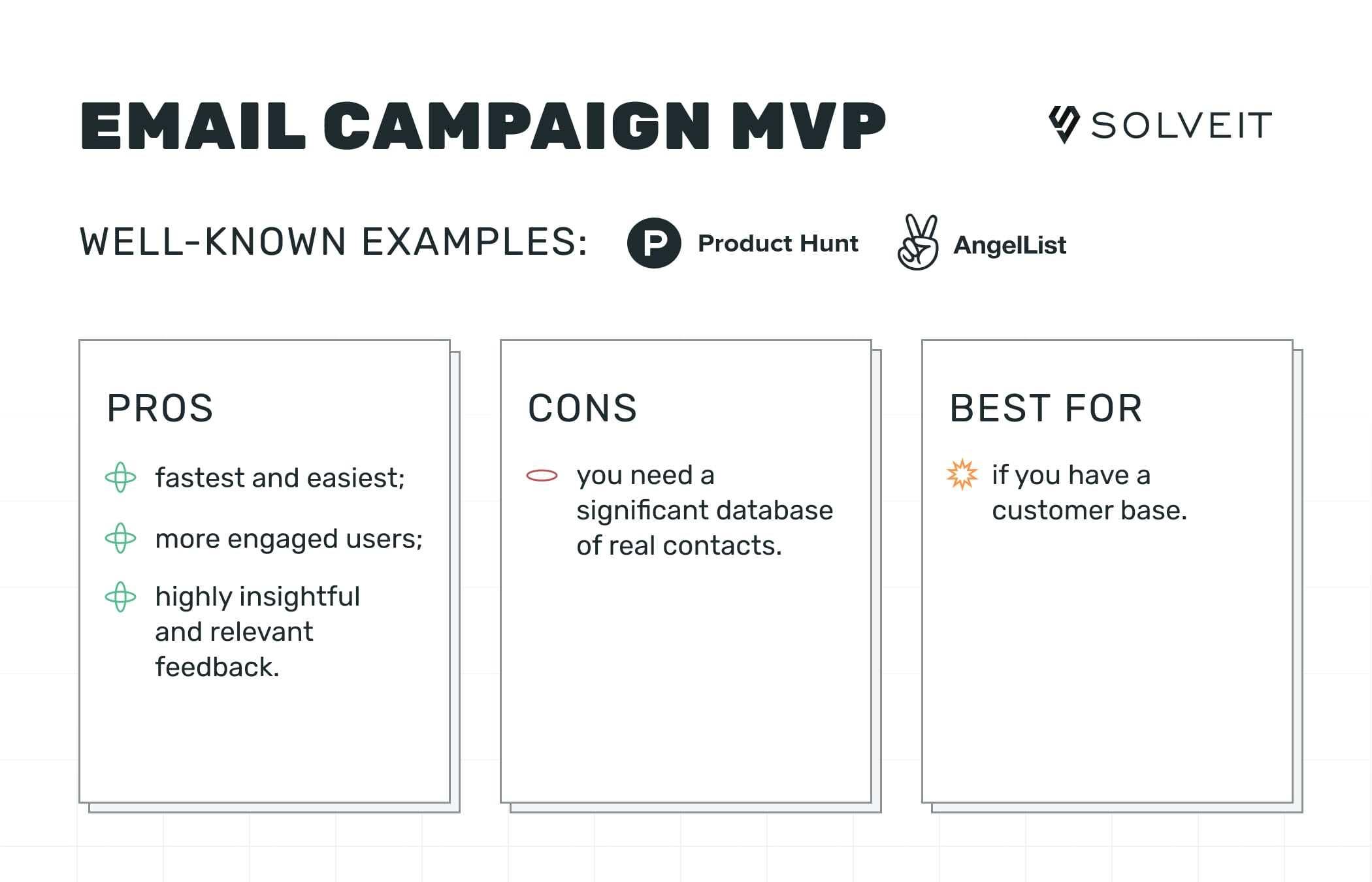 Pros:
Fastest and easiest MVP type.
Users are more engaged if compared to landing pages or social media.
You can get feedback from a highly relevant audience if you segment your email list well.
Cons:
You need to have a significant database of real contacts. It means this type of MVP is not suitable for startups unless they have a decent user base. Rather, it can be best applied to established companies looking to launch a new feature or product.
How to?
To begin with, as we mentioned above you need a contact list to send your email to. The audience should be relevant and big enough so that you can get accurate information.
Once you have the contacts, you can start creating an email campaign. There are plenty of solutions available for email marketing nowadays ranging by price, features to create emails, analytical capabilities, and deliverability. To name but a few, Mailchimp, SendinBlue, Hubspot, and Drip.
Send an email about your next product and propose people to get on the waitlist. Collect and analyze the feedback.
3. Pre-order MVP / Crowdfunding MVP
Both MVP types assume raising money from individual supporters to develop the product. The contributions are usually not big.
The pre-order type of MVP supposes that customers place orders for the future product and make payments in advance. Crowdfunding is similar to the pre-order MVP yet slightly different. It means the product idea is placed in front of the audience to raise money for its development.
Best for: raising money for MVP development if you are sure of your idea (the demand was previously evaluated). It also helps to generate paying interest for your future product.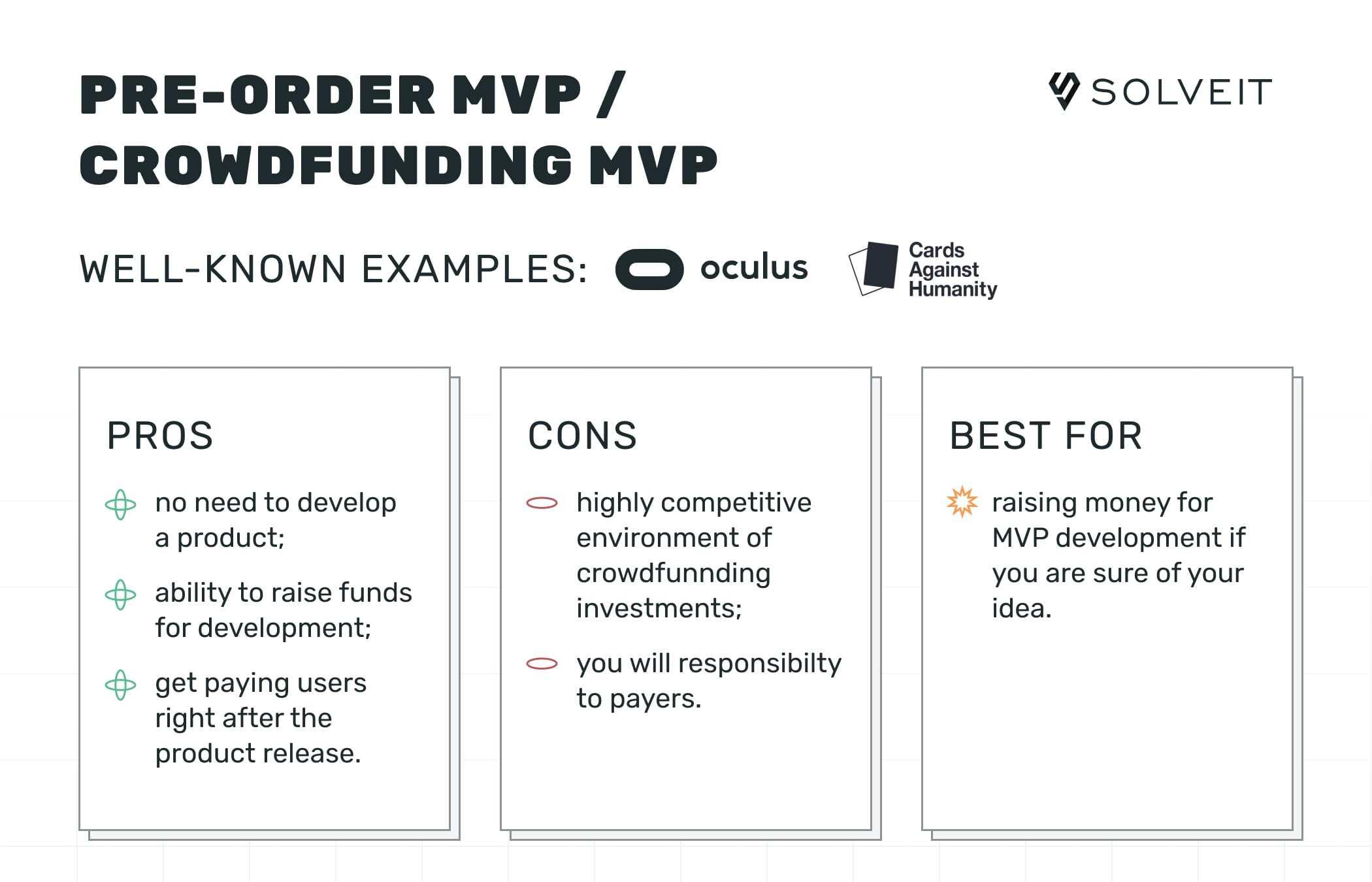 Pros:
No need to develop a product to test the idea.
You can gather funds to build the product.
You will have paying users right after the product release.
Cons:
The environment of crowdfunding investments is highly competitive. Even if your idea is ground-breaking, it will be challenging to get in front of the audience and generate interest in your product.
You will have a responsibility to payers. Whether you raise sufficient funds or not it is important that you fulfill your commitments. It means you have to develop and release the product you claimed or return the money. Anyway, you need to have a well-developed plan for both cases.
How to?
First of all, you should create a compelling presentation of your product to make your potential audience desire it. It can be a prototype or concept description, a pitch, screenshots, product rendering, and so on. The more, the better!
After that, you should either create your landing page or use a crowdfunding service to place your product information and receive orders and payments. Some popular crowdfunding platforms are GoFundMe and Kickstarter.
The final step to a successful pre-order MVP campaign is robust marketing and promotion efforts. Unless you pay attention to this step, your other efforts may be in vain.
4. MVP Concierge
The "Concierge" MVP type is ideal to test the idea of an app that provides personalized services like individual fitness programs or healthcare plans, and so on. Everything is handled by you, not by an automated script. So, you manually offer the service and users know that they are getting the service provided by a person.
Best for: testing an idea of a service app or software when users are aware that the service is provided by a human.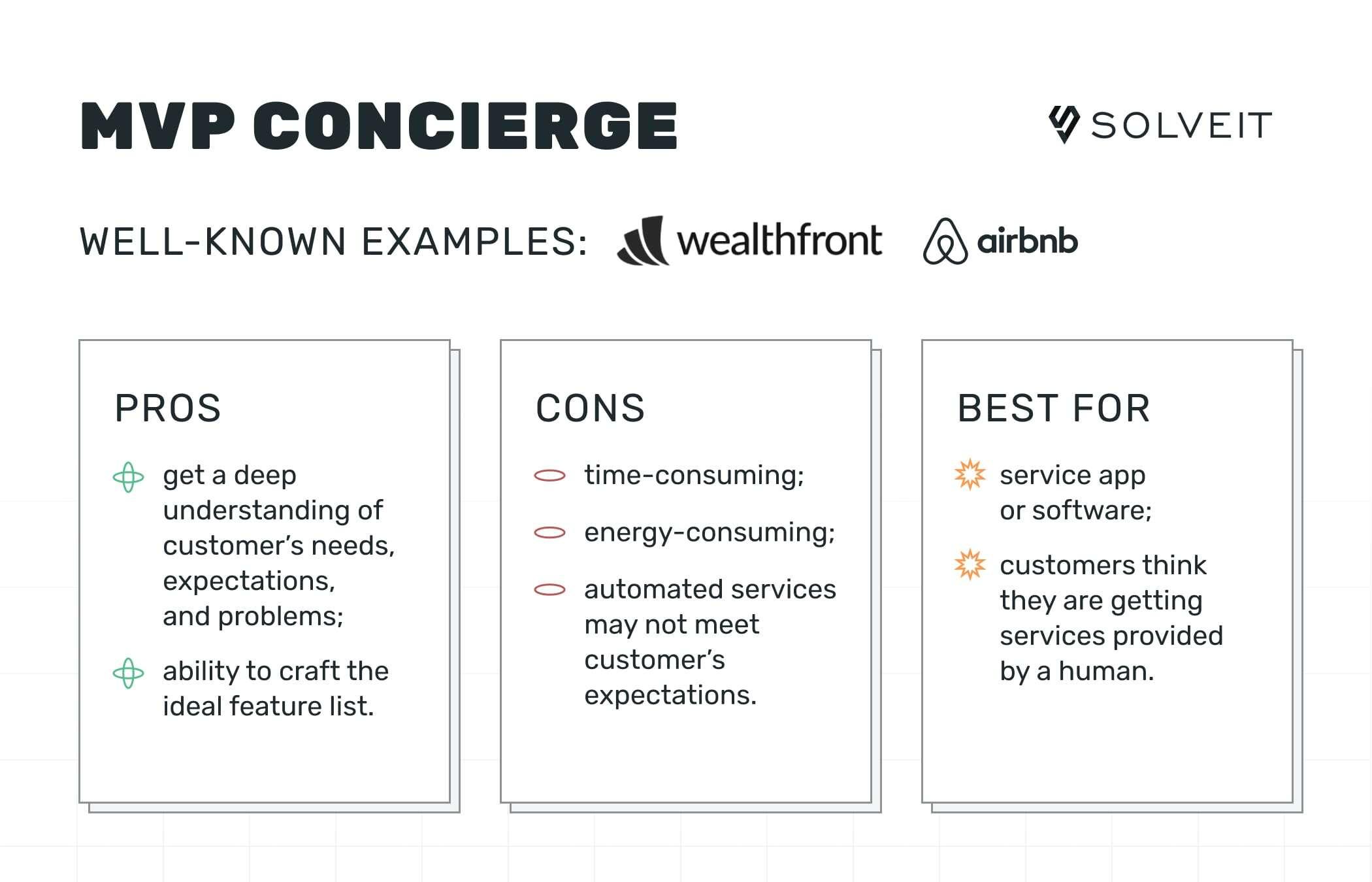 Pros:
You get a very extensive deep first-hand experience and understanding of your customer's needs, expectations, and problems. This way, you'll be able to create an automated process that fulfills users' needs best.
You can craft the ideal feature list for your future app by analyzing which functions are required and how they should work.
Cons:
Requires a lot of time and effort to provide the services manually. You will likely need trained people to provide those services.
You may experience a certain level of frustration while technology and automated services can rarely meet the same level of service quality as a person can provide.
How to?
Write down what services you want to provide and how the process should work.
Create a simple website or app which can be low- or no-code to attract and onboard customers. You can do without it by sending an email campaign if you have a contact list.
Start providing your services and analyze the outcomes.
5. "Wizard of Oz" MVP
This type of MVP is very similar to the previous one – MVP "Concierge". The only difference is that when using the "Wizard of Oz" MVP customers are unaware that the service is provided by humans. Everything is created the way the product would supposedly perform with an automated workflow.
Best for: testing an idea of a service app or software when customers should think they are getting automated services.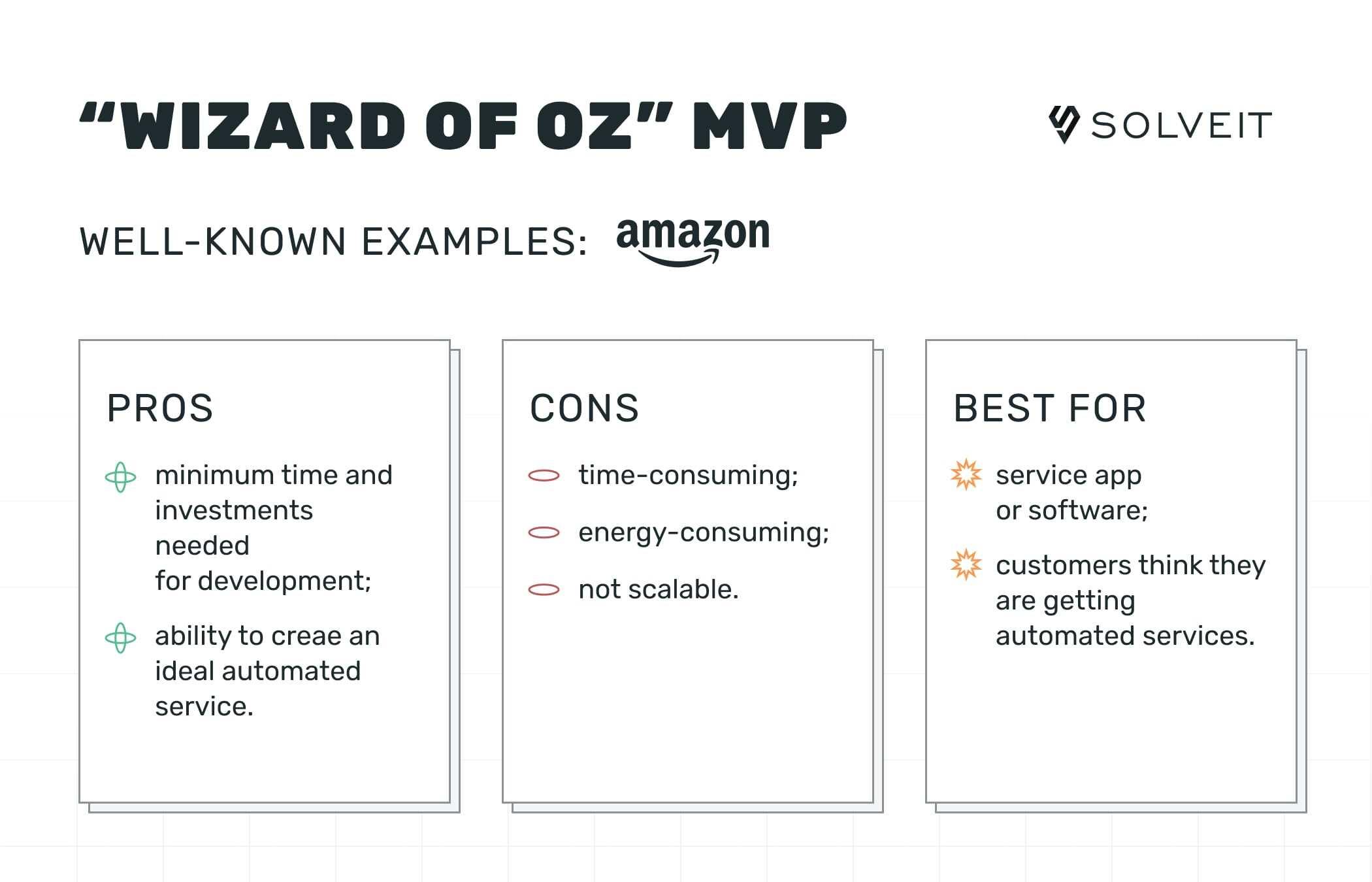 Pros:
It can be developed very fast with minimum investments and MVP works as if the backend is already in place.
You can bring the overall concept of your automated service to the ideal by polishing the processes. You can find the bottlenecks and sticking points in the flows and remove them.
6. MVP for single-use
This type of MVP helps to test the hypothesis of the viability of a particular function. Single-feature MVP has a wide implementation for live products and companies that need to test a new feature. For example, you already have a website, and you can create a separate landing page for an individual task and look at its impact.
Best for: testing the viability of a specific feature or value proposition. Suitable for those who already have a product and looking to develop new functionality, service, or value.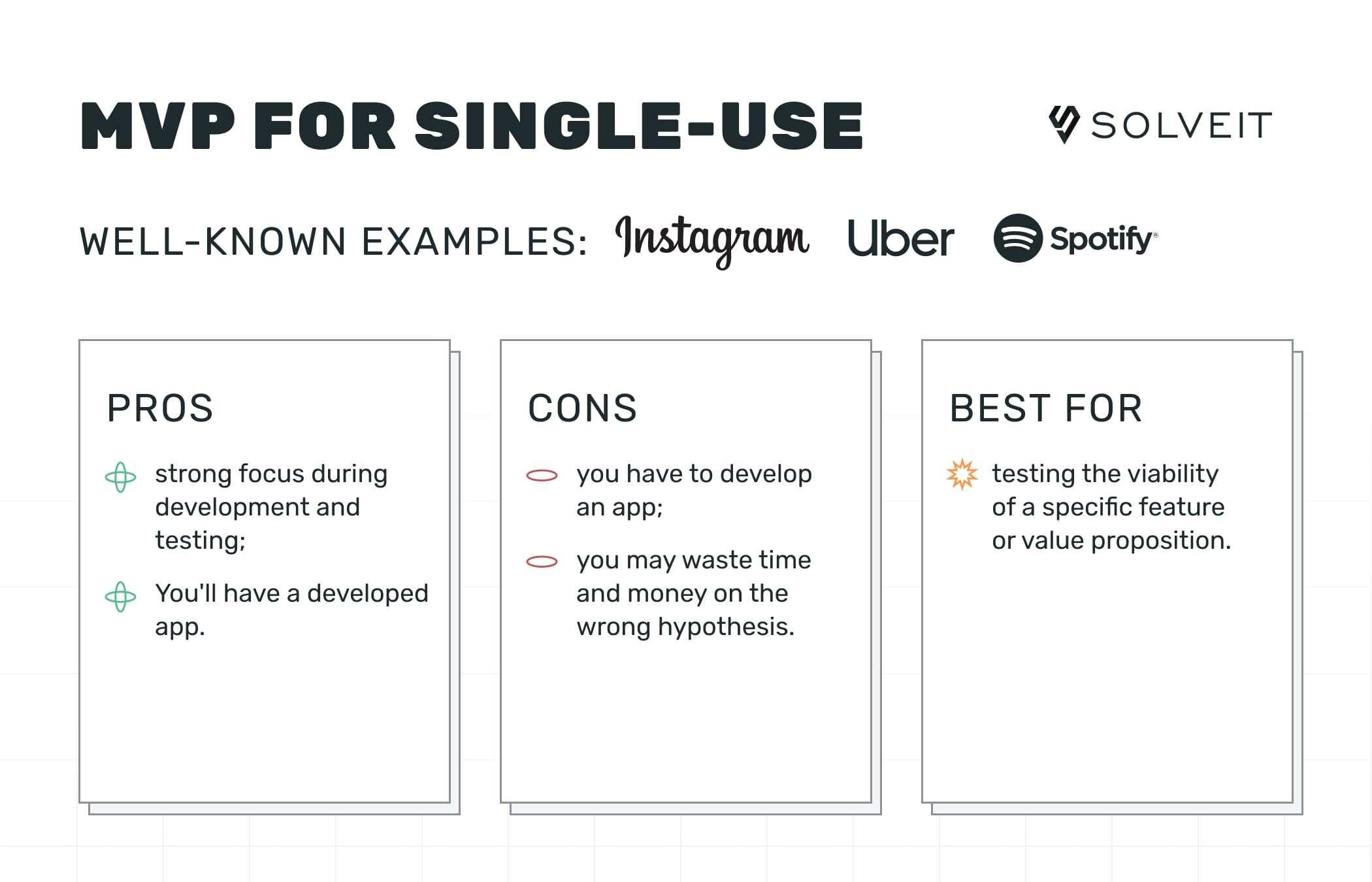 Pros:
Gives you a strong focus during development and testing, while only one feature matters.
You already get a developed app with one feature which can be further extended once you prove the idea's viability.
Cons:
Energy and time-consuming to provide services manually. If you succeed in getting users on board you might start working 24/7 so as not to fall into the dirt face.
Not scalable. Once you reach a certain number of customers you will feel that you are stuck. So to scale you'll need an automated process. But of course, it happens if your idea and services have demand.
How to? The process is the same as for the "Concierge" MVP type:
Write down what services you want to provide and how the process should work.
Create a simple website or app which can be low- or no-code to attract and onboard customers. You can do without it by sending an email campaign if you have a contact list.
Start providing your services and analyze the outcomes.
Cons:
You have to build an app. Moreover, this only feature should be implemented extremely well.
If the feature you explore ends up being less or not at all required by the audience, you will waste time and money on the wrong hypothesis. It means that you gather misleading data. Here's why market research is crucial for this MVP type.
How to?
For this MVP type, the cornerstone is a profound target audience and market research. You have to clearly understand who your customers are and what their major pain points are.
After that, you should carefully plan MVP development as if you are already developing the final version of your app.
Develop MVP. You can hire a team that will work for you in-house or find a development agency that provides MVP development services. Considering that the amount of work at this stage may not be enough for a full-time in-house team, the latter option looks more reasonable.
7. Piecemeal MVP
This type of MVP means that you can develop your product using third-party software and services. The main idea here is that the services you connect into one product should provide a unique value to users which separately they don't.
Best for: apps that have complicated processes or functionality which can be created by combining already existing services and apps.
Pros:
Ability to launch a fully-functioning product (as users will see it) without development.
You rely on proven and stable technologies and software which can increase trust in your MVP.
Cons:
May be time-consuming to develop such an MVP compared to other MVP types.
Not scalable.
May be challenging to connect all the services you need together. Especially if this is a vast number of services. The system may have poor performance.
How to?
Define how your product should work and find the services you want to use to make the app up and running.
Create your solution by integrating the services you've chosen. Carefully test how the app works while this approach can bring you pitfalls such as bugs and performance problems.
As always, launch, attract users, and gather information for future product decisions.
Which type of MVP to choose?
To choose one among different types of MVP it's important that you precisely define your needs and estimate the budget you have. Depending on these two parameters you can review MVP types and define which one suits you best.
For example, if you want to test the idea initially and your budget and time are limited you can leverage the least complicated MVP types like an email campaign MVP or a landing page MVP.
On the other side, If you are looking to develop a service app, try Concierge or the Wizard of Oz types of MVP. This way, you'll be able to deeply investigate user needs and preferences to develop a great product later on.
If you are unsure how to do it best by yourself, you can contact a development agency like SolveIt for a project discovery phase during which experts will investigate your idea, the target audience, and the market to propose the best approach to develop an MVP.
Bottom line
All the types of MVPs described in our article have the same concrete goal which is to test the waters, and gauge the demand with minimum investments and efforts. The measures and approaches differ. By choosing the MVP type you become one step closer to your product launch. It's an important milestone and requires a lot of analysis and testing.
If you are still hesitant if you are making the right choice, contact us for a free consultation on different types of MVP and further development.