Attracting customers is not such a big deal compared to keeping them. To retain your customers, one should know what annoys them most. This is, with no doubt, when something goes wrong during placing an order.
Imagine: even the most loyal visitor will be boiling with anger if, for example, a long-desired bag they finally found at your store is… out of stock! Even worse if they learn about it once the "Buy" button has been clicked. Be sure to have lost this customer already.
How to avoid such occasions and provide your customers with always relevant and up-to-date information? Today's e-commerce business owners can't go without inventory management. For your warehouse to be clear as day, we provide you with a list of top inventory management software for e-commerce. Try some, if you haven't yet!
Features of Inventory Management Software
Managing inventory is time-consuming and dull work few business owners like doing. However, one has to manage their inventory to get things done properly. These days, we are extremely lucky to have software management tools that can release business owners from many problems inventory management brings. These are time-saving wizards that allow you to focus more on growing business than some tedious processes. Multichannel inventory systems automatically update online marketplaces so that you can do things that really matter.
The larger your e-commerce business, the more you need inventory management software. Still, no matter the size of your store, such solutions will make it much easier for you to have control over your inventory. They allow you to keep track of all the products, follow their movements and be sure every aspect of your goods is in order.
Most inventory management systems have common functionality and features, such as:
• Barcode / QR code scanners to track your goods faster • Optimization of inventory to be sure that the valid amount of each item is always in stock • Managing multiple warehouses, in case your products are stored in more than one location • Generating reports that allow you to check sales history, store bestsellers, and keep track of goods the sales of which were not as high as anticipated • Notifications warning if you are under or over some item by predefined limits • Categorizing materials into groups to evaluate the demand for specific products • Purchase records to track items you have in stock and where they come from
These and other features may differ from one inventory management system to another, making them an indispensable instrument for running an e-commerce business. They allow tracking the products across your supply chain and following all the business processes. Thanks to these solutions, businesses can manage such problems as outages or overstocking, as well as manage orders and deliveries with practically no effort on your part.
Check out the article about WMS features describing warehousing app functionality in detail.
Still, the question of how to choose the best inventory management software remains unanswered. As these are in demand, there is obviously a range to choose from. As with anything else, you should choose based on your personal needs and e-commerce business specifics. Below, we are going to list several popular tools to help you run stocks. So, you are welcome to follow the top inventory management software solutions in 2021!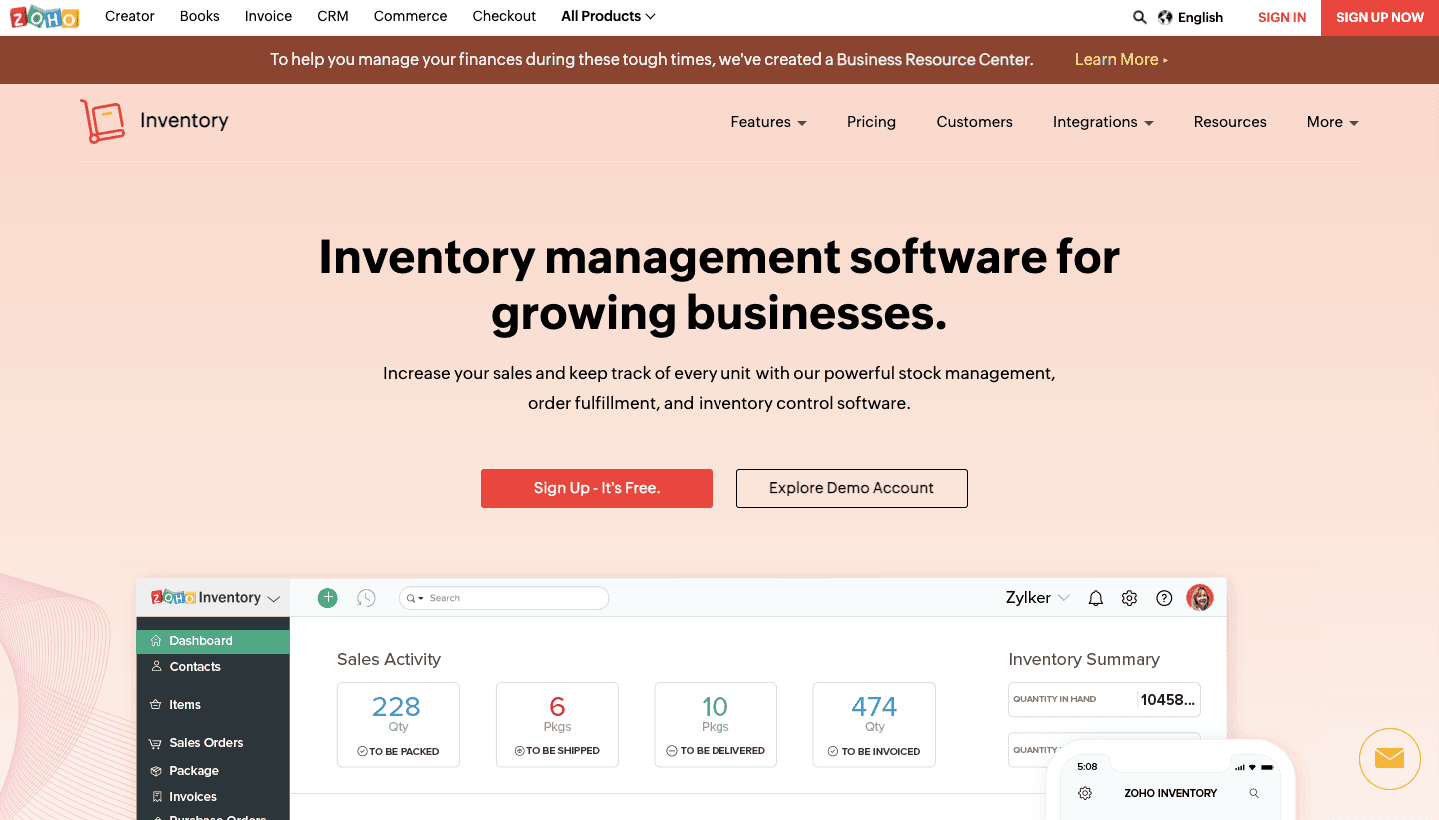 Zoho Inventory Management
One of the giants in its niche, Zoho fits businesses of all sizes. It helps not only managing inventory, but also is able to integrate with other tools you use to increase sales and expand your business operations. Being a multitasking tool, Zoho can also create sales orders and invoices.
Features
• Support of accounts on Amazon, Etsy, Shopify, eBay, and other large e-commerce platforms • Multiple language versions and currencies • Tutorials and setup assistance • Calculation of shipping costs in real-time and printing labels • Viewing backorders • User-friendly interface
Pricing
You can enjoy the free version of Zoho as long as you want, but its functionality is quite poor compared to other billing plans. You can choose between three paid options ranging from $59 to $239.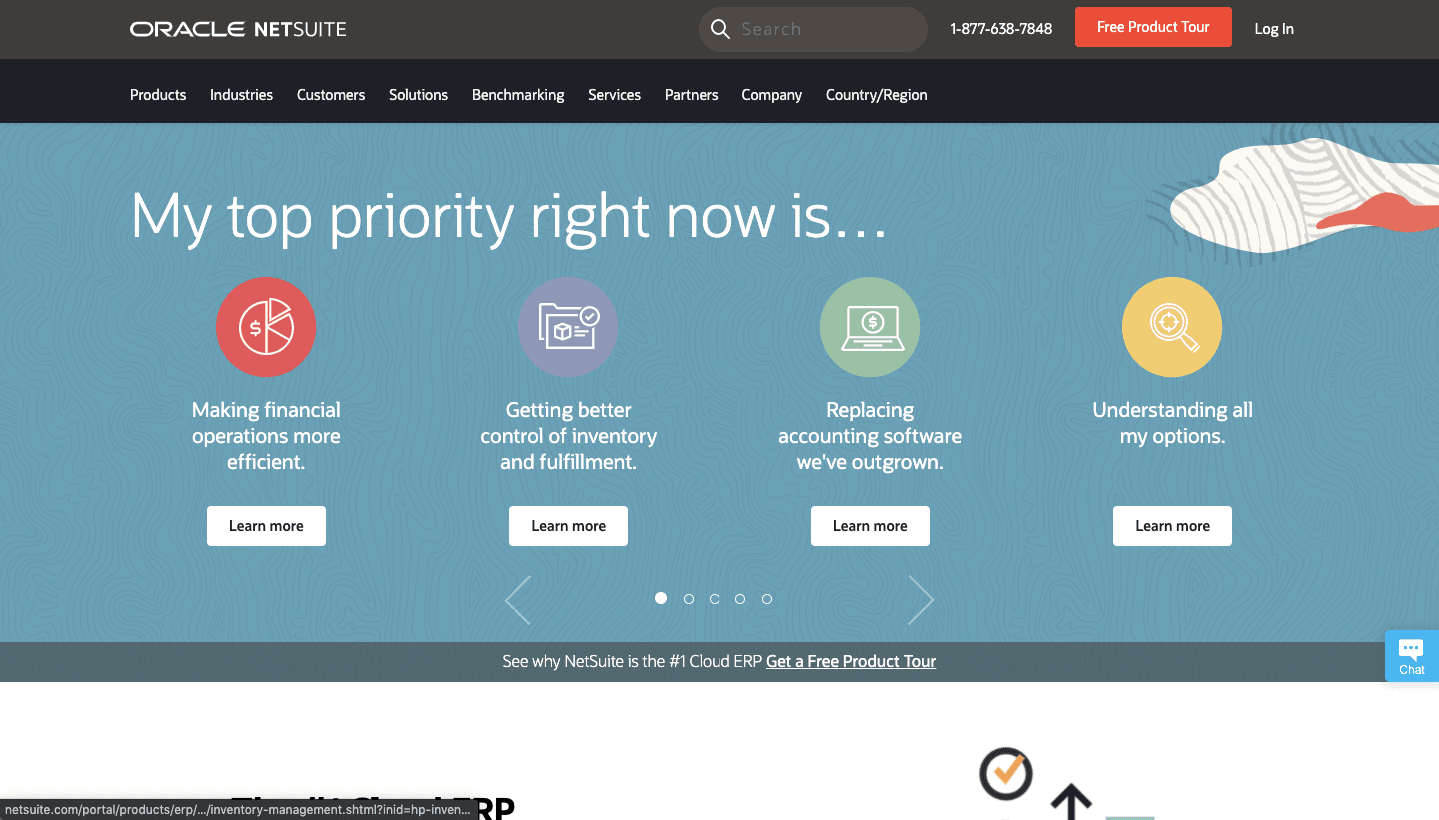 NetSuite
This is another tool of help that can share the first place with Zoho. Anyway, this list is not about numbers, but about gathering all the helpful tools you may need in one place. We would assign the leadership to both if it was a competition. Well, it is not, and even if it was — the choice is yours!
NetSuite takes over multiple business tasks: from stock control to marketing and accounting. The system is being constantly upgraded with the addition of unique and useful features. This is thanks to NetSuite's huge funding provided by Oracle, making this tool very reliable as well.
Features
• Supports multiple languages and currencies • Thus, works all around the globe • Integrated with 350+ services • Smart in-app business intelligence tool • Considers all the local tax issues • Forecasting and kitting options • Identifying items in stock
Pricing
In terms of pricing, the conditions are the following:
• $999 per month for the license (the platform) • $99 per month for a user
The system works as an annual subscription, and the final price depends on the specific solution you require.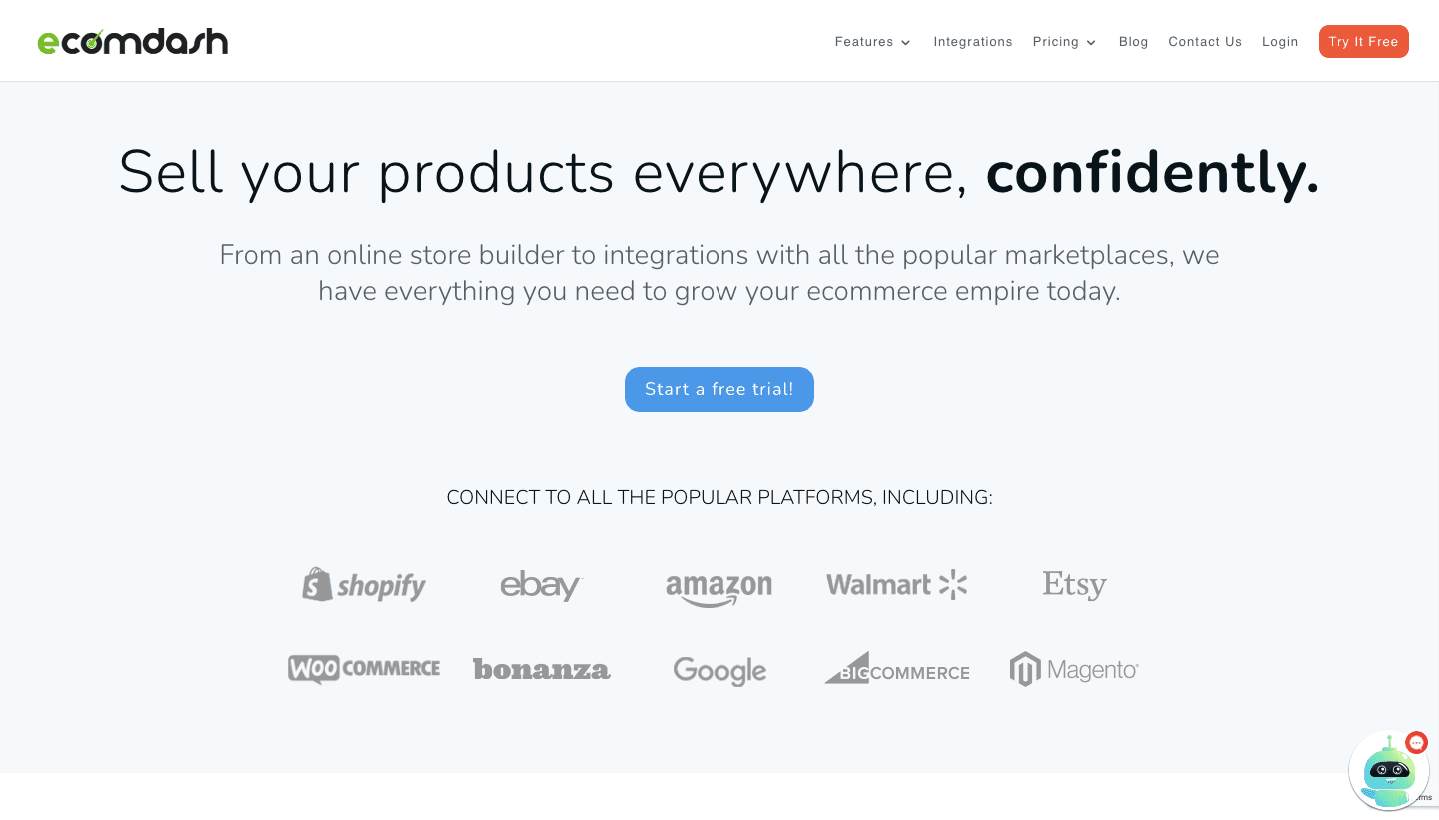 ecomdash
A simple and lightweight inventory management system, ecomdash is a top choice for small to medium-sized businesses. Ecomdash claims to value users' confidentiality the most, allowing them to manage inventories across multiple platforms.
Features
• Multichannel management of inventory • Supports integration with Shopify, Amazon, WooCommerce, eBay, and many more • Management of fulfillment by Amazon (FBA) • Calculation of shipping costs in real-time • Immediate labels printing • E-commerce API • SKU mapping for products • Customizable notifications and alerts
Pricing
The ecomdash system has no fixed billing plan. The amount you pay directly depends on the monthly sales of your store. The annual billing saves you 20%, and you have a 14-day free trial when you start using the platform.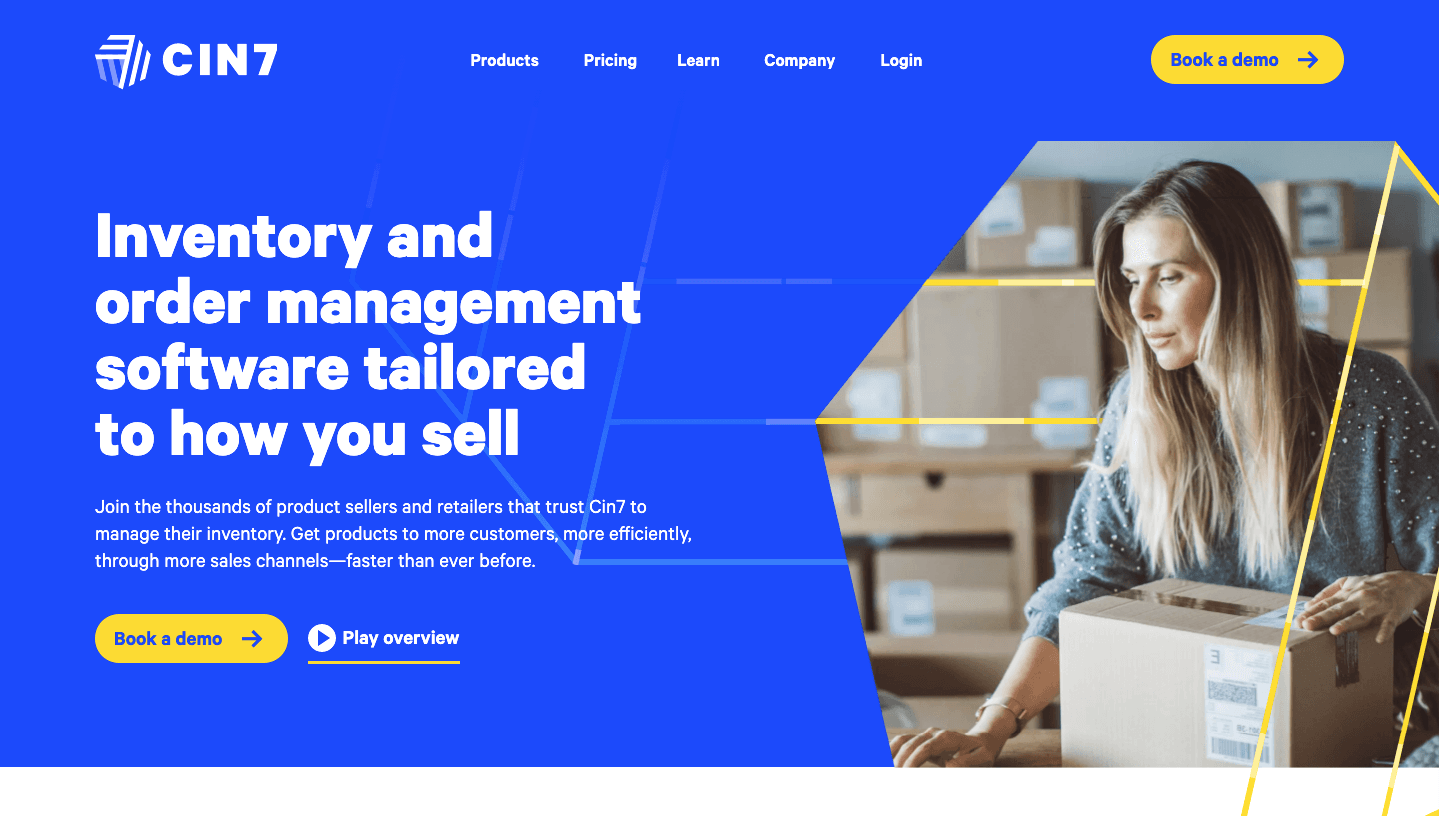 Cin7
Feature-wise, Cin7 has a lot to offer its users. They are attracted by the tool's flexibility and scale. This inventory management software for e-commerce allows centralizing and synchronizing all your data and workflows, and fits businesses of all sizes, from beginners to bigger market players.
Features
• Multiple channels for managing stock • Integration with all major e-commerce platforms • In-app B2B functionality • Synchronization in one click • Kitting and forecasting options • Sending reports in real-time • Supplier control • Flexible stock planning • Transparent and visible stock • Multiple tracking options (batch code, barcode, serial No., and FIFO)
Pricing
For the functionality that Cin7 offers, it requires from $299 to $999/month for different business sizes. Considering the tool's features, most users find this amount reasonable. Anyway, you have a free trial to explore the inside out of the app and learn exactly what you will (or will not) pay for.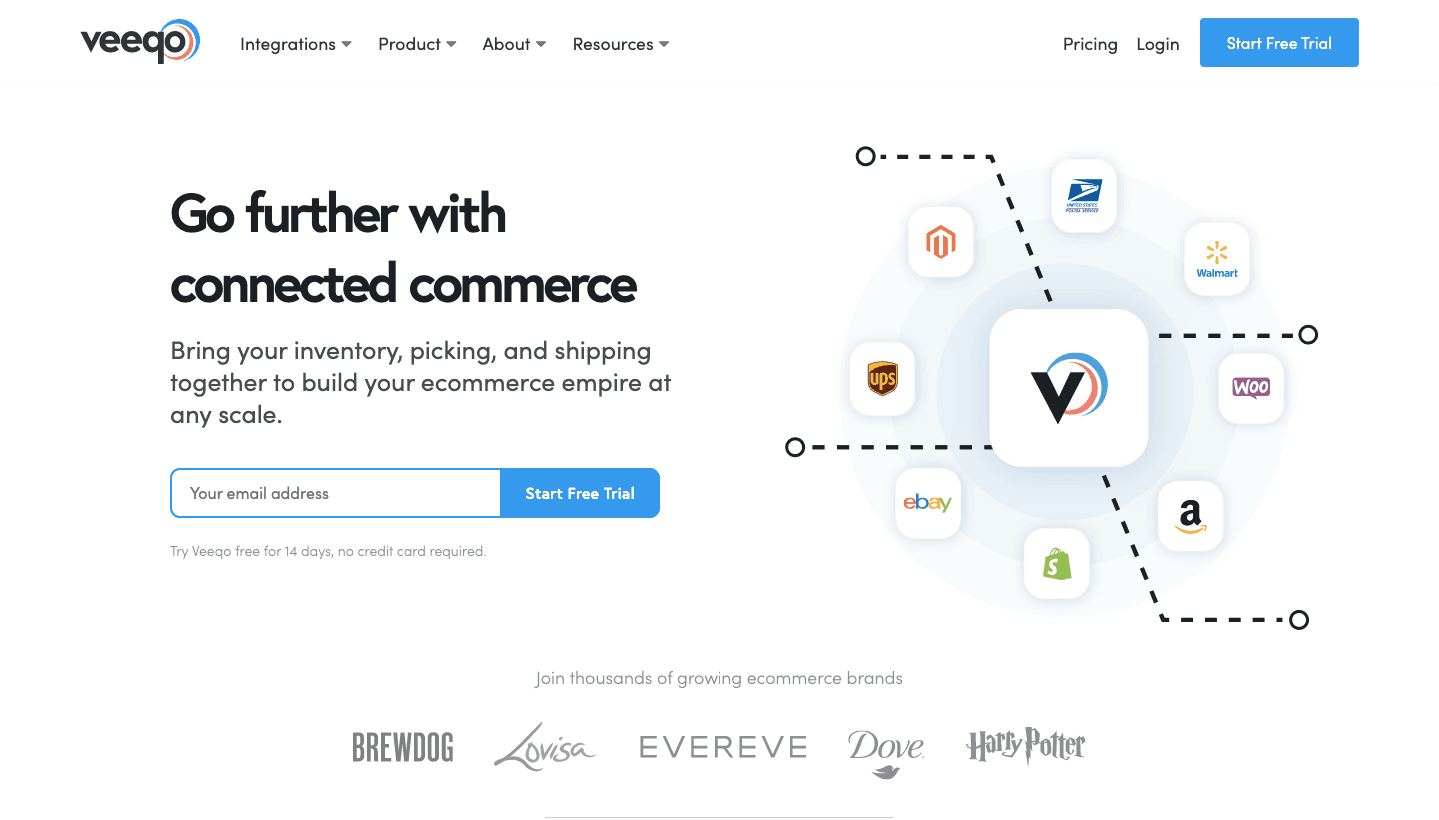 Veeqo
Veeqo is the most affordable tool for tracking inventory and orders that is the best fit for smaller companies. Supports an unlimited number of warehouses for your e-commerce business.
Features
• Integration with 16 channels • Managing wholesale orders and returns • Multiple shipping options • Easy-to-use interface • Detailed reports • Viewing daily sales
Pricing
Free trial is open for use if you are not totally sure about subscribing to the Veeqo billing plan. The paid version will go for not less than £120 every month. The annual subscription will save you up to 20% of the cost.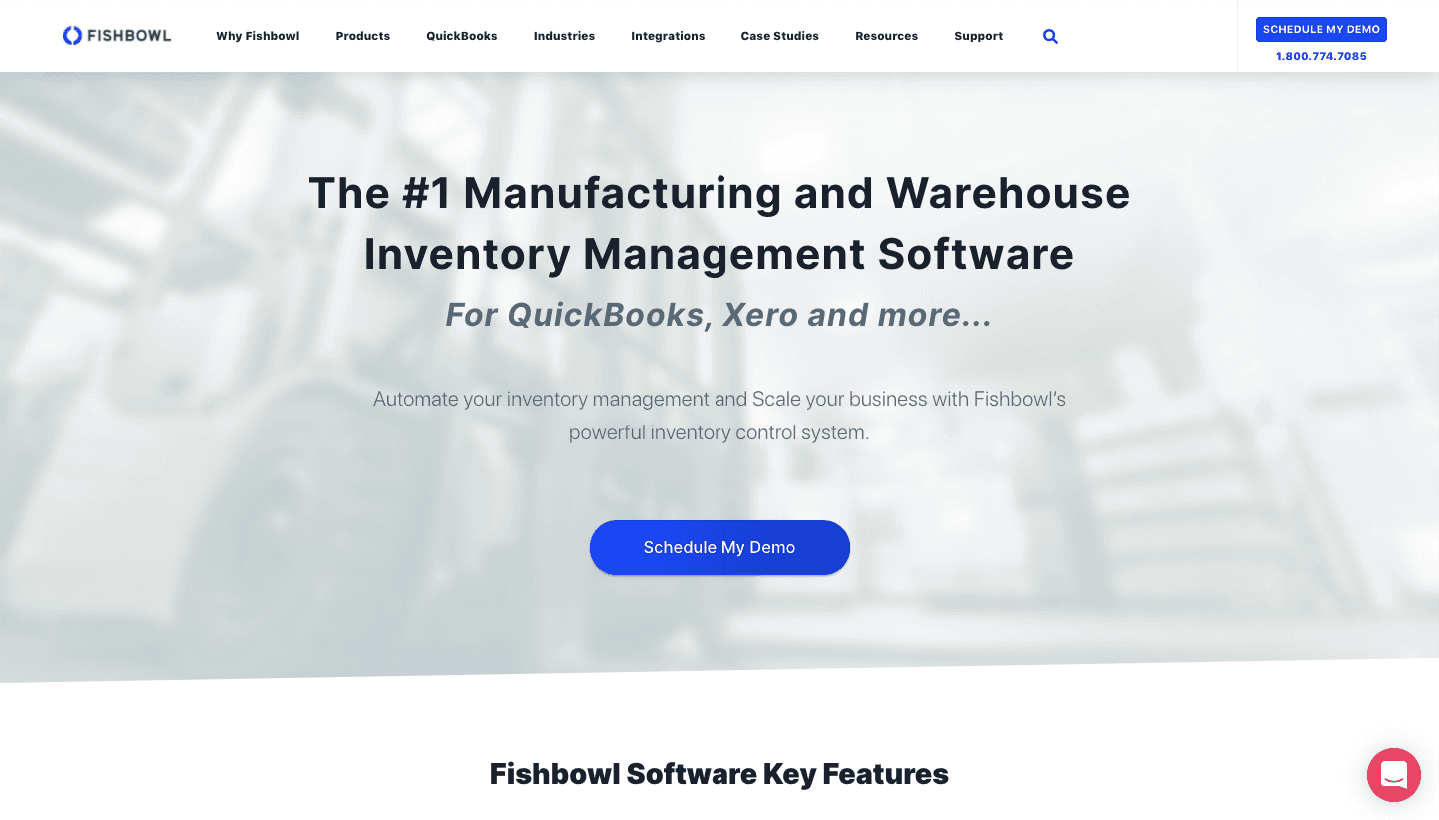 Fishbowl Inventory
This tool gravitates towards maximum automation of inventory management. This is the top solution for QuickBooks that leaves behind all the competitors in its niche.
Features
• Integration with multiple e-commerce platforms • The ability to import/export data • Forecasting • WYSIWYG editor • 3pl warehouse control • Many starting resources: tutorials, videos, online consultations
Pricing
Considering the variety of features provided by Fishbowl Inventory, the one-time starter payment of $4,395 looks reasonable enough. One payment for a lifetime is not something that any company can offer! You will only need to make further payments for receiving updates and support after the first year of use.
inFlow Inventory helps you ditch manual spreadsheet work and increase your shelf confidence. Keep stock in sync with purchases and sales, simplify B2B sales with Showroom, and work from anywhere with great mobile apps.
Inventory management is hard enough, and that's why inFlow is designed to get out of your way and make everyday work easier.
Features
• User-Friendly Interface Real •Time Inventory Tracking • Showroom for B2B Sales • Mobile Apps for On-the-Go Management
Pricing
Embarking on inFlow Inventory, the Free Plan suits basic needs. Essential at $79/month covers small businesses, while the $149/month Professional Plan adds advanced features. Enterprises opt for custom-priced Enterprise Plans. Tailor your choice for seamless inventory management.
Conclusion
Based on this list, we can already outline some recommendations for those who are thinking about improving their business processes using e-commerce inventory management software. The so-called resume of the article will look like this:
For larger businesses, better go for Zoho and NetSuite. For smaller businesses, ecomdash or Veeqo are your options.
Cost-wise, Veeqo and Cin7 are the most affordable systems. If you are not that much on a budget, try NetSuite or Fishbowl Inventory. When choosing a billing option, keep in mind your company's size, revenue, and the features you need. You will find comprehensive descriptions of the functionality of each on their pages. We in the article have listed the prices and data as per 2021.
Hope this list will help you keep your inventory in order.
For if you need to automate warehouse operations, we have an article on how to build a warehouse management system.
We at SolveIt are all for the growth of your e-commerce business!