Cloud services. Something we hear about more and more frequently. The truth is, today's business moves to the cloud or dies.
Why so, why the cloud? Well, having on-premise infrastructure requires a lot of manpower, it is costly and has more limitations compared to the newer solutions. Now, in most cases, maintaining an on-premise server is more of a burden and a reminder of the past. So, convenience, fastness, and scalability go first. It is that simple.
For moving to the cloud, most commonly, there are three possible options to dive into, of which you have probably heard before as well:
SaaS — Software as a Service
PaaS — Platform as a Service
SaaS — Infrastructure as a Service
The above are the main currently existing types of cloud computing. To date, many companies have switched from on-premise software to the cloud — for good. Numbers always make it more clear. Consider this:
By the end of 2021, 99% of all enterprises will be using at least one SaaS solution
From 2020, and it is 2021 when this article is being drawn, the usage of PaaS and IaaS has doubled
It is expected that by 2025, the PaaS and IaaS market will have a revenue of $400 billion, as IDC states
What is the Difference Between SaaS, PaaS, IaaS
A while ago, clouds were nothing but things flying high and bringing us rain. Now, a cloud is a massive internet storage that can be used for, but not limited to, running business.
To outline the key differences, check out these brief descriptions of types of cloud computing:
SaaS: software solutions from a third party that are available over the internet
PaaS: platforms to create software that are available over the internet
IaaS: infrastructure that offers cloud services — virtualization, networking, payments, storage
For better understanding, these can be compared with different transport types. Here is an analogy: SaaS would pretty much be a city bus with routes pre-defined and other people accompanying you. PaaS is closer to a taxi, which you do not drive yourself. However, it is you who sets the route. IaaS is eventually more like a car on lease: you do not own it, but you are still able to customize it to suit your needs whenever you want.
Examples of SaaS vs PaaS vs IaaS
As said above, most businesses utilize one SaaS solution at least, which means that often different combinations of so-called "as-a-service" solutions are used.
SaaS examples: Google Workspace, Google Apps, Concur, Salesforce, Shopify, Dropbox, BigCommerce, MailChimp, Slack, Hubspot.
PaaS examples: Windows Azure, Heroku, Dokku, AWS Elastic Beanstalk, Force.com, Magento Commerce Cloud.
IaaS examples: Google Compute Engine (GCE), Microsoft Azure, DigitalOcean, Rackspace, Linode, Amazon Web Services (AWS), Cisco Metapod, Magento 1 Enterprise Edition
These examples, however, may have not made it more clear. There is certainly a number of familiar titles, but the way they work and why they adhere to one type rather than another still remains the question, so let's pass on more detailed explanations.
SaaS — Software as a Service
These are cloud solutions used by most organizations. The end-user has the application which is delivered via the internet, and the application, in its turn, is managed by third parties. Most SaaS services run right on a web browser, with no downloading, no installation, and no updates required.
You have access to the service from your personal computer or any other computer. These solutions are available from multiple devices as long as they are connected to the internet.
Same goes for your employees. They can sign in using their personal logins and passwords and share data and media as fast as the internet connection allows them to.
Offering such a convenience, SaaS solutions have their limitations. For instance, controlling the infrastructure is not up to you, the user side. You can only benefit from the pre-defined functionality, with no ability to modify it. On the other hand, the large SaaS market will definitely offer you something to your liking, since the competition on it, as everywhere that concerns technologies, it is quite high.
PaaS — Platform as a Service
PaaS offers developers a platform based on which they can build custom applications. Platform as a service solutions give developers a cloud-based space to make their work faster. Third parties or the organization are responsible for the server-side, and the programmers using the platform are in charge of their applications.
Platform as a service allows creating apps with the help of special components. Such applications, also known as middleware, are easily accessible due to their cloud location and are highly scalable.
In terms of delivery, SaaS and PaaS have much in common. While the first serves to deliver software using the internet, the latter gives a platform to build software solutions. Both are available through the web, so nor software users neither developers have to worry about downloading files, installation, storage, updates, or operating system compatibility.
Developers have the ability to work on more than one project at a time, as some platforms support multiple programming languages. PaaS will be of help when there is a need for time- and cost-effective development of unique software. No worries about the technical side of work: thanks to the PaaS cloud base, all attention of programmers is concentrated on thinking over the future product.
IaaS — Infrastructure as a Service
With the help of virtualization, IaaS accommodates clients with a cloud-based computing infrastructure. The infrastructure itself is composed of operating systems, storage, network, and servers. The latter are usually provided to the client via an API or dashboard so that IaaS can manage the entire infrastructure.
That being said, IaaS offers the same capabilities and solutions as traditional data center, except for the fact that there is no need for physical storage or infrastructure for them. This physical data center is replaced by a virtual, the cloud one.
Here, it is important to oppose IaaS to the other two cloud computing types. What is the difference between SaaS, PaaS, IaaS? Same as in SaaS or PaaS case, multiple users may access the IaaS platform. The distinguishing feature of IaaS is that virtualization and all that applies to it — servers, hard drives, storage — are on the provider, while the client manages data, applications, and middleware.
IaaS is considered the most flexible and economically viable model to help run a business. The client only pays for using virtual servers, with no investments to physical infrastructure.
To Sum Up
Remember the transport analogy from the beginning of the article? While that one was to help introduce you to the topic, the analogy below is to conclude and solidify knowledge, so to speak. On-premise vs SaaS vs PaaS vs IaaS explained by David Ng, Oursky: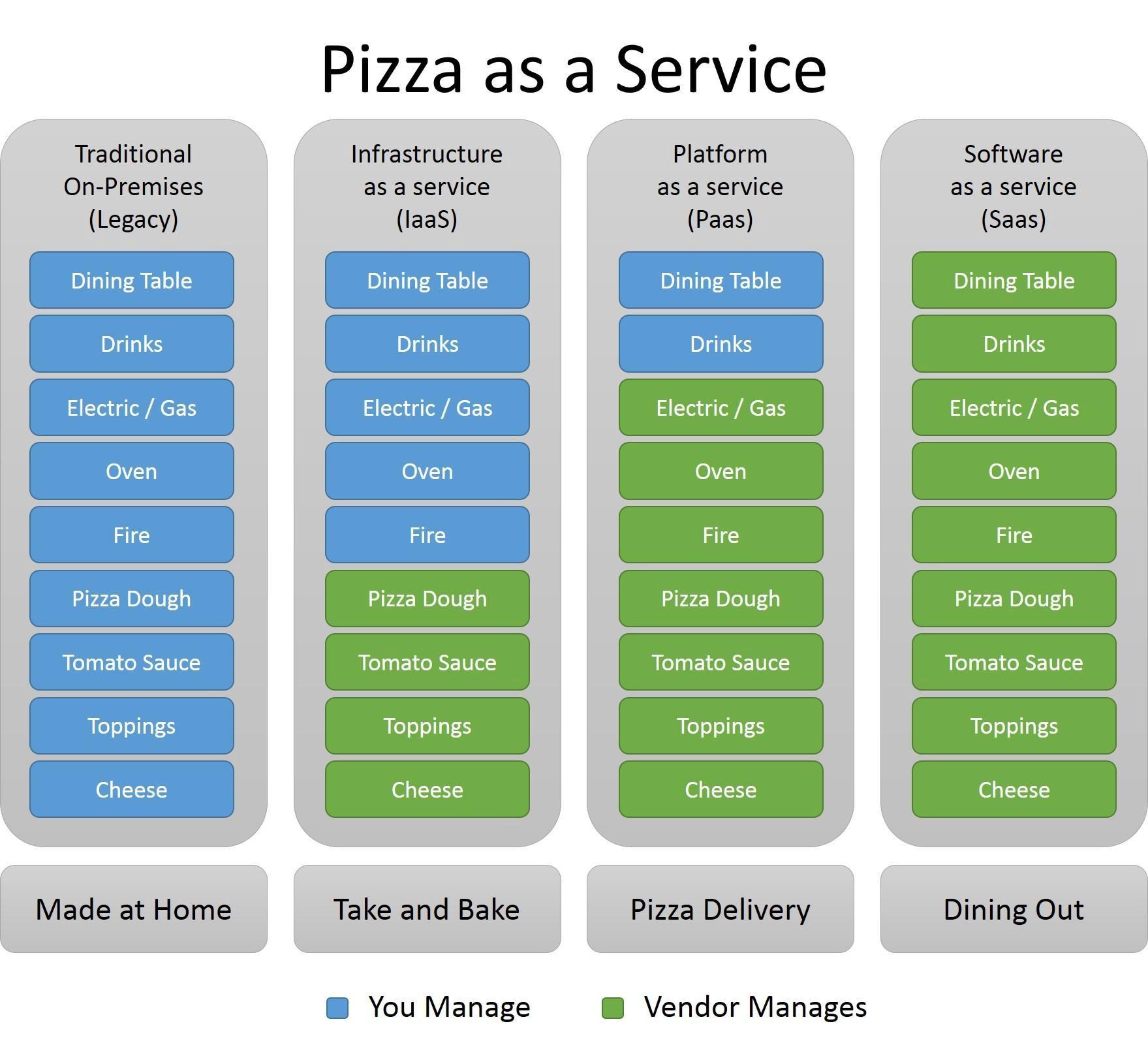 To summarize the above, which is better?
SaaS is an all-in-one solution ready to be utilized for its specific purpose. Moreover, many of today's SaaS platforms are created by means of PaaS or IaaS, how interesting is that?
PaaS, usually, is built on an IaaS platform to eliminate system administration, so that the developers can keep their mind on building software rather than managing infrastructure.
IaaS gives top flexibility providing a server for data storage. No hardware needed, the cloud is everything.
What you choose for your business needs is up to you and these needs, as cliché as it may sound. One thing is for sure: the clouds are what will help you fly higher.