Freelancers or companies? It is the most important question for startups and small businesses. This article will tell you about how freelancers and companies work and it will help you to choose the right option.
Freelancers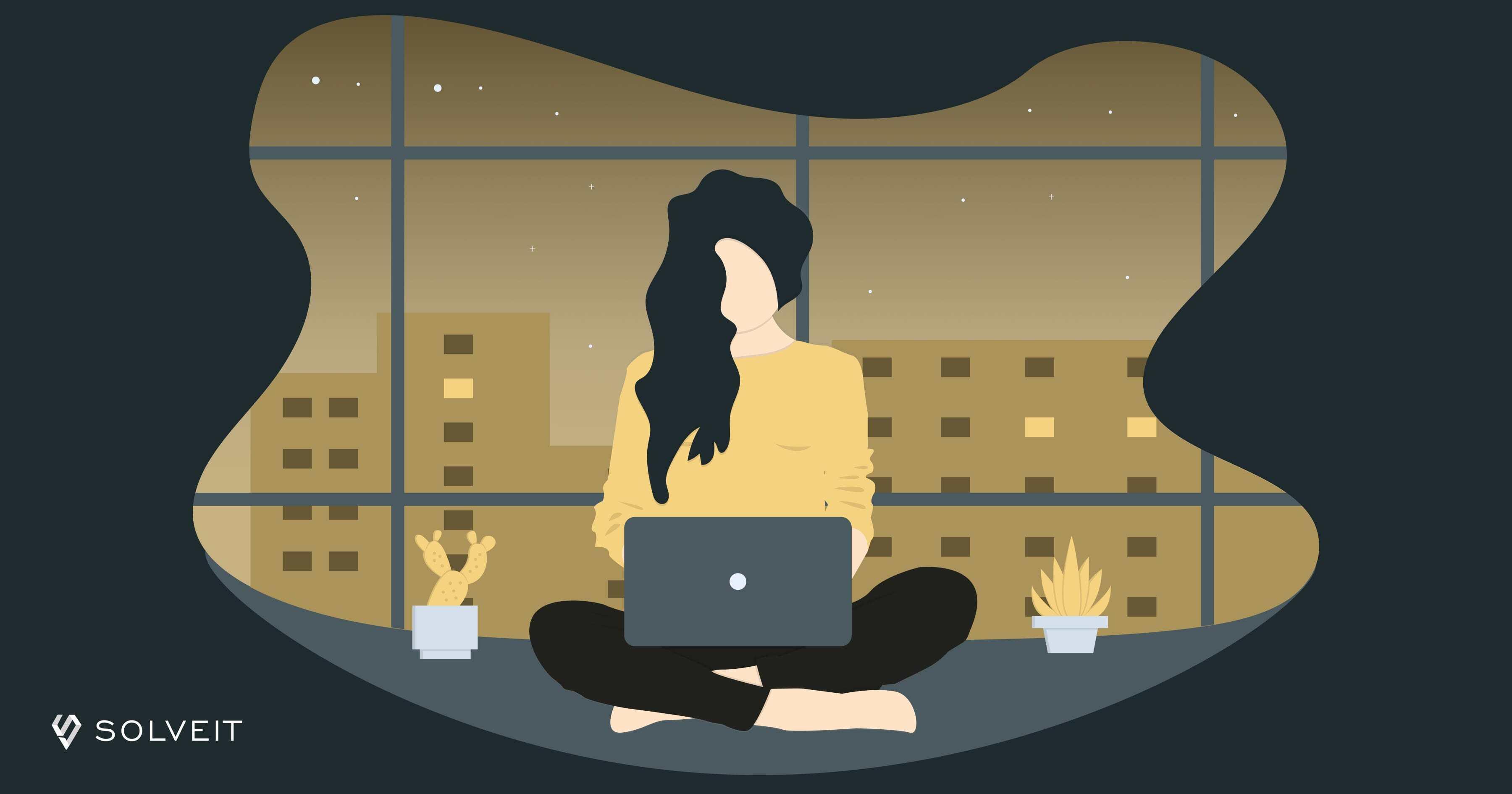 Freelancers are independent workers, who work for themselves, without a company. They can choose a convenient work schedule, and also can work with several clients at the same time.
A freelancer creates a portfolio with skills, knowledge, completed projects, hourly price and contact information on freelance platforms. Clients can communicate with several candidates and hire the best variant for their projects.
The most popular freelance platforms
1. Guru - Cost-effective - Used by 3 million - Feedback scores - Flexible payment rates
2. Upwork - For complex projects - Long-term contract options
4. Peopleperhour - International community - Job ratings - Huge range of services
5. Solidgigs - Weekly gig list - Courses and tools - Top opportunities
Engagement models
There are many payment models for freelancers. For example, prepayment or payment after completing the project. However, hourly rates remain the most popular model.
Small and medium-sized enterprises (SMEs)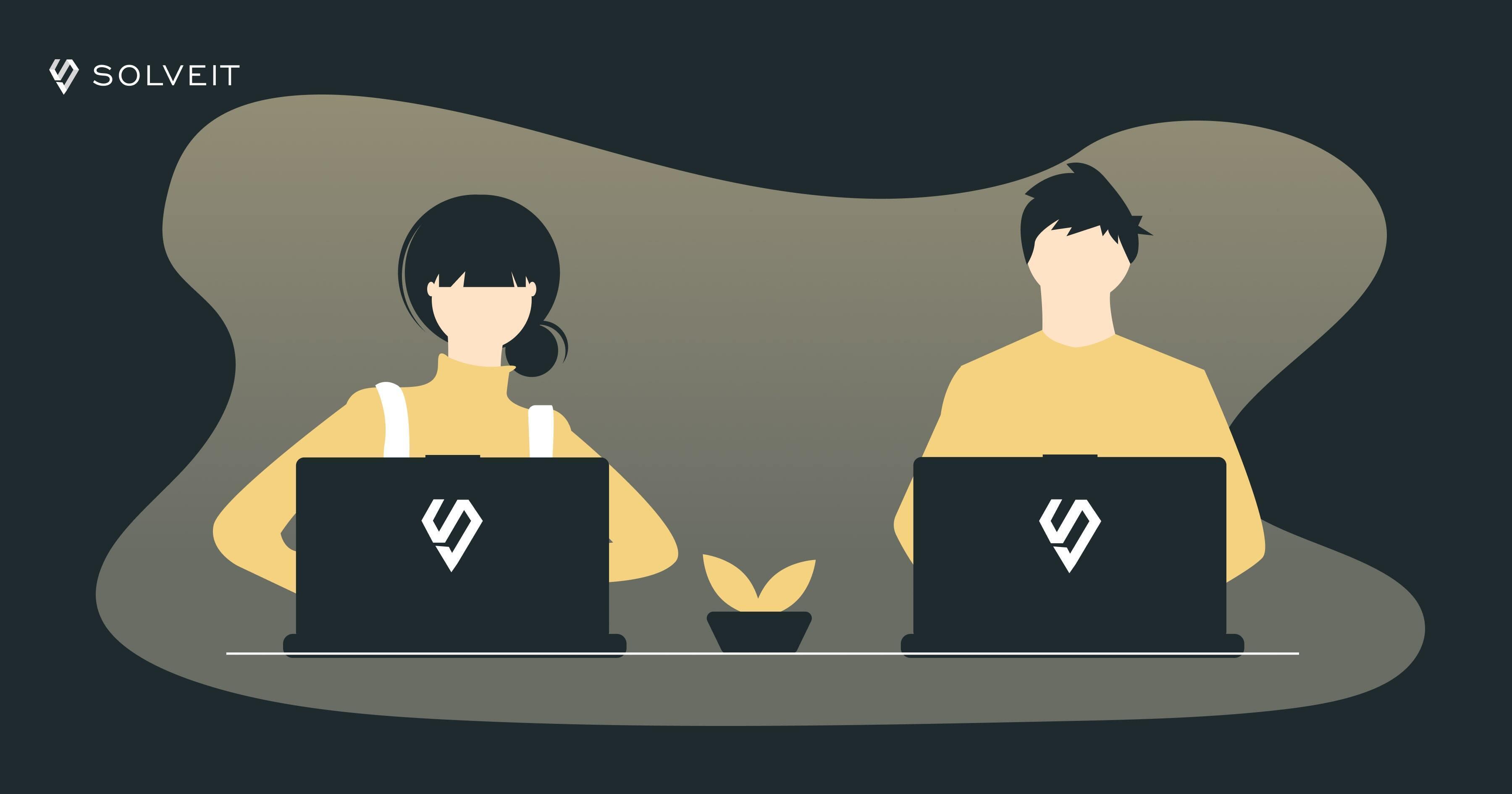 SMEs companies strive to get an excellent reputation in the development market and find more potential clients. Obtaining a rating is extremely important for such companies that develop their own brand and value their reputation very much. To do better research, let's take our SolveIt company as an example.
SMEs main features
Engagement models
Dedicated team. Clients hire their own flexible team with the necessary skills and monthly cost. Clients have maximum control over the development process.
Time and material. Clients are paid only for the working hours spent on their project. This model allows clients to finish a project faster and save budget.
Fixed price. A contract with fixed price is most often used for small projects with strictly limited functionality, which will definitely not be changed or supplemented.
Development Process
1. The first stage is Discovery. It includes discovery calls, defining components, defining user roles and epics. This stage is the Technical Lead and UX Lead responsibility. The client is given a project estimate, NDA and a proposal.
Read Also: Why should you start your project with a discovery phase?
2. The second stage is Visual and technical design. This consists of processes such as competitive analysis, wireframes creating, technical architecture developing and microservices. Project manager, Technical Lead and UX Lead are responsible for this process. At the end of this stage, the client receives a flow diagram, prototypes, user stories and other.
3. The third stage is Development. One of the most important and time-consuming steps, which includes pre-alpha, alpha and beta developing, release candidate, production and quality assurance process. At this stage, CTO, Project Manager, developers and QA get involved.
4. The fourth step is Deployment and Maintenance. At this stage QA experts test the product, developers fix bugs and release the product to the stores. If the client needs initial promotion of the product, then marketers are also connected and help with the successful release.
5. The last stage is Upgrades, which include requirements gathering and backlog prioritization process. Team Leads, Developers and QA upgrades to apps and services. SolveIt offers a free 90-day quality guarantee after successful launch. Also we offer our customers an SLA-contract.
Entrepreneur vs small business owner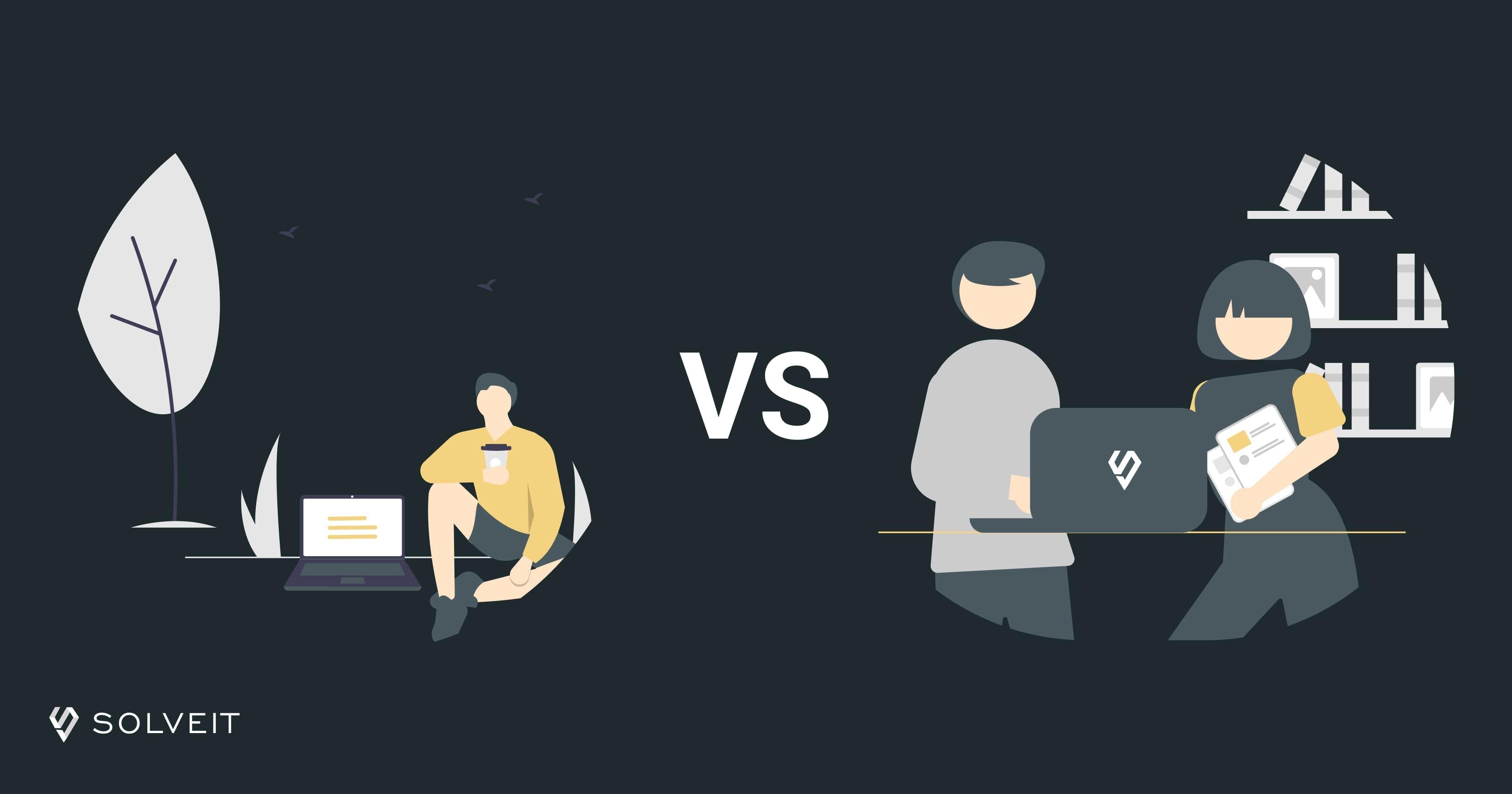 It's easier and faster to find freelancers through platforms or get recommendations from friends and acquaintances or even they can be freelance workers. It is difficult and takes time to find a trusted company with professionals.
Working with freelancers speeds up the process and reduces the development costs, but leads to additional costs for fixing bugs. There is no guarantee of providing support for the application after launch. Freelancers need more time to explore all technical things and other questions. Companies have well-established and tracking working processes, detailed technical specifications documents, and transparent payments upon done work.
Companies have approved technical task documents and as a result, a successful product, that won't go over the main budget. Experienced professional teams work according to Agile methodology. Clients can check all working processes in companies, budget spendings, reports with detailed information about all interesting information. Companies work on reputation and clients are assured about successful results. Freelancers can leave projects, so clients need to find new workers, tell them about previews of work done, it wastes a lot of time and budget.
If clients want to have successful products into an approved budget with all documentation and next support, it is better to work with companies. If clients have time to communicate with freelancers, no exact budget, and no deadlines, they are better off working with freelancers.
Our expert's comment:
From our personal experience, we have to admit that many companies after working with freelancers, turn to SMEs or agencies to find some more qualified work. Why does it happen? Well, the answer is simple: many freelancers combine their full-time work with some side projects. Thus, not everyone can manage their time rationally and devote the same amount of effort to each task on both sides. Deadlines are drawing out, quality of the work remains wanting. Following these on-the-ground problems, companies are approaching SMEs to find the right people who will dedicate all their time for the projects' needs.
One recent example we dealt with was the redesign of an iptv app. The client had a not properly adjusted app for tablets done by several independent freelancers. SolveIt provided not only tablet app repair, but also created native mobile apps for smartphones. The client was more than satisfied with the work done and still is in contact with our team. This positive experience got the client convinced to address the SMEs for more successful projects' realization.
The role of the sales manager at a company is crucial: to know the strengths and weaknesses of the company, to set them right. Sales manager is the first person to meet with the client, thus, with his or her face this company will be mostly associated with. It's more than simply selling, it is to carry the image of the company shoulder-high and create a reliable and long-term relationship with the client. – Valeriе Yatsuk, Sales Manager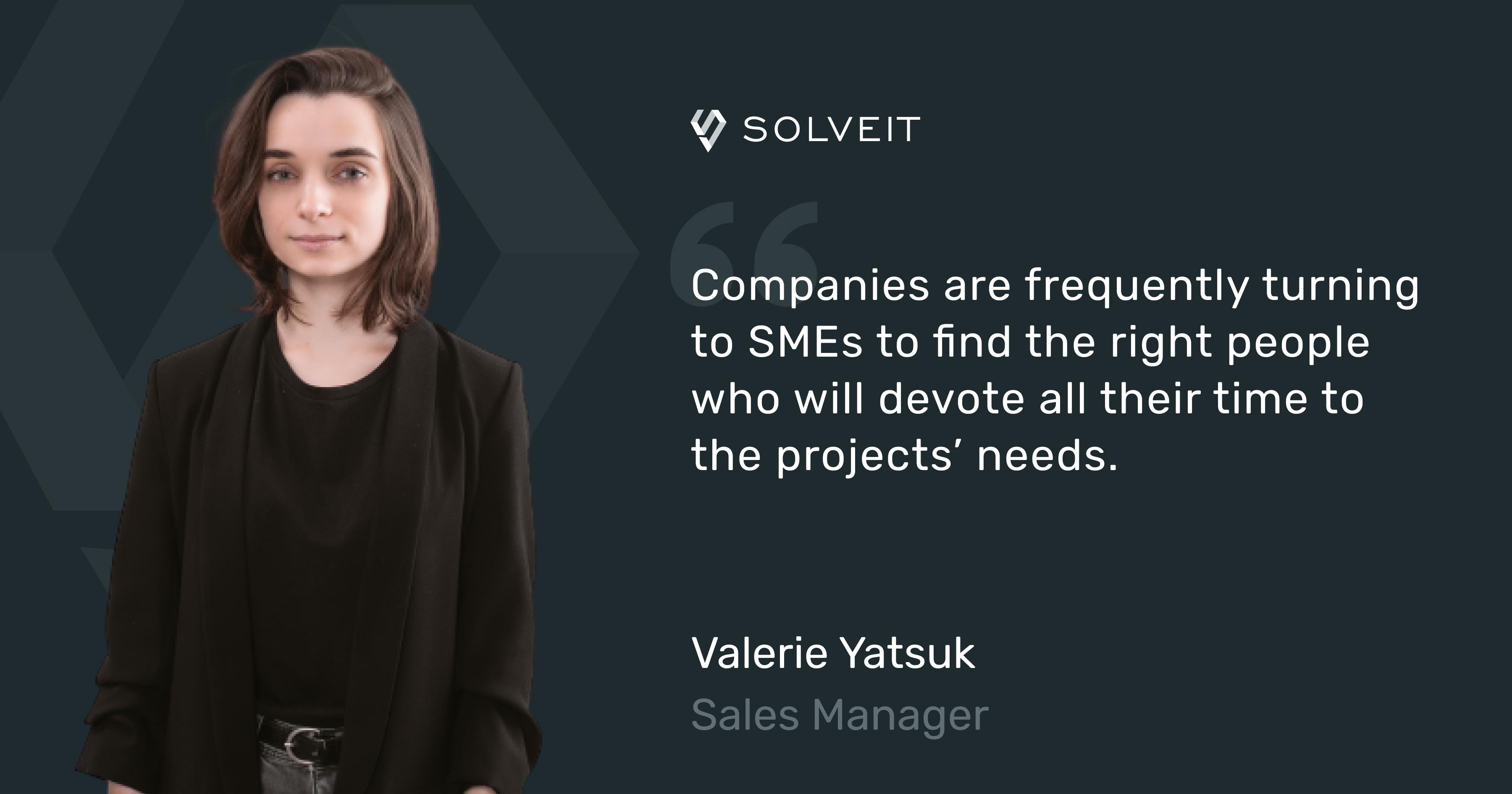 Conclusion
There are many ways to develop a project, whether it is a freelancer or SME's company, the goal is the same – to make a quality product and fit within budget. In this article, we gave examples and tried to explain the difference. What is more important for you: saving money or getting transparent reports, you have to figure out for yourself.
Below is our comparison table to make it easier to understand what is more important to you.
Freelancer vs small business entrepreneur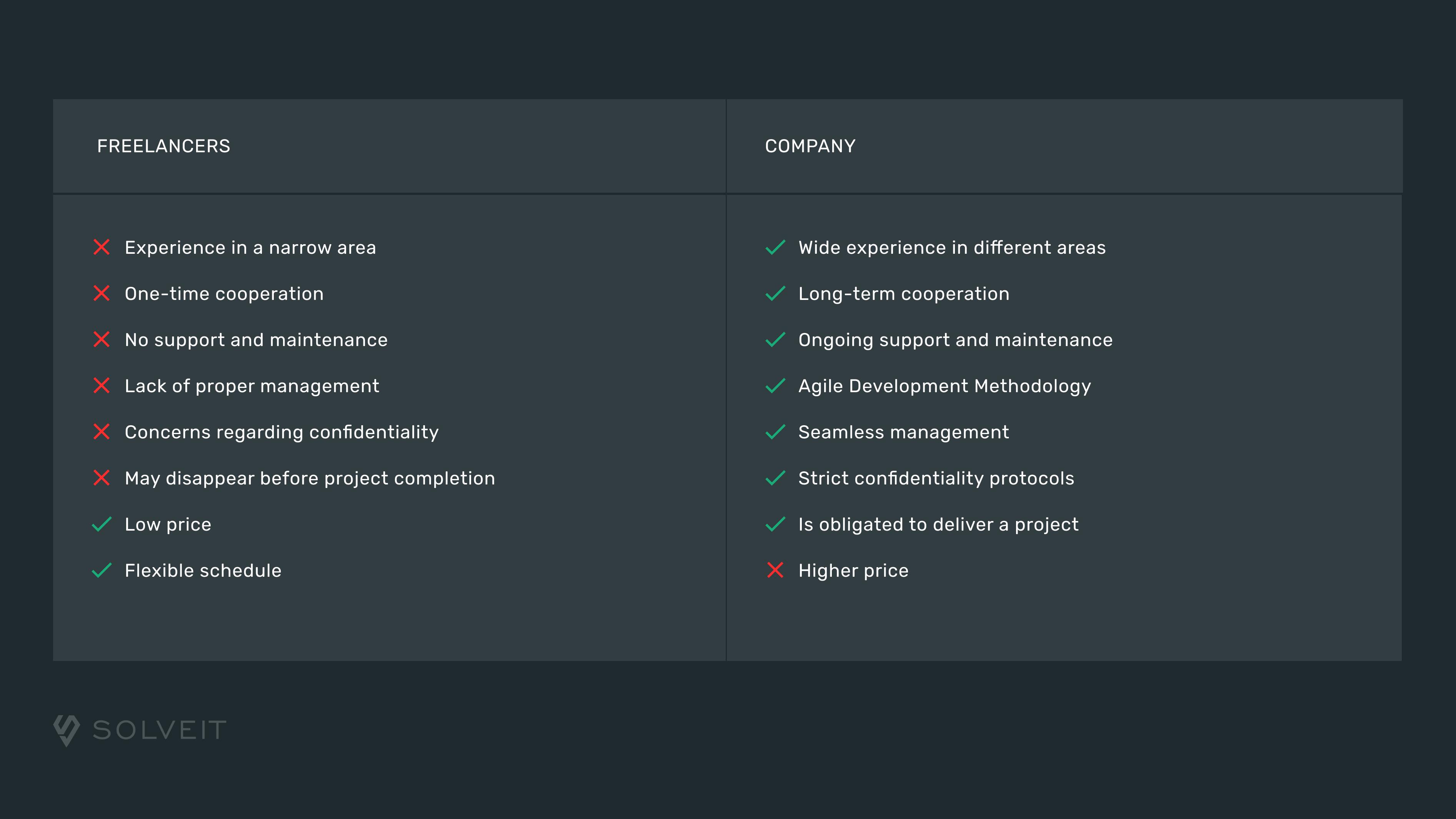 SolveIt is a product-oriented company that can provide and make the best future marketing strategy for developed products. Our company works for continuous communication with all clients. We are always open to support and communication about projects. SolveIt has clients from all over the world, so we are multilanguage and can be adapted for any requirements.